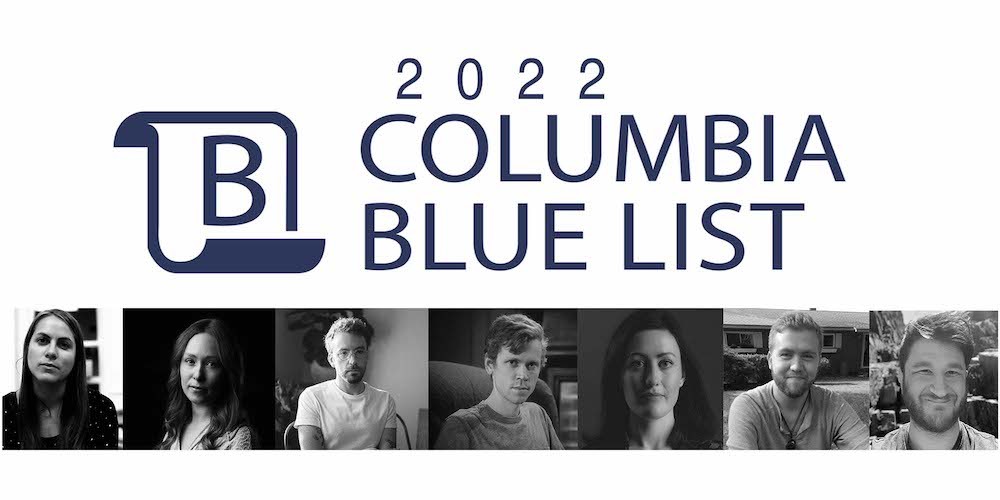 2022 marks the Blue List's ninth year of connecting the Film Program's most talented alumni with leading professionals in the world of film and television. The Blue List competition, sponsored by MUBI, represents the most esteemed, unproduced feature scripts and television pilots written by Film & Playwriting graduates of Columbia University's School of the Arts.
Columbia University is proud to announce that alumna Jennifer Lee '05 is the Artistic Director of the Blue List.
Inspired by Hollywood's prestigious annual list of the best un-produced screenplays, Columbia University is proud to once again partner with the Black List to host the winning scripts.
I'm so proud to be the new Artistic Director of the Columbia Blue List. My own time at Columbia was foundational, and truly shaped me as a screenwriter. So it's a special privilege to be able to spread the word about these wonderful new Columbia writers and their scripts."
The 2022 Blue List
Ceremony, Tim O'Connor '17
Consumption, Connor Simpson '19
Great Men, Gina Hackett '20
Herschel at the Bat, Eric Schuman '17
Miranda, Martin Murray '20
Riot, Jaclyn Noel '19
Wake, Ciara Ní Chuirc '21
The 2022 Industry Panel
Kate Imel (Alloy Entertainment)
Jenette Kahn (Double Nickel Entertainment)
Eitan Kleinman (The Gotham Group)
Caitlin de Lisser-Ellen (Assemble Media)
Kira Muratova (Alloy Entertainment)
Dylan Polacek (MUBI)
Britton Rizzo (Curate)
Christine Walters
Great Men (Pilot)
by Gina Hackett '20
Gina Hackett is a writer-director inspired by true stories of misunderstood women. In 2019, she received SFFILM's Sloan Science in Cinema Filmmaker Fellowship. Her short film, Beauty Marks, has screened at Palm Springs ShortFest, the Champs-Elysées Film Festival, and Dallas Film Festival (Best Short Film), among others. Gina attended Harvard before completing her MFA in Film at Columbia. She is represented by Gramercy Park Entertainment and lives in Los Angeles.
In Great Men, three wives, past and present, of a famous adventurer convene at his remote seaside estate when he suddenly vanishes. Each woman presses her memory for clues to his whereabouts—but they press back.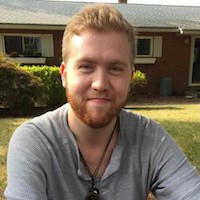 Miranda (Feature Screenplay)
by Martin Murray '20
Martin Murray is a writer based in New York. He received his MFA in playwriting from Columbia University. His plays include Family Show, The Spot, and Coliseum. His one-act 360 Owl Head was produced at Shanghai Theater Academy in 2019. The feature he co-directed, Sleepaway Slasher (2020), is currently streaming on Amazon. His audio play Sarasota, FLA. was produced by Playsonos: Digital Audio Festival in 2021. Currently, Martin is developing an original screenplay with Troma Entertainment and his thesis Good Things Happen will premiere with Columbia at Lenfest Center for the Arts in 2022.
In Miranda, as kids, Rebecca betrayed her best friend Rita. Now, just as Rebecca is about to graduate from high school and go off to a prestigious dance conservatory, Rita has come back into her life. And she may have come back with a vengeance.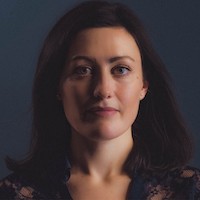 Wake (Pilot)
by Ciara Ní Chuirc '21
Ciara Ní Chuirc's plays have been developed and performed at the Samuel Beckett Theatre and Project Arts Centre (Dublin); Theatre Exile (Philadelphia); The Kennedy Center (Washington, DC); and The Tank, Irish Arts Center, Irish Rep, Origin Theatre, Kraine Theater, and the Studio Theater (NYC). She is the recipient of a Theatre Project Award, 2022, from the Irish Arts Council. She received an MFA in Playwriting from Columbia University, 2021.
Wake is an hour-long drama about a first-generation Irish immigrant in small-town Florida who is trying to outrun her family tradition – she comes from a long line of women who sit up with the dead. It's a show about the fear of turning into your mother, death, and becoming the truest version of yourself.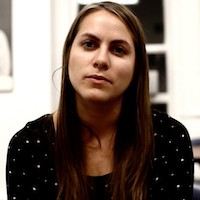 Riot (Pilot)
by Jaclyn Noel '21
Jaclyn Noel is a writer/director who was born and raised in Pennsylvania. She holds a BA in Creative Writing from Franklin & Marshall College and an MFA in Directing from Columbia University. She is currently developing her first feature.
In Riot, an alternate reality where America spirals into authoritarian rule, a disillusioned Department of Defense worker joins a resistance group in an attempt to help restore democracy.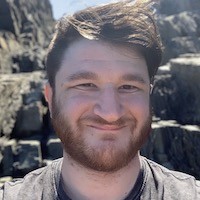 Herschel at the Bat (Feature Screenplay)
by Eric Schuman '17
Eric Schuman is an NYC-based writer/director and documentary film editor. His short films have screened at festivals around the world — including TIFF Kids, and the Palm Springs International Shorts Festival. While at Columbia, he received the Zaki Gordon Memorial Award for Excellence in Screenwriting. As an editor, his work has screened at festivals such as Sundance, Venice, and True/False and been shown in theaters and on HBO and Netflix. 
In Herschel at the Bat, it's 1963, and all thirteen-year-old Herschel has on his mind is the new little league team in town. His strict father, a holocaust survivor, would rather he study for his Bar Mitzvah. The ten commandments didn't say anything about lying, did they?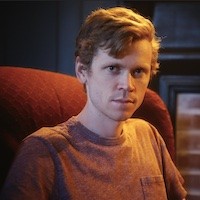 Ceremony (Pilot)
by Tim O'Connor '17
Tim O'Connor is a filmmaker based in New York City. His first feature film as a writer & director, The Undiscovered Country, was released via NoBudge in 2019. He works in television as a director, producer & writer and teaches screenwriting & directing at NYU.
Ceremony is a multi-generational ensemble series about a sprawling Irish-Catholic family, with each episode depicting a major event that brings them all together. In the pilot, the Whelan family gathers for the baptism of their newest member, born out of wedlock to a teenage mother, under the shadow of their imposing matriarch's withering disapproval.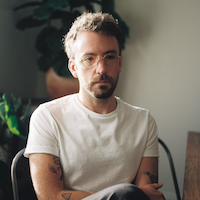 Consumption (Feature Screenplay)
by Connor Simpson '19
Connor Simpson is a director and writer originally from Alabama. After earning his MFA in Directing from Columbia University, he moved to his current home in Los Angeles where he is represented by Management 360. He approaches his work with a focus on the language and form of the medium itself, using a visceral, image-first approach to tell deeply subjective stories that often explore the spiritual conflicts of the human experience. He is a recipient of the Atlanta Film Festival's Filmmaker-to-Watch Award, the Miloš Forman Directing Fellowship, the Vimeo Staff Pick Award, and the Emerging Filmmakers Production Grant for his Columbia thesis film, 'I Remember it Rained,' which recently held its international premiere at the 51st International Film Festival Rotterdam.
In Consumption, after experiencing the traumatic death of his mentor, a Franciscan priest ventures out of his remote friary to lead an expedition across the unsettled territories of 18th century New Spain in a desperate attempt to test the faith to which he has devoted his life. As his group falls to death and desertion over the course of their treacherous journey, the priest slowly loses his grip on reality, turning his once-holy pursuit into a gauntlet of ruthless human obsession.