Two Columbia Alumni Featured at Lincoln Center's 2022 New Directors/New Films Festival
Two Columbia Film alumni have been selected to participate in the 51st iteration of the New Directors/New Films (ND/NF) festival from Film at Lincoln Center and The Museum of Modern Art. They are: Ricky D'Ambrose '12 and Jasmin Freitas Tenucci '20.
The ND/NF festival celebrates filmmakers who speak to the present and anticipate the future of cinema. The filmmakers who are selected to screen at the festival are creating bold films that push the envelope in unexpected and striking ways. This year's festival will introduce 26 features, 11 shorts, and a total of 39 directors—21 of which are women—to filmgoers in theaters at both FLC and MoMA.
"Portraits of individuals and communities navigating uncertain and turbulent circumstances in pursuit of freedom, self-determination, and survival set a remarkably contemplative tone to the lineup," said La Frances Hui, Curator, Department of Film, MoMA, and 2022 ND/NF Co-chair. "This year's new directors look inwards and draw on events past and present to reflect on our collective humanity. Together, these films reaffirm the creative power of cinema to see, critique, and inspire the way we live."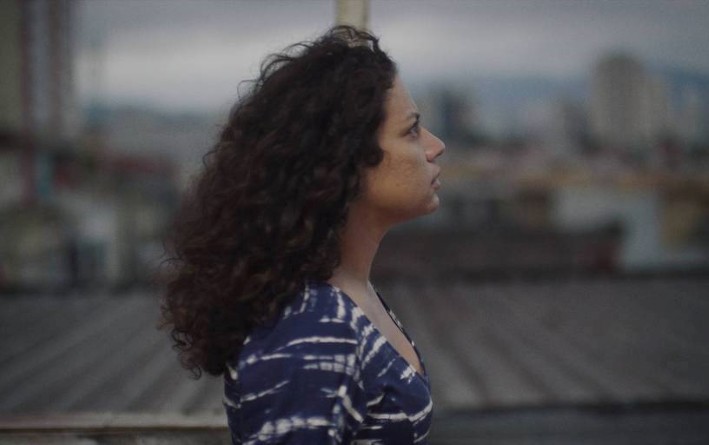 Alumnus Ricky D'Ambrose will make his return to the festival with his new feature, The Cathedral. D'Ambrose previously screened his film Notes on an Appearance at  ND/NF in 2018. The Cathedral is a multigenerational family saga in extreme miniature, and, according to ND/NF, is D'Ambrose's "most refined, emotionally resonant work yet." Slicing across decades with impressionistic precision, The Cathedral tells the formally economical yet engrossing story of the Damrosch family, whose quiet rise and fall is seen through the eyes of its youngest member, Jesse, born in the late '80s. Using photographs and archival news footage to buttress his oblique drama, D'Ambrose shows how a family's financial and emotional wear and tear can subtly reflect a country's sociopolitical fortunes and follies. 
D'Ambrose is an American writer, graphic designer, and director who earned his MA in Film and Media Studies from Columbia University. His first feature film, Notes on an Appearance (2018), tells the story of a young man who disappears amid talk of violence and demagoguery, leaving behind an obscure cache of letters, postcards, and notebooks. D'Ambrose has directed several short films such as Six Cents in the Pocket (2015), which premiered at Berlinale, and Spiral Jetty (2016). The Sky Is Clear and Blue Today is his sixth work. His film Object Lessons, or: What Happened Whitsunday premiered at the 2020 New York Film Festival. In 2017, he was one of Filmmaker Magazine's 25 New Faces of Independent Film.
The film will play on Saturday, April 23 and Friday, April 29 at the Walter Reade Theater. Both screenings will be followed by a Q&A session with D'Ambrose.
Director Jasmin Freitas Tenucci will screen her short Ceu de Agosto (August Sky) as part of the ND/NF's Shorts Program. Set in São Paulo, Ceu de Agosto (August Sky) is a film where the skies glow fiery orange and black as the rainforests burn. A pregnant nurse (a magnetic Badu Morais), anticipating new life but anxious for an uncertain future, surprises herself when she finds community in a local evangelical church. Tenucci was named Best Director at the Rio De Janeiro short film festival for her work in Ceu de Agosto (August Sky), which is her thesis film for Columbia. The film premiered at the Cannes Film Festival in 2021, where it received a Special Jury Mention. Ceu de Agosto (August Sky) was produced by alumnus Kári Úlfsson '20, co-written by alumnus Saim Sadiq '19, and edited by Fernanda Frotté '17 and Brúsi Ólason '20. You can catch Tenucci's short film on both Wednesday, April 27 and Thursday, April 28 at the Walter Reade Theater.
Jasmin Tenucci is a Brazilian filmmaker who has written, directed, or produced films in Brazil, Iceland, Pakistan, and the United States. Her most recent short film, Ceu de Agosto (August Sky) (2021), is a Cannes Short Film 2021 Official Selection. Previously, she co-produced and associate directed the short film Darling (2019), which won the Best Short Film prize at the 2019 Venice Film Festival. In addition, she has directed four episodes of the Brazilian television series Shop Tudo (Glaze Entretenimento/Fall 2021). Tenucci has also worked for several years in the Brazilian television industry and has written for numerous television series. Tenucci has a BA in film from São Paulo University and an MFA in writing and directing from Columbia University. While at Columbia, she taught directing to undergraduates and was one of the founders of a collective with filmmakers from all around the world with whom she works to this day. Presently, Tenucci is developing two feature films: Ceu de Agosto (August Sky), based on her short of the same name; and The Smallest Whale in the World, which won the 2017 Alfred P. Sloan Development Grant. 
The ND/NF festival will take place April 20-May 1, 2022. Tickets go on sale April 8 at 12 pm ET. Click here to read more about the festival.