Two Alumni Projects Win at Cannes Film Festival
At this weekend's closing ceremony on the stage of the Grand Théâtre Lumière, the jury of the Festival de Cannes gathered to announce the 74th annual winners of this most prestigious film festival. Film alumni Antoneta Alamat Kusijanović '17 and Frank Graziano '18 were awarded the Camera d'Or for Murina, and alumna Jasmin Freitas Tenucci '20 was given a Special Jury Mention for her short film, Céu de Agosto (August Sky). 
Murina, co-written by Kusijanović and Graziano and directed by Kusijanović, follows a small family made up of young mother Nela, teenaged Julija, and strict father Ante. The family's world on a Croatian island is rocked by the visit of an old family friend. While Ante is absorbed in a land deal, Nela and Julija must deal with their complex relationships to the foreigner's presence in their home. 
Kusijanović, who gave birth to her first child over the weekend, was represented by Graziano at the awards ceremony. According to Graziano, "Simply being there in the room was a dream come true in itself. Even after having seen all the photographers, and having stepped outside to catch my breath, I still couldn't believe what I had there in my hand. This week has been a fairy-tale for Antoneta. Her film came to Cannes, she has had her first child, and now she has won the Caméra d'Or. So much emotion, and a lot of pride." 
The award was presented by Mélanie Thierry, President of the Caméra d'Or, who said, "Films are a passport to the world. They whisk you off around the globe. Although the urges, the preferences, the perspectives differ, there are themes that come back again and again, such as family, political issues, women's empowerment. Murina draws on myth and goddesses, and there's something quite dazzling, mysterious and poetic about it. [Kusijanović] shoots the seabed in a way that has never before been shown. We were spellbound by her film, and we all felt the same about it. It felt innately right." 
Antoneta Alamat Kusijanovic is a writer-director born in Dubrovnik, based in New York. Her short, Into the Blue, was nominated for a Student Academy Award, and won awards at the Berlin International Film Festival, Sarajevo Film Festival, Oberhausen Film Festival, and the Festival de Premier Plans, Angers, among many others. Murina is Antoneta's first feature film, developed with support from the Résidence du Festival Cannes, Cinéfondation, First Films First by the Goethe-Institut, and Jerusalem Film Lab. She holds an MA from Academy of Dramatic Arts in Zagreb and an MFA in screenwriting and directing from Columbia University in New York. Antoneta is an alumna of the Berlinale Talent Lab, Sarajevo Talent Lab, La Femis Producing Atelier, and the Marcie Bloom Fellowship.
Frank Graziano is a New York-based screenwriter and director whose films explore stories of the contemporary American city. He is the creator of the documentary series Feel My Pain, which follows four of New York's most notorious gangsters of the 1990s as they prepare for a stage play about their lives. Graziano is also a founding partner of Unwashed Films and holds an MFA in directing from Columbia University.
The short film, Céu de Agosto (August Sky) also took home an award. Céu de Agosto was co-written and directed by Tenucci, with fellow alumni collaborators Saim Sadiq '19 (co-writer) Kári Úlfsson '20 (producer), Fernanda Frotté '17 (editor) and Brúsi Ólason '20 (editor). The short film follows a heavily pregnant nurse whose rising levels of anxiety result in a magnetic attraction to a Pentecostal church member. The film was given a Special Jury Mention after being shortlisted for the Short Film Palme d'Or from over 3700 submissions to the selection committee.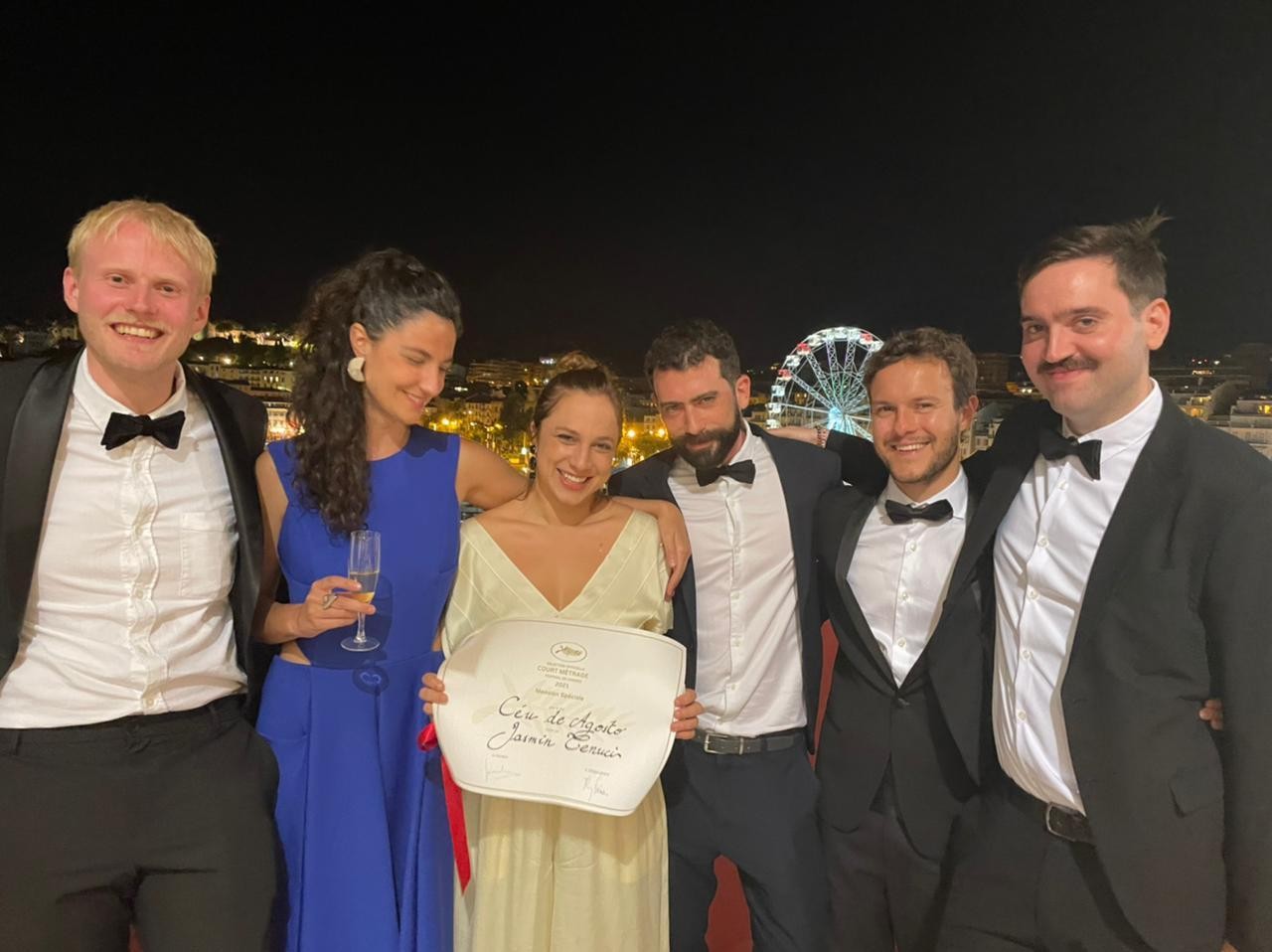 When asked how she felt about the special mention, Tenucci shared, "I was elated, this is such an honor. It's unimaginable for me, and it's made all the more moving by two women winning awards. Women have become emancipated, they are giving themselves permission to speak up, to speak louder, to not aim to please everyone. Film is a powerful tool that helps spark change." 
Jasmin Freitas Tenucci is a writer and director known for Tempero Secreto, Look Out For Cows, and Descompasso. She co-produced the short film Darling (directed by Saim Sadiq), which won the Orizzonti Award for Best Short Film at the 76th Annual Venice International Film Festival. 
Saim Sadiq is a Pakistani filmmaker. His short film Nice Talking to You was an official selection at South by Southwest 2019, Palm Springs International Shortfest 2019 and won Vimeo's Best Director award at Columbia University Film Festival 2018. The film also made the BAFTA Shortlist for Best Student Film. A recipient of the Kodak Student Scholarship Gold Award, Sadiq is developing a pilot for MakeReady in Los Angeles and working on his first feature, Gulaab, which was selected for the Open Doors Hub at the 2018 Locarno Film Festival.
Kari Úlfsson is an independent film producer currently living in Reykjavik, Iceland. Úlfsson recently graduated with a Film MFA in Creative Producing from Columbia University in New York with a focus on marketing, distribution and development. Growing up in the environmental sciences and having priorly worked as a park ranger, he longs to combine these two fields—film and nature. 
Fernanda Frotté is a screenwriter and film editor currently based in Rio de Janeiro, Brazil where she works as a screenwriter for Rede Globo. Before pursuing her MFA in Film at Columbia University, Frotté earned a BA in Social Communications and Film Studies from Pontifícia Universidade Católica do Rio de Janeiro. She has directed two short films: Out There (2016) and May This Memory (2018). She also served as the co-writer of Refuge (directed by Federico Spiazzi '18), which had its world premiere at the Montclair Film Festival in May 2019.