Columbia University School of the Arts Announces Solomon B. Hayden Fellowships to Support Diverse Voices in Art
When George Floyd was killed in Minneapolis earlier this year and Black Lives Matter protests erupted across the nation, Visual Arts alumnus, Lisson Gallery, and Clearing Gallery artist Hugh Hayden '18 was working on a variety of projects, including a meditative basket weaving piece that he immediately set aside. Like many Americans, Hayden felt an increasing urgency to do something in support of the movement. "I started seeing people raising money for bail funds, and I think that's a good thing, but I want to keep people out of jail to begin with," Hayden said in an interview. 
In partnership with Columbia University and two prominent New York galleries, Hayden did more than something—he helped found the Solomon B. Hayden Fellowships, forging a scholarship opportunity to attend Columbia University unlike any other.
Hayden's late father, Solomon B. Hayden was a math teacher. Throughout Hayden's childhood, his father worked a second job on the weekends to provide his sons with a middle class lifestyle, private school, and no matter what, he always supported their endeavors. Hayden recognizes how fortunate he was to have that kind of support, and he expressed a desire to give it back. "I am proud to establish this fellowship in honor of my late father, Solomon B. Hayden," Hayden said. "He encouraged and instilled in my brother and me an enduring ethic to aim high, to follow our dreams whatever they may be, no matter how difficult and to always give 110%."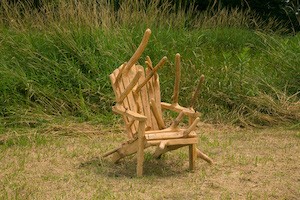 A Texas native, Hayden's work explores cultural assimilation through nature and our relationship with nature as a metaphor, a theme Lisson Gallery calls "a visceral lens for exploring the human condition." Typically, the materials Hayden uses all have a cultural history that inform the symbolism of each piece, from mesquite wood taken from the border between the US and Mexico, to Christmas trees found on the streets of New York City. "It's not just a piece of wood, it's not just a table, they all to me have some embedded cultural relationship, even if you might not know it or it's nuanced."
Hayden is a trained architect who ventured into art during his time studying at Cornell through a series of what he calls "culinary installations," dinner parties that started out extravagant and broached on strange with Hayden's ever-growing curiosity about what it would be like to remove individual senses. During one dinner party, Hayden bound guests' hands to one another using an intricate pulley system, so that in order to eat, they had to work together. Hayden's work urges its viewers to participate, asking questions that make them think not only about the images before them, but about the strange presentation, creating an experience that prompts participants to find new ways of looking at the world. Like his work, the Solomon B. Hayden Fellowships present a new way to consider scholarship, in particular in studying the arts at Columbia University.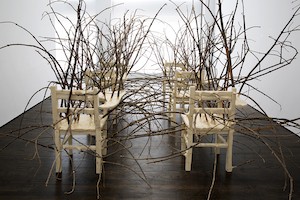 "Nothing about this is traditional," Hayden said. The Solomon B. Hayden Fellowships offer two students the opportunity to attend Columbia under specific circumstances. One, supported by Clearing gallery, will be awarded to a student pursuing an MFA in Visual Arts with a focus on sculpture; and another, supported by Lisson Gallery, will be awarded through Columbia's Department of Art History and Archaeology at the Graduate School of Arts and Sciences to a student pursuing an MA in the Modern and Contemporary Art: Critical and Curatorial Studies (MODA) program. Both of these fellowships will be granted to students who have demonstrated leadership in the African-American and African Diaspora communities. In addition to financial support, these fellowships offer recipients mentorship opportunities and a chance to network from within the two galleries through working directly with established artists and attending openings, and providing exposure and access for younger, emerging artists.
To begin raising funds for their contribution, Clearing Gallery will sell two new works by Hayden, the profits of which will go entirely to the Solomon B. Hayden Fellowship Fund in Visual Arts. More information on these works is available on Clearing's website. Additionally, taking the lead from Hayden, Lisson Gallery's senior leadership–Nicholas Logsdail (Chairman), Alex Logsdail (Executive Director), and Greg Hilty (Curatorial Director)–are also jointly making an equal personal financial contribution toward the fellowship. Initially, this will partially fund its recipients, with the intent to become full support later on. The longer-term aim, beyond this immediate pledge, is to award annual scholarships in New York and London and also to provide mentorship and placement at different gallery locations and with artists and related partners, to provide better access to the profession. This collective contribution is recognition by both the artist and the professional industry that the current moment demands great change. The fellowships are part of an ongoing effort to address the inequities embedded at the base level of the art profession. "These fellowships can give artists access to things that money can't buy," Hayden said.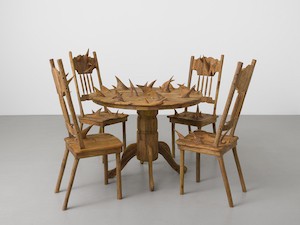 During Hayden's time as a student at Columbia School of the Arts, he also took courses in art history at the Graduate School of Arts and Sciences. It was during this time that The Brooklyn Museum received criticism for hiring a white curator for an upcoming exhibit of African Art and Photography. Despite the impressive credentials of the curator, many agreed that the decision brought to light issues with diversification among curatorial, managerial, and professional roles not just within The Brooklyn Museum, but the profession. As a student in art history classrooms at the time, Hayden had a unique perspective on the issue. He recognized that his peers—ostensibly the next generation of curators—consisted predominantly of white women. He understood then the root of the problem—access to education. "If this was a barometer as to who's studying this pursuit, this is a hindrance to having more curators, writers, or critics—art adjacent people—from these communities," Hayden said. "The hope is that maybe other galleries will do something similar."
In awarding the Solomon B. Hayden Fellowships Fund in Visual Arts, School of the Arts is proud to continue the commitment to recognizing, celebrating and protecting under-represented voices in the arts. "Hugh Hayden, our fabulous, recent alumnus is an amazing artist and human being––resourceful, brilliant, and hardworking––characteristics he attributes to his father, Solomon B. Hayden," Dean Carol Becker said in a statement. "Hugh recognizes the need to make scholarships available to those talented students whose presence will help to transform the demographics of the art world and extend opportunities for success to a more expansive group of young artists. This scholarship marks a unique collaboration between a socially conscious artist and equally remarkable gallery owners. We are thrilled and proud to host the first Solomon B. Hayden Fellowship in Visual Arts at the School of the Arts."
Carlos J. Alonso, Dean of the Graduate School of Arts and Sciences added, "We know that art is not merely artistic production, but production embedded in an institutional structure that regulates selection, dissemination, and recognition. This generous fellowship will help to change the dynamics of all three of those institutional operations through attention to novel objects and artistic expressions."
In its release announcing the fellowships, Lisson Gallery wrote: "We are conscious of the continuing protests and calls to action and have so far donated to the NAACP Legal Defense and Educational Fund, The Bail Project and Black Lives Matter in the US. However, the gallery believes that the drive for equality should begin with education in our own domain and that the wider art community has a long way to go in terms of collective accountability in this regard."
In its own statement, Clearing Gallery wrote, "As members of the global arts community, it is our duty to take specific actions and create opportunities that can lead to more diversity and equity within the art world. We thank Hugh for leading this powerful initiative."
In Tension Dinner, MAW, NY, NY, October 23, 2016, culinary installation by Hugh Hayden '18