Alumna Olivia Newman '12 Directs Adaptation of Best-Selling Novel 'Where The Crawdads Sing'
Where The Crawdads Sing, the hotly anticipated film based on the best-selling novel, directed by Alumna Olivia Newman '12, will open in theaters this July 22, 2022.
Produced by Reese Witherspoon and starring Daisy Edgar-Jones (of Hulu's hit series Normal People), Where The Crawdads Sing is an adaptation of Delia Owen's novel of the same name. It's the story of Kya, a young woman making her way alone in the dense marshes of North Carolina.
Abandoned by her family as a girl, Kya has grown up on the outskirts of her community, a true outsider. With the discovery of the body of a young man with whom Kya was romantically connected, the town grows even more suspicious of her. Blending romance, crime, coming-of-age, and courtroom drama, Where The Crawdads Sing is a film firing on all cylinders. 
Newman's film First Match, based on her Columbia thesis film of the same name, premiered at South by Southwest Film Festival where it received the SXSW LUNA® Gamechanger Special Award and the Audience Award for best narrative feature film. Newman's script for First Match was also among the winners of the 2015 Columbia Blue List competition.
Released by Netflix to widespread acclaim in 2018, First Match follows Monique, a teenage girl who grows up in foster care, and becomes an underground wrestler as a way to catch the attention of her estranged father (Yahya Abdul-Mateen II.) The story of a young woman contending with alienation and adversity shares thematic DNA with Where The Crawdads Sing. 
As Newman told Vanity Fair: "Both of these movies are about girls who are facing incredible odds, who are growing up in very hostile environments…and discover an incredible skill that helps them survive."
When the trailer for Where The Crawdads Sing dropped in March 2022, not only did fans of the novel have reason to celebrate, Taylor Swift fans were also in for a welcome surprise. Swift, a fan of Owen's book, wrote and performed the original song 'Carolina' to accompany the film, and it features prominently in the trailer.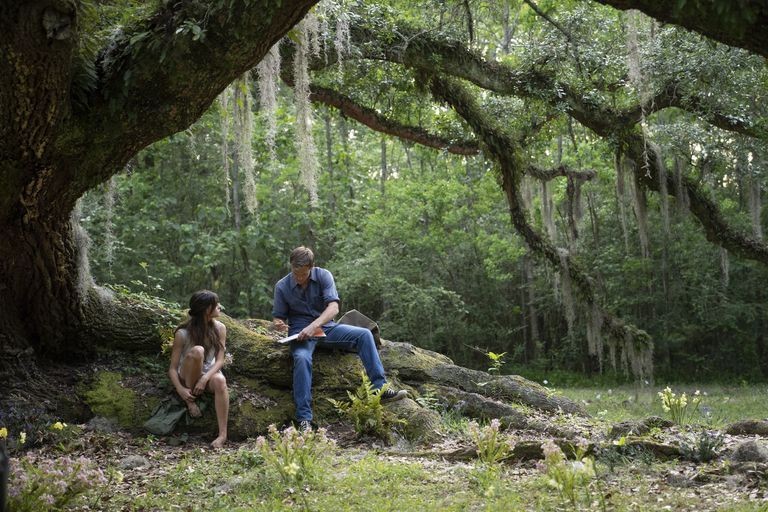 Swift told Rolling Stone, "I wrote the song 'Carolina' alone and asked my friend [Aaron Dessner] to produce it. I wanted to create something haunting and ethereal to match this mesmerizing story."
The screenplay for Where The Crawdads Sing was written by Lucy Alibar, the Oscar-nominated writer of Beasts of the Southern Wild. 
In an interview with SHOOTonline, Edgar-Jones noted how refreshing it was to work with a team composed of so many women, including producers and crew. 
"(Olivia's) such a sensitive director," Edgar-Jones said of Newman, "She has imbued the story with a lyricism and a fairy tale quality that's so beautiful."
Newman described what drew her to the Crawdads story in an interview with Screenrant: "For me, spending time in the woods and stories about the woods has always been part of my childhood. I was just swept up in this story of this young girl who is left alone in the woods and, against all odds, manages to survive. It just really tapped into something that, as a kid, was the ultimate story."
Where The Crawdads Sing will be in cinemas this July. If the novel's staggering 12 million copies sold is any indication, the film is a strong contender for a summer blockbuster.
Olivia Newman is an award-winning writer/director whose films have screened at festivals internationally, including the New York Film Festival, Aspen Shortsfest, and the Vancouver International Film Festival, among others. A 2015 participant in the Sundance Directors Lab and the Sundance  Screenwriters Lab, her script for First Match was a quarter finalist for the Academy Nicholl Fellowship and a winner of the 2015 Columbia University Blue List competition. Olivia is an alum of IFP's No Borders International Co-Production Forum, IFP/Film Society of Lincoln Center's Emerging Visions program. Olivia´s debut feature film First Match starring Elvire Emanuelle, Yahya Abdul-Mateen II, Colman Domingo and Jharrel Jerome premiered at the SXSW Film Festival, and was released by Netflix in 2018. Olivia received her MFA in Film from Columbia University.