Sumptuous Textures at the Second Installation of the 2021 Visual Arts MFA Thesis Exhibition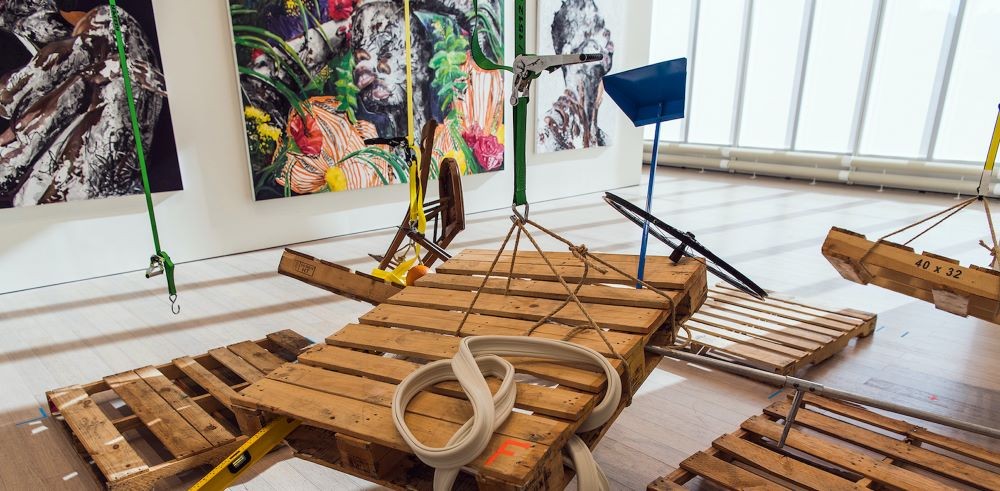 Update: The second installment of the Visual Arts Program 2021 MFA Thesis Exhibition can now be experienced virtually on the Visual Arts Exhibition Website. Read more about the exhibition below. 
Original Article: November 16, 2021
Running until November 20, 2021, the second installment of the Visual Arts Program 2021 MFA Thesis Exhibition is now open at the Lenfest Center.
The Lantern Gallery now abounds with a crop of colorful, textural works: lacquer and plastic, nylon and spray paint, found objects, diaphanous fabric, and deeply saturated canvases. 
This grouping of artists—11 of the 22 artists who completed the Visual Arts MFA Program in May 2021—present a sumptuous, tactile collection. Domestic spaces and family feel especially present, as do themes of ancestry, identity, and place.
Khari Turner '21 presents canvases featuring high-contrast, shapely abstractions interacting with the curves of arms and hands and noses and lips—figures and faces of Black people depicted in gorgeous, textured layers. 
In Holding Fast to Dreams (72" x 72" Acrylic, oil, ink, charcoal, sand, African mahogany, water from: Coast of Senegal, Lower Manhattan docks, Lake Michigan, Milwaukee River, Pacific Ocean, 2021) a male figure outlined in smooth lines is alive with charcoal swoops and scribbles; white and grey paint swept and stippled with water creates a marbled internal cosmology; a person containing an electric Milky Way.
"I see Black people as personifications of the magic that is the ocean," Turner says in his show notes, "I use water from oceans, lakes, and rivers from places that have either a historical or personal connection to Black history—water that I collect to mix with and pour onto my paintings."
Another artist working closely with identity, Raelis Vasquez '21, exhibits a series of paintings as intimate and impromptu as photos you might see in a family album. 
They resemble the snapshots Vasquez often paints from, but are rendered in vivid color, imbued with hyperreal warmth: a bride and groom signing a registry; kids sitting at a dining table turning in their chairs to look at the picture-taker; a young man stirring a pot on the stove. Vasquez cites his Dominican upbringing as the essential backdrop of his work, and these expressive images articulate identity as it can only exist in spaces where you are known.
Ava Ravich '21 also engages with family mementos and space. Ravich's transfers of family photographs and 70's floral wallpaper prints onto a plywood triptych shaped like townhouses, evokes both a dollhouse feel and the tactility and ephemerality of memory. 
Domestic space again features in the work of Ivana Carman '21. Carman has created rich, mixed media depictions of interiors, where windows are both a way to look outward, and surfaces which reflect the domestic within. 
Even Rasel Ahmed '21's experimental documentary Goodbye, Snowball prominently features the home of the anarchist character at its center. Scenes of Sergei feeding and caring for his beloved dog, whom he will eventually put down in order to attend the revolution, suggest that domestic spaces play a significant role in the political.
Some of the most lush and striking works are the installations, bursting with color and structure and meaning. 
Juan Hernández Diáz '21 has devised an elaborate ongoing performance in which the artist turns a device mounted on the wall, and based on the result, retrieves one of the everyday objects—pylons, a shovel, a pumpkin, a basketball hoop—with which he has lined the walls of the space. He adds that object to one of several wooden pallets suspended from the ceiling. It is an evolving feat of sculpture and balance. 
The work is called Perishables, or (Provisional Balance in Continuous Construction) (24" x 23" x 22'4", 24 days, mixed media installation, durational performance, 2021.)
The element of precarity is important for Colombian-born Diáz, representing how millions of South Americans exist—"a region that constantly negotiates equilibrium by resolving problems through resourceful improvisation and provisional solutions." 
Next door, Priscilla Jeong '21 balances technology and organics in her Worker of the Five Point Chamber series. Knots of garlic, knobbled vertebrae, and fat, fleshy-looking plastic orchids spill from austere, industrial frames like acrylic beams, a wooden wheel, a lacquered cabinet. What is wire and what is root? It is mesmerizing dystopian poetry in motion, like something out of a Jeff VanderMeer novel. 
Noga Cohen '21's installations could also be straight out of science fiction. The word 'grotesque' here is intended as a compliment; Cohen uses plastic and wax in awe-inspiring and possibly stomach-churning ways. 
Suspended above the viewer's head, Nightmare nest (72" x 76" x 130" Mixed Media; plastic, fiberglass, wax, 2021) suggests the detritus of human garbage floating on the ocean's surface, somehow solidified into horrifying immovable carnage; a nightmare we can't wash away. 
Honey Trap (51" x 97" x 64", Mixed Media; metal, plastic, wax, fiberglass, 2021) is a massive yellow plastic bower reminiscent of a carcass and capitalistic decay. If you could step into a Francis Bacon painting, it might feel like this.
Don't miss this fascinating assembly of works, curated by Amy Sadao. Like the Exhibition's first installment, which is now available to view online, it highlights the talents of an incredible group of artists, and is best experienced in person.
Image Carousel with 4 slides
A carousel is a rotating set of images. Use the previous and next buttons to change the displayed slide
Slide 1: Noga Cohen '21 (left), Yuri Yuan '21 (middle), and Rasel Ahmed '21 (right)

Slide 2: Ivana Carman '21 (left) and Farah Mohammad '21 (right)

Slide 3: Yuri Yuan '21 (left) and Rasel Ahmed '21 (right)

Slide 4: Juan Hernández Diáz '21 (front) and Khari Turner '21 (back)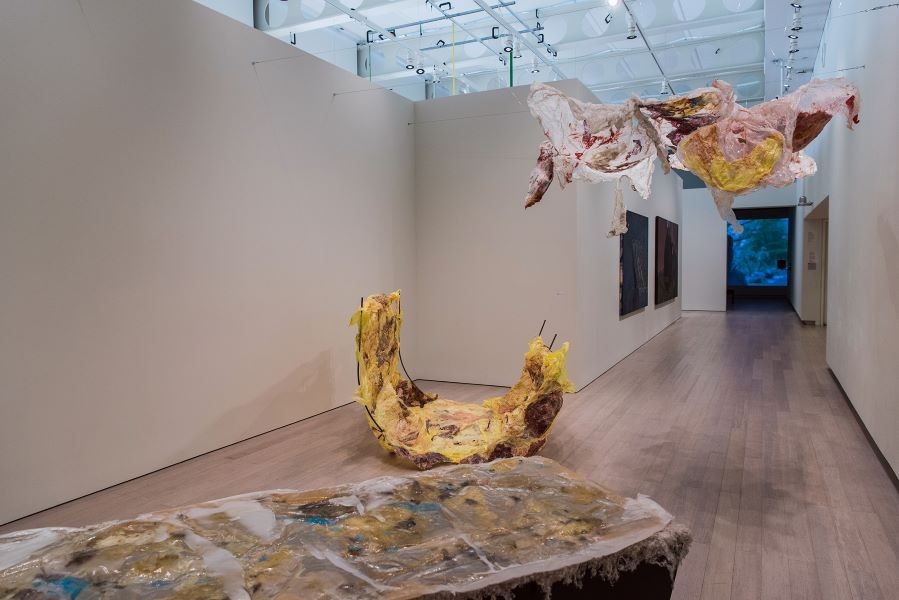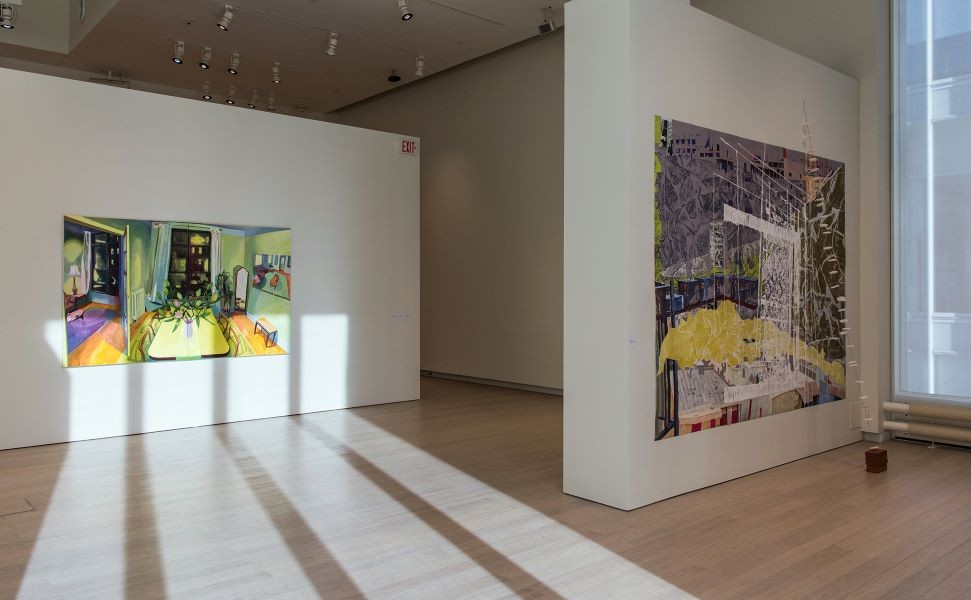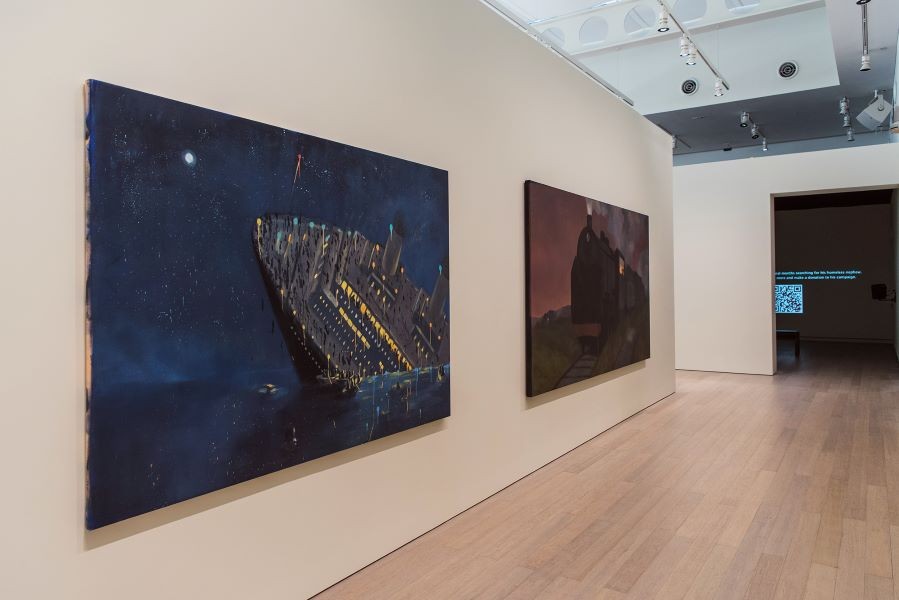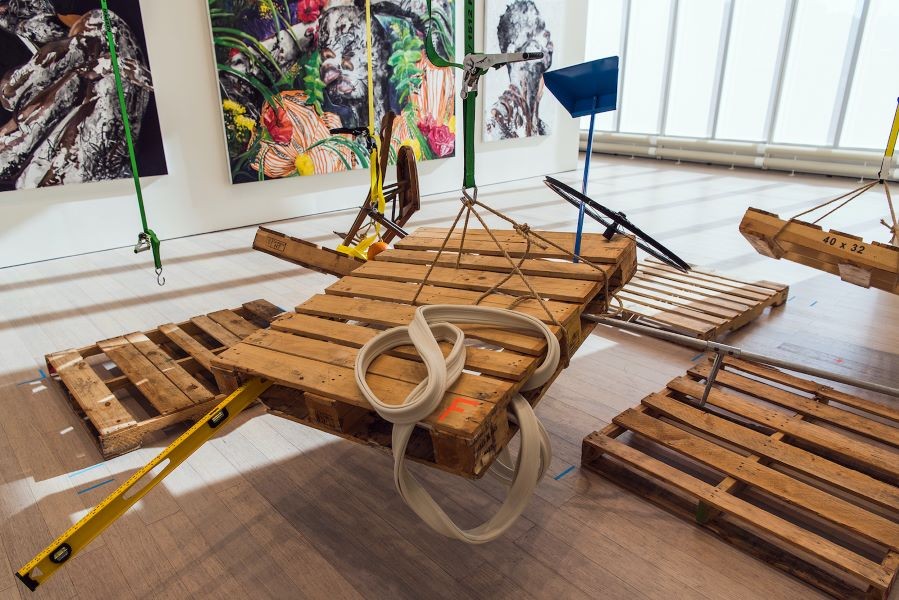 Previous
Next