Student Dhruv Sud Wins Inaugural Joel Schumacher/Sophia Cranshaw Mentorship Award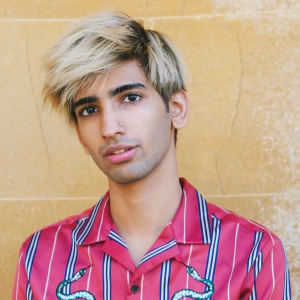 Third-year Film student Dhruv Sud was recently selected to receive The Joel Schumacher / Sophia Cranshaw Scholarship Award as part of his participation in this summer's Film and Media Career Development Program with Gotham EDU, a project of The Gotham Film & Media Institute.
Originally founded in 1979 as the Independent Filmmaker Project, The Gotham Film & Media Institute is an organization that champions the future of storytelling by connecting artists with essential resources at all stages of development and distribution. The organization also fosters a vibrant and sustainable independent filmmaking community through its year-round programs, which include Gotham Week, Gotham Labs, and the Gotham Awards, as well as the award-winning Filmmaker Magazine.
In January 2021, Jeff Sharp, the Executive Director of The Gotham, announced that the institute would now award the Joel Schumacher Mentorship Award in honor of the legacy and social consciousness of the versatile film director, screenwriter and producer and his passion for mentoring young people. Schumacher, who passed away in 2020, worked on numerous major film projects over the course of his career, including The Phantom of the Opera (2004), The Wiz (1978), St. Elmo's Fire (1985), Phone Booth (2002), and countless others. Schumacher also produced several campaigns focused on anti-violence, LGBTQ+ sexual health, voting rights, online bullying, depression, and suicide alongside MTV creative director, producer, and writer Sophia Cranshaw, who died of breast cancer in 2016. Throughout her career, Cranshaw led and worked on campaigns that addressed racial, gender, and sexual orientation discrimination, human trafficking, global warming, post-traumatic stress disorder, Black history, LGBTQ+ issues, and more. In 2006, Schumacher and Cranshaw were awarded the Governors Award Emmy for their "Campaign for Darfur," a public service announcement narrated by Alicia Keys calling for action against the genocide and the abuse of women and girls in Western Sudan, as well as a Peabody Award for the brand's mental health campaign, Half of Us.
The Schumacher scholarships are awarded to people of color and individuals from LGBTQ+, Black, and Indigenous communities. As an award recipient, Sud will participate in this summer's Film and Media Career Development Program—an eight week long programming series that will include workshops to hone career development and technical skills, master classes hosted by industry decision makers, as well as mentorship sessions. 
Dhruv Sud is a Writer, Director, and Educator based in Brooklyn, NY and Hong Kong. He is currently in his thesis years at Columbia University, where he is completing his MFA in Screenwriting and Directing and has worked as a Teaching Assistant and the Assistant to the Screen & TV Writing Faculty. Prior to Columbia, Sud covered scripts and novels for Symbolic Exchange Productions and assisted on public relation campaigns.
Creatively, he is drawn to dark comedy and drama, and his work often deals with themes of queerness, community dynamics, racial identity, immigration, or privilege. He is interested in expressionism and subjectivity and his work is characterized by a sense of experimentation, theatricality, and highly saturated aesthetics.
His directorial debut, The Coronation—produced by fellow Film student Grace Merriman—screened in competition at the 38th edition of the Miami Film Festival in 2021 and was selected to screen as part of the 2021 Big Apple Film Festival.