'House of Gucci', Written by Alumnus Roberto Bentivegna, Stars Lady Gaga and Adam Driver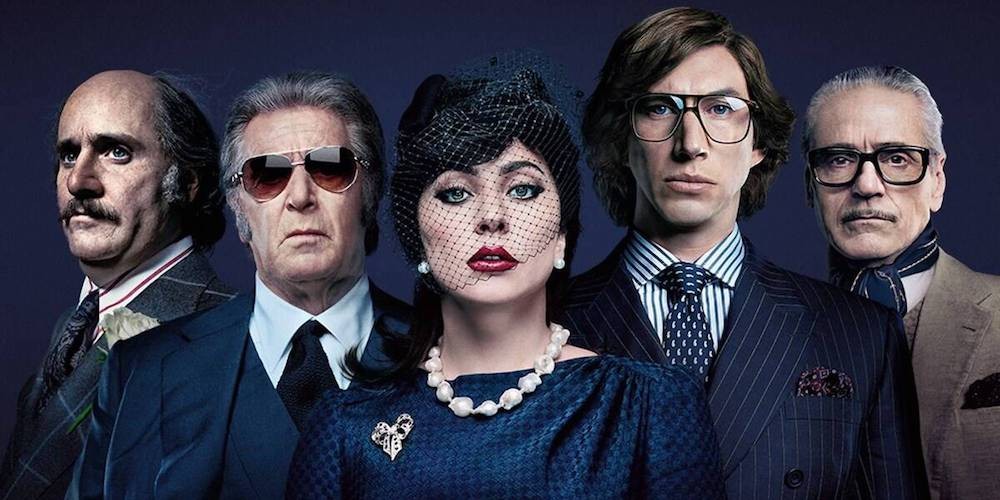 Alumnus Roberto Bentivegna '10 co-wrote the screenplay for House of Gucci (2021). The film's star studded cast includes Academy Award winner Lady Gaga, Academy Award nominee Adam Driver, Academy Award winner Al Pacino, Academy Award winner Jeremy Irons, Academy Award winner Jared Leto, and Academy Award nominee Salma Hayek.  
The film, directed by Academy Award nominee Ridley Scott (Alien, Gladiator, Thelma and Louise), follows Patrizia Reggiani, an outsider from humble beginnings. When she marries into the Gucci family, her unbridled ambition begins to unravel their legacy and triggers a reckless spiral of betrayal, decadence, revenge, and ultimately, murder. 
House of Gucci, which opened nationwide November 24, 2021, is based on Sara Gay Forden's book The House of Gucci: A Sensational Story of Murder, Madness, Glamour, and Greed (Custom House, 2001). In the book, Forden documents the trial and 1999 conviction of Patrizia Reggiani for arranging a hitman to assassinate her ex-husband, Maurizio Gucci, the grandson of the eponymous fashion house's founder. The film has been called "a sophisticated true-life tale about the way that power actually works" by Variety.
Bentivegna discussed his approach to writing the "fashion gangster movie" in an interview with Observer: "The touchstone I thought of was Sunset Boulevard and I thought of that movie specifically in terms of point of view because it's such a strange film. The character you remember is Norma Desmond, but it's actually William Holden's movie. He takes you through the story, with his voiceover and everything. So I thought about twisting that dynamic around and having Norma Desmond essentially be the protagonist in what would be this movie. That was a very helpful through line. And the other thing was making it a fashion gangster movie, in a way. Patrizia's almost like a Tony Montana—this big gangster who just doesn't give a fuck and bulldozes her way through thirty years. And obviously, in the end, she bulldozes over herself."
Bentivegna, who is fluent in Italian and whose parents are both Italian, also found a way to imbue the story with his own personal touch: "My connection into the story and the world and its specificity was such a big deal," Bentivegna said in the same Observer interview. "Even the moment [in the film] when Maurizio feeds Patrizia the hot pocket in front of the Duomo—those are called panzerotti and I used to eat them with my dad every Sunday. It was a ritual. Putting these details in a story, in a script—it gave it a personal connection."
Columbia University's Film Program held a virtual Q&A with Bentivegna for their Carla Kuhn Speaker Series: "It was so special to be back home (albeit virtually) at Columbia Film," Bentivena said. "When I was a student, I ran the Carla Kuhn Speaker Series. I remember thinking how meaningful it would be to come back as a filmmaker—so it's a big check mark in the ol' bucket list that I was able to return with House of Gucci." 
Roberto Bentivegna was born in London of Italian parents. He grew up in Milan and London, attending Emerson College in Boston before pursuing an MFA at Columbia University. His short films have screened at international film festivals including Locarno, Atlanta, and Miami, and are distributed by Film Movement and Shorts International. Whilst at Columbia University, Bentivegna was awarded the Carla Kuhn fellowship, the Hollywood Foreign Press Award, the Alfred P. Sloan Screenwriting award, and the honor of Faculty Selects for his screenplay A Day in March. He was also a finalist in the Academy's Nicholl Fellowship. Bentivegna has been awarded residencies at Yaddo, the Nantucket Screenwriters Colony, and was a fellow in the Italian Government's Apulia Film Program. His screenplays include Shella for acclaimed photographer Albert Watson; The Eel, which was featured on the 2012 Black List and is currently in development with talent Sam Rockwell and Maria Bello attached to star, Spirit House for Film Nation; an adaptation of A.M. Homes' May We Be Forgiven for director Lynne Ramsay and Artificial Eye; as well as The Disappearance of a Quiet Man for producers Chris Coen and Alan Moloney. He will also adapt Jo Nesbo's novella The Jealousy Man into a feature for Amazon Studios.