'Boyz n the Void' by G'Ra Asim '18 Available for Preorder
Boyz n the Void: a mixtape to my brother by alumnus G'Ra Asim '18 is scheduled to be released by Beacon Press on May 11, 2021 and is now available for preorder. 
Written to his younger brother and riffing on the concept of a mixtape, each chapter of Boyz n the Void is anchored by a punk rock song as Asim "reflects on building his own identity while navigating Blackness, masculinity, and young adulthood—all through wry social commentary and music/pop culture critique." 
In this lively mix of personal essay and cultural criticism, Asim presents his younger brother, Gysai, both a "roadmap to self-actualization" and an exploration of Asim's own relationship to punk rock and straight edge culture. Common themes of race, gender, class, and sexuality—as well as the "cultural terrain particular to being young, Black, brainy, and weird"—are reflected upon by Asim through this particular lens, ultimately concluding that "punk music offers an outlet" for Asim to express his identity freely.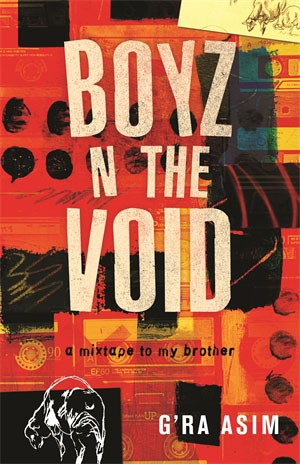 Asim dives "into the depths of everything from theory to comic strips, to poetry to pizza commercials to mapping the predicament of the Black creative intellectual." The result is not only a fraternal conversation between a man in his 30s and his teenage brother who is still attempting to discover his sense of self, but also an examination of Asim's own identity and techniques for confronting a sometimes treacherous world. 
G'Ra Asim, writer and musician, is an assistant professor of nonfiction writing at Ithaca College. In addition to an MFA in nonfiction from Columbia University, he holds a BA in writing, literature and publishing from Emerson College. He has served as writing director at the African American Policy Forum and as graduate teaching fellow in Columbia's Undergraduate Writing Program. His work has appeared in Slate, Salon, Guernica, The Baffler, and The New Republic. When not writing prose or teaching, he sings, plays bass and writes lyrics for NYC DIY pop punk band babygotbacktalk, who were named one of Afropunk's "Top 8 Punkest Bands on the Planet Right Now."