This is Who We Are: Professor Naeem Mohaiemen
This Is Who We Are is a series featuring Columbia School of the Arts' professors, covering careers, pedagogy, and art-making during a pandemic. 
December 03, 2021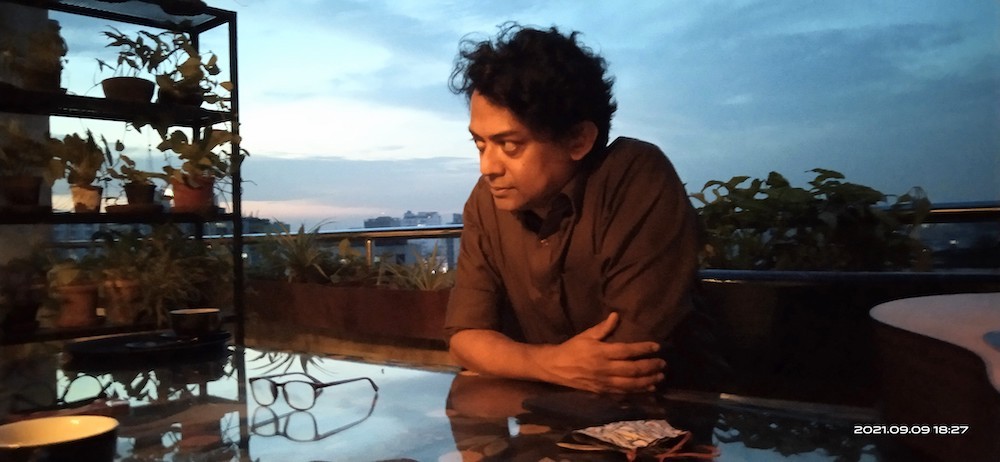 This Is Who We Are is a series featuring Columbia School of the Arts' professors, covering careers, pedagogy, and art-making during a pandemic. Here, we talk with Associate Professor of Visual Arts and Photography Concentration Head Naeem Mohaiemen about the future of photography, the path of unlearning, and his journey to becoming an Anthropologist in the Visual Arts. 
On the morning that Associate Professor Naeem Mohaiemen and I speak, his mother has shared her diary with him and he's wondering why the list of films she's watched recently is at the back of the diary and not the front. Why, too, is the list of English language films so much longer than the Urdu language list?  Is it because the Urdu titles are TV series that take longer to get through than the films listed in English? "I can just ask her, but I like to think through and wonder, why is this list so much longer than the Urdu language list? It's light hearted forensic excavation—special meaning may not come out of what was watched in the last couple of weeks," Mohaiemen says, and then pauses for a moment. "But there is always something there for the reading."
A certain curiosity underlines all that Mohaiemen does. As Photography Concentration Head, he is collaborating with colleagues in the Visual Arts department to figure out what the future of photography, that capacious notion, might look like. He says, "Although I think every medium would claim that they have been changed by technology, I think photography has been changed in a very particular way. There is a very broad blurring of the boundaries between intuitive, instantaneous photography and a more deliberative, slow pace photography." He is thinking of apps that simulate the grainy quality of film, and the unpredictability of manual film processing. "The visual signifiers between these many boundaries have become less apparent. Especially when digital photography can emulate the results of that laborious, mistake- and surprise-laden form. We have to understand what we can productively do as makers in a terrain where technology has an equalizing, but also flattening, effect. It is a script that our students are working out, slowly, in their studios." 
For an artist, Mohaiemen is something of a polymath. In 2019, he received his PhD in Anthropology from Columbia University. Almost three decades before that, a degree in Economics from Oberlin College. His studio work combines archives, video, photography, drawings, lectures, and essays. He makes no distinction or hierarchy between these overlapping genres; it just happens to be where the work is shown and where the audience and conversations are that determines how his work is classified: Art or Academic work. Instead, what unites his body of work is a broad scheme of inquiry. Mohaiemen is fascinated by transnational left politics in the years after the Second World War. This underlies his three-channel film, Two Meetings and a Funeral (2017), which secured Mohaiemen's nomination for the Turner Prize, the most prestigious art award given in Britain. His fellow nominees that year were research collective Forensic Architecture, New Zealand artist Luke Willis, and the winner, Scotland-based filmmaker Charlotte Prodger. 
Mohaiemen says, "A lot of my work is about going back and finding patterns in what could otherwise have been happenstance." It is a process that involves a lot of research. "The idea for a project will often come from a conversation I've had with someone. But once the research has begun, the idea almost never stays the same. It often gets derailed in unpredictable ways, and then you try to make sense of the new pattern. For Two Meetings and a Funeral, our original focus was an Arabic-French-Spanish interpreter who was the guide for Castro in Algeria in 1973. But she was not feeling well and could not join us, and so a completely different film unfolded because of the camaraderie between publisher Samia Zennadi and academic Vijay Prashad. After the film premiered, Vijay left academia and came over to Samia's space of work—full time publishing. On that film shoot, and in our lives, nothing went as planned—and that set the stage for the work and its reception."
Mohaiemen advocates the idea of "unlearning," a concept proposed by Polish curator Adam Szymczyk in Documenta 14, where Two Meetings premiered. Mohaiemen will dive deep into a subject, acquire a lot of knowledge, note a lot of observations, "but when it comes to making the work I have to forget a lot of that in order to get to the next step. A certain tenacious and encyclopedic comprehensiveness is one of the academic discipline's claims. But when you're making a visual work in the studio you're sometimes trying to get away from end-to-end narratives. There's another space of understanding you're searching for. That's not to say you can't be all-encompassing in your artistic practice, but for myself, I try to leave that footnote-laden, referential field behind to get to something more subconscious."
Mohaiemen began his work life as a video editor for documentary films in Bangladesh. "In 1990s Dhaka, a lot of documentary production was heavily in a development NGO paradigm. The funding flow, which the films supported, depended on certainty. If a funder implemented a major microfinance project across 500 villages, the film about the project was not given space to say 'we're not really sure if it worked.' Ambiguity did not have so much space there." But Mohaiemen quickly found he needed that ambiguity.
"Around 2004, I made a documentary in Dhaka about the Ahmadiyas, a Muslim community that is not accepted in some parts of orthodox Islam. Because of the timing of that project, post-9/11, the documentary was pulled into an evolving discourse that said you could be critical of some parts of Islam in practice, but you ran the risk of your critique being instrumentalized by the War on Terror project." Mohaiemen found the attention of certain audiences, especially linked to Western embassies in Bangladesh, discomforting. "From this discomfort came the need to discuss my projects after screenings in the hope of injecting some uncertainty over the findings."
For Mohaiemen, this is the moment when his work left documentary festivals and entered museums. "I found, somewhat organically, that the contemporary museum was a more receptive place for open ended discussion. I wanted the right to be unsure, and the space to change my mind."
What does he think of the contemporary museum today?
"We are in a particular moment in contemporary art production and circulation, where the maker is expected to be available for the explanatory exegesis after the event. Talking about the work has become part of the process of art making. I understand why it has to be there. Museums are under pressure to be democratic and accessible. However, I do find that artists explaining their own work in detail is always a complicated, contradictory process. Sometimes I feel: well, the work is already carrying a story within its body. If I explain intent in granular detail, I may take away the audience's ability to conjure a meaning in dialogue with the work."
Take Jole Dobe Na (2020), for instance, his latest film released during the pandemic.  "What would happen," he wonders, "if you didn't know that due to an age difference between the actors, and the 'seniority' that implies, there was a hesitation on their part about on-screen physical affection? Do people need to know that reason for the absence of intimacy between the couple even at the end of life? Is it better if I am not there, after the screening, to answer that question? This prerogative to explain the work can get in the way of the ambiguity that I think is one of the strengths of the museum space. To make up our own story."
Mohaiemen has shown work at Venice, Lahore, Sharjah, Marrakech Biennials; Chobi Mela, Dhaka; Tate Britain, London; Mahmoud Darwish Museum, Ramallah; MoMA, New York; RAW Académie, Dakar; SALT Beyoglu, Istanbul; Galerie Rudolfinum, Prague; NTU CCA, Singapore; and Documenta 14, Kassel/Athens. His publications include Prisoners of Shothik Itihash (Correct History) (2014) and the forthcoming Midnight's Third Child (2022), and he edited Chittagong Hill Tracts in the Blind Spot of Bangladesh Nationalism (2010), and co-edited System Error: War is a Force That Gives us Meaning (2007) and the forthcoming Solidarity Must be Defended (2022). Projects have been supported by Guggenheim Fellowship, Lunder Institute of American Art, Andy Warhol Foundation, Wenner Gren Foundation for Anthropology, Social Science Research Council, and Ford Foundation. Mohaiemen was a finalist for the Vilem Flusser Theory Award (2009), Turner Prize (2018), and Herb Alpert Award (2019). He is on the Board of Vera List Center for Art & Politics at the New School, New York, and the Film Council of ICA, London. He was born in London, England, and grew up in Tripoli, Libya, and Dhaka, Bangladesh. Mohaiemen now lives in New York, and joins Columbia University School of the Arts as a Visual Arts Professor and head of the Photography Concentration.