This is Who We Are: Diksha Basu
This Is Who We Are is a series featuring Columbia School of the Arts' professors, covering careers, pedagogy, and art-making during a pandemic. Here, we talk with Assistant Professor of Writing Diksha Basu '14 about her time in Bollywood, the fiction program at Columbia, and how she wrote her acclaimed debut novel, The Windfall.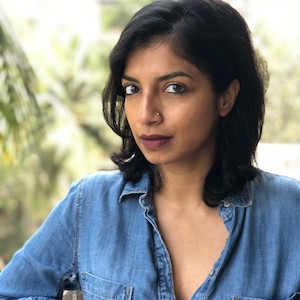 Diksha Basu was shooting a movie in Chandigarh, India, when she realized she wanted to be a writer. Until that moment, she'd been working in Bombay, trying to make the jump from stage to screen on the peripheries of Bollywood. The movie would be a big step in the right direction, but she was frustrated. "I would spend five hours in my "vanity" van getting made up in order to shoot a scene that would end up as thirty seconds in the film; and the scene would be shot over and over again." What frustrated Basu was the lack of control she had over the creative process. "I realized it wasn't my medium. It was the medium of the writer, the director, the cinematographer, the editor, the music producer, but not mine."
"I very sheepishly gave Gary Shteyngart a short story of mine, about a middle aged Indian man in New Delhi––he very generously read it and he came back to me after Fall Break and said he'd read it on his flight to China and he'd laughed out loud. I mean, I shouldn't even remember what Gary's destination was from his flight, but I do because it was so meaningful to me. It meant so much that Gary read it and responded in that way. I suppose that was the first time I felt I had the permission to—and I know one ought not to look for it but I was looking for it—the permission to write fifty-something Indian men, to not write twenty-something women and their romantic searches. To write this fifty-five year old man who suddenly has this wealth and his world changes overnight––as India is changing––and so I kept going with that."
What Diksha was writing, though she didn't yet know it, was a first draft of her debut novel, The Windfall, about a middle class neighborhood in New Delhi––a city Diksha grew up in. "You know," she admitted, "when my parents were moving homes they discovered an old notebook in which I had been writing rather nasty poetry about our neighbors," she said with a bright laugh. "I was obviously channeling something onto the page. I hope my parents have burnt those poems or hidden them away quite well; but in them I do see the seeds of The Windfall because I'm capturing growing up in this middle class milieu of Delhi. I was maybe ten or eleven years old. They're a little catty and a little funny so I'm proud of them, but that doesn't necessarily mean I want them published."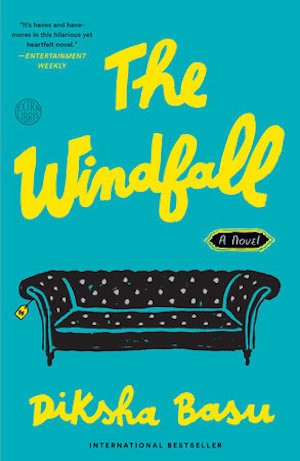 Growing up, Basu was a reader, but not in the way we think of the typical writer's adolescence or childhood. She was not, as she said, "one of those writers who used to hide under the blankets at night with a flashlight and read." Instead, she told me, "I was much more interested in being outdoors. I went through phases of being obsessed with math, of being obsessed with computer science." Both Basu's parents are academics, so there were books in the house. "My mother often knew what to give me when I was going through the emotional upheavals of adolescence. So that's when I would turn to books, but then I would feel better and I would toss the book to one side and go back outdoors and pursue my other interests."
Perhaps this total sense of freedom associated with the outdoors is what drew Basu back to fiction later in life. I asked her, given her background in theater, why she didn't pursue playwriting or screenwriting instead of the novel. She said, "I liked the complete lack of restriction that fiction gave me," adding, "The reason I benefited a lot from the MFA was because I didn't have set ideas of who I wanted to be as a writer." Indeed, this lack of inhibition extends to her writing practice. Unlike many young writers, Basu is not afraid to fail. "I'm not afraid to start writing and throw it out. That doesn't dishearten me to the point where I'll give up." 
It's this tenacity that steeled Basu for life after the MFA. In one sense she was very fortunate: she signed with her agent before graduation; but together they decided that short stories were not the best way forward. "Those short stories were incredibly detailed character studies for me." Over the next two years she worked an assortment of part-time jobs to fund the rewrite. The finished product, The Windfall (Crown, 2017), was released to wide acclaim, with write ups in Vogue, Rolling Stone magazine, The New York Times, Esquire, and countless other magazines. The novelist and publisher David Ebershoff called it, "A comedy of manners for the globalized 21st century."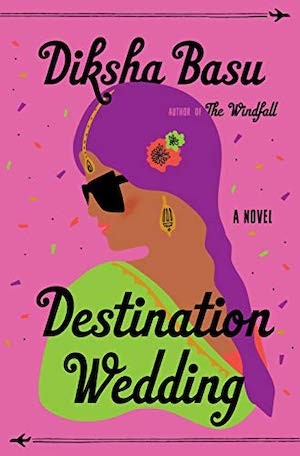 Now finalizing her third novel, she's still hesitant to say that she's learned how to write a novel. "I feel as though I'm starting from scratch every time. So much," she told me, "depends on life changes. By the time The Windfall came out I had a four-month-old newborn. By the time Destination Wedding came out," her second novel, published in 2020, "I had two children. Life evolves so rapidly at times. And now of course we're living in a pandemic that nobody could have predicted, so everything changes so fast that I don't think you ever know how to write a novel. It's always new." 
But the one practice Basu has maintained, born from the experience of turning The Windfall from a book of stories into a novel, is that each new project is built from the characters up. "That seems to work for me. I start to think about them in my head, I live with them, not necessarily write short stories about them, but I start to put them into scenes even if the scenes don't end up in the book." With children, she's had to develop "laser-sharp focus for short amounts of time." Writing in this new way, she told me, has brought a different energy to her writing. Her new book was written entirely during the pandemic. Basu is interested to see how that changes the energy of her writing again. "I don't know how the pandemic has affected my work but obviously it has, as the whole definition of time has changed."
With the latest manuscript on her agent's desk for edits, Basu has found time to move into screenwriting. She recently started developing an original series with a production company based out in LA. Unsurprisingly, she called the process "full freedom! I've been allowed to do things that are more absurd than I would do on the page. The producers I've been working with have been holding my hand very generously and mentoring me through this process." It marks Basu's first foray into screen arts since those early years in Bombay. She hopes she'll be able to teach a class one day on everything she's learned in this new process. Basu admires the screen's rigorous approach to storytelling: starting with characters, then storylines, then, after a treatment, the pilot. 
In addition to her writing commitments, Basu is teaching a workshop and a seminar this semester. We spoke over a national holiday, a time when everybody else was winding down to be with family. Not Basu: She likes keeping busy. "These markers of time," she said of national holidays, "make me far too aware of mortality," she joked. "So I'm perfectly happy with letting it all blur to keep the thought of death away."
Diksha Basu is the internationally best-selling author of The Windfall (a People Magazine pick, NYTimes Editor's Pick, Time Magazine Pick, Target Diverse Book Club pick, and more) and Destination Wedding (shortlisted for the Bollinger Everyman Wodehouse Prize for comic fiction and Comedy Women in Print Prize), both of which are currently in development for the screen. She was a columnist at Mint Lounge and her work has appeared in The New York Times, The Guardian, Vogue, The BBC, NYMag, and several other publications. She holds a Bachelors in Economics and French Literature from Cornell University and an MFA in Creative Writing from Columbia University.