Visual Arts Alumna Vivian Chiu in Solo Exhibition at FLXST Gallery
In And, Or, Not, a solo exhibition of work by Visual Arts alumna Vivian Chiu '19 at FLXST Contemporary's A-Side Gallery, wooden sculptures stand as watchful, willing figures on plexiglass supports spread throughout the gallery's space, interacting with the sun's light and the shadows thrown on the exposed brick walls. "They seem inevitable in some ways," writes Stephen Wozniak for White Hot Magazine, "like they've been waiting for watchers to amble through and give them the once-over."
Each of these sculptures is made from cherry and poplar wood on a lathe, a device used to turn a piece of material, such as a block of wood, as it is carved by the artist's hands. In Chiu's hands, the block of wood is really two blocks of wood, which she adheres together, turns, carves, then splits apart, and reconfigures into columned stacks of globular, pyramidal, and pagodane shapes. 
These shapes are hardly accidental. Each sculpture's form is inspired by the algebraic logic of Boolean functions, which "allow disparate shapes to combine or exclude into hybrids and voids," the gallery's press release notes.
Working within the framework of Boolean mathematics furthered Chiu's exploration of "Ornamentalism," a term honed by theorist Anne Anlin Cheng to describe "the particular way that Asian femininity is Objectified."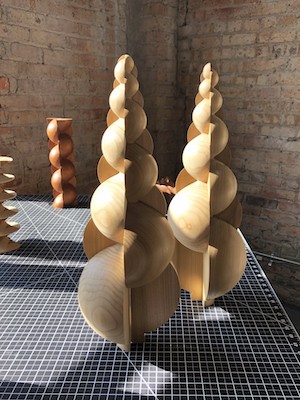 "Ornamentalism poses the idea that the Asian feminine body, unlike other racially objectified bodies, is seen as ornamentation and decorative—closer to fine china and silk, an object of commodity," the gallery's press release explains. "This seems to capture a tension that Chiu's work grapples with: that identity is something both ephemeral and inescapable, both assigned and experienced." 
In considering such tensions within the framework of Boolean mathematics, Chiu arrived at hybridity. Specifically, Chiu asks: "What new life does this hybrid form take on? This question is essentially one of shape-shifting. What begins as two distinct forms becomes a third thing when recombined, but also results in a series of new two-dimensional shapes, defined by the intersection of edges, which emerge on each form's flat plane. In this way, split turning [the process of splitting and re-configuring the lathe-made sculpture] also becomes a formal exploration into negative space through the planar shape that remains exposed as the forms join together."
Beyond resulting in elegant, self-contained, and inviting forms, this approach to sculpture also advances Chiu's multi-dimensional explorations of self and image, which she began in her Self Portrait Series.
Vivian Chiu was born in Los Angeles and emigrated to Hong Kong at the age of three. Her interests in creating objects and the visual arts led her to attend the Rhode Island School of Design (BFA '11 Furniture Design) and Columbia University (MFA '19 Sculpture). With an aptitude for problem solving and a sensitivity towards materials, Vivian utilizes continuous deconstruction and reconstruction to create optical sculptures and explore ideas of visibility and perception.