Ito Aghayere '12 Plays Young Guinan in 'Star Trek: Picard'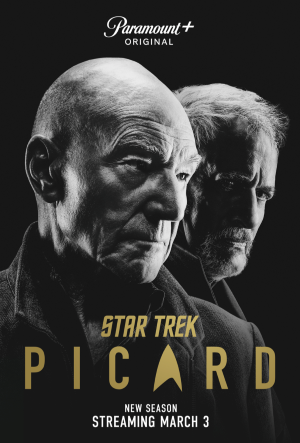 Acting alumna Ito Aghayere '12 plays Young Guinan in Star Trek: Picard. The role of Guinan was originated by Whoopi Goldberg who would often share the screen with Patrick Stewart's character. Now, in this series, Aghayere takes over the role as the younger version of Goldberg's character. 
Aghayere had an exclusive interview with Variety about the role. She stated how playing Guinan has fulfilled a lifelong dream to be a part of the Star Trek franchise, especially The Next Generation.  
"I watched all of 'TNG' as a kid, primarily because my parents are immigrants, and they're very conservative," she said in a Zoom interview. "As a kid growing up, there were very few shows that they would let us watch without having to care what it was about, or understand what it was about."
Aghayere also spoke about how much the role of Guinan personally meant to her growing up, saying, "I just thought she was so cool. I have to paint a picture for you of what it was like back then: I had braces until I was a freshman in college, so I was the epitome of a Black nerd. So watching Whoopi just steal scenes right out from under Patrick Stewart…It just felt so empowering to watch her do that. Looking back now, I just think this woman completely encapsulated the kind of Puck-like quality of [being] both mischievous and omniscient. She wasn't in that many episodes, so to have such a pivotal impact on the series is quite remarkable. As a kid, every time I saw, 'And guest starring Whoopi Goldberg,' I was like, 'Yes! She's back! It's going to be a good one!'"
Aghayere stars in Episode 4 of the series, and had the challenge of emulating this iconic role. When asked about how she was able to parallel her performance to Whoopi's, she answered, "I think Whoopi has this beautiful stillness to her work…She sits in the center of herself, in each moment. You never see her fidgeting. You never see her move around. I wanted to use that. I think that is key to who this person is, but in 2024 Guinan, I think that stillness is used as a weapon. It is the precursor to a threat, to an attack. It is aggressive. It's not out of a place of ease, it's out of a place of, 'I'm going to gauge what I need to do to protect myself.'  It is selfish in many ways. It's not giving in the way that I think Whoopi's Guinan is."
Star Trek: Picard is set at the end of the 24th century, 18 years after the events of Star Trek: Nemesis, with Sir Patrick Stewart reprising his iconic role as Admiral Jean-Luc Picard. Picard is still deeply affected by the loss of Lieutenant Commander Data, portrayed by Brent Spiner, and the destruction of Romulus, and steps into the next chapter of his life.
Star Trek: Picard is now streaming on Paramount+.
Ito Aghayere is a Nigerian, Canadian, American actress born in Alberta, Canada. She is known for Star Trek: Picard (2022), Carol's Second Act (2019) and Logan Lucky (2017). She graduated from Duke University with a Bachelor of Arts in Political Science, and received her Master of Fine Arts after graduating from Columbia University.