Ilana Harris-Babou '16 Takes Over Times Square with 'Liquid Gold'
Every night from May 1 to May 31, 2023, Liquid Gold  (2023) by Ilana Harris-Babou '16 takes over the screens of Times Square for a truly transformative Midnight Moment. 
Midnight Moment is an ongoing featured project from Times Square Arts and is the world's largest and longest-running digital public art program. Presented nightly to millions of viewers, Midnight Moment showcases the work of contemporary artists on one of the most iconic public canvases—the electronic billboards of Times Square. Synchronized nightly from 11:57 PM to 12 AM on over 92 digital displays spanning 41st to 49th Streets, this program brings public art on a monumental scale to New Yorkers and visitors from all across the globe.
In Liquid Gold, Harris-Babou considers the passing down of maternal knowledge and the invisible labor that has historically surrounded the act of breastfeeding, and transforms the media architecture of Times Square into an immersive, dream-like canvas filled with flowing cream-colored bubbles.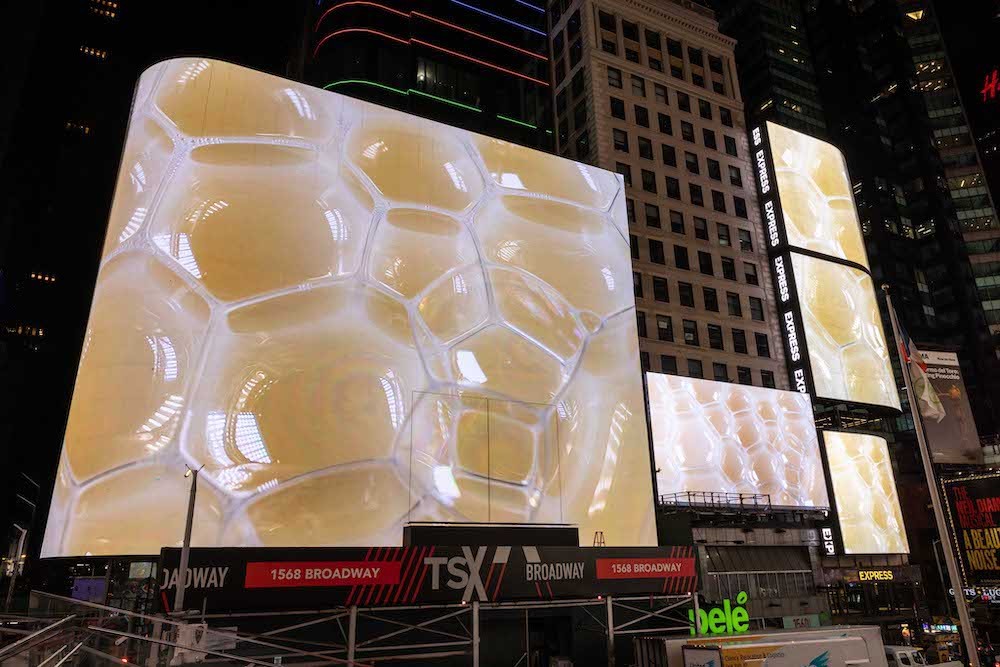 As detailed in the project description, the inspiration behind the close-cropped, slow-moving sequences of milk and baby formula ingredients came from conversations with the artist's family members chronicling both the challenging and empowering experience of motherhood as Black women. Exploring the unique position milk holds within broader global politics and culture, Liquid Gold also invites conversations around the complexity of a seemingly everyday substance and the social economies of milk and motherhood. Accompanying the work is a soundtrack by the British-Irish composer Anna Clock referencing "All the Pretty Little Horses," a lullaby believed to have been sung by enslaved African-American mothers to their children.
"The video explores the ways intimate moments both inform, and are informed by, larger societal structures," said Harris-Babou in her artist statement. "By magnifying a familiar and essential substance, I seek to amplify the overlooked realities of intergenerational care. Showing the video at a large scale in Times Square will invite an even broader audience into the conversation. I hope folks will bring their own memories and associations when experiencing the work."
Harris-Babou's Midnight Moment presentation is curated by fellow Visual Arts alumna Pamela Council '14. Council previously participated in the Midnight Moment program and is the artist behind the Times Square Arts 2021 commission A Fountain for Survivors. In addition to the video art, Liquid Gold's Midnight Moment also included a live performance on May 12, 2023. The evening featured live music and lullaby-inspired sounds by vocalist and Sound Arts alumna Ashley Grier '17 and violinist Che Buford. Harris-Babou also participated in a virtual artist talk with scholar and award-winning author Dr. Jennifer Nash. The conversation was moderated by Council and explored the themes behind Liquid Gold as well as the intersections within Harris-Babou and Nash's research and practices, including Black feminist theory, Black maternal health and Black mothers' experiences.
A longer-form version of Liquid Gold's video art was commissioned for the exhibition Milk at Wellcome Collection in London, UK. You can check out the video on Harris-Babou's artist website. On view from March 30 to September 10, 2023, the free exhibition features over 100 items including historical objects, artworks, and new commissions.
Read more about Liquid Gold's Midnight Moment here.