'Halston' Documentary by Frédéric Tcheng to Release May 24
Halston, a documentary by alumnus Frédéric Tcheng '07 will be released theatrically on May 24th. Halston premiered as the sole fashion documentary in this year's Sundance lineup, and the film distribution company formerly known as The Orchard Film Group picked up the U.S. theatrical and home entertainment rights.
In an interview on The Creative Independent, Tcheng said, "I didn't want it to be just another documentary for me. Early on I became interested in the idea of doing a hybrid documentary where part of it would be scripted, which made sense since Halston's story actually felt very scripted. He scripted it himself."
Frédéric Tcheng is a French-born filmmaker whose documentary Dior and I was released in 2015 to critical and public acclaim. He previously co-produced and co-edited Valentino: The Last Emperor, and co-directed Diana Vreeland: The Eye Has To Travel. 
We spoke Tcheng about his career and Halston's upcoming release.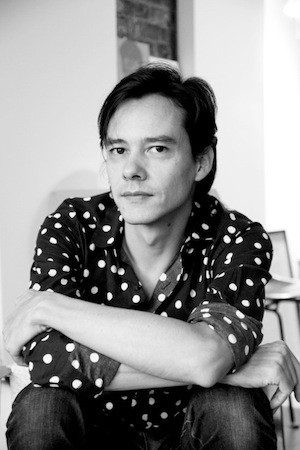 What made you decide to create Halston?
Well, I've done a few fashion documentaries…and I didn't want to do the same thing over and over again, and I gave my producer quite a hard time in the beginning, telling him that I didn't want to do another fashion documentary, but I think eventually I realized that the story goes much, much further than just fashion. It's the business story that really compelled me. It became what was going to make this film bigger…and I think it resonated with me on a personal level.
I have been in the situation where as an artist you have to negotiate with the business side of things, and sometimes it can be very alienating and very traumatizing because business people have a totally different agenda in mind and a totally different way of looking at things and that can clash….it was something that was very much a part of my life, and I saw that in Halston's story. And it compelled me to tell it. I just felt like the corporate takeover was big and it felt personal, so I couldn't resist in the end, and I told my producer I would do it.
Did you know where you were going with the film from the beginning?
I had the business story in mind very much. I started from there, and I think I was really drawn in and wanted to know more about what happened in 1984 when the corporation changed hands and there was this sense of ambivalence. I couldn't really tell who was telling the truth …who was right and who was wrong. It felt like the corporation had a narrative and then Halston had a narrative and those two were at odds…it became a little but like an investigation of trying to find out what had happened.
Halston at that stage was himself like a movie character. He was bigger than life, and he was hiding behind his sunglasses usually, with a cigarette holder. He was a little bit of a caricature of a fashion designer, and that was the starting point for the film and the rest...the process of actually making the film was unpeeling the different layers of Halston and removing the sunglasses and removing the grand persona and seeing who was behind there: who had been there—who were the previous iterations of Halston?—and that became really fascinating to me, just the process of investigating Halston, really. 
The film, while being a documentary, uses scripted narrative elements, what made you decide to do this?
Part of it was wanting to do something that was different, I've done several documentaries about fashion and I think I always try to find an angle or something that would set it apart, because I am interested in doing things that are challenging and new…a little bit like Halston, in a way. I think it came from this attraction that I had for the business story and it unfolded like a thriller in my head. And with that came references to film noir, but also Citizen Kane….This idea that you are looking for the rosebud of this person, you are trying to understand this person….
I felt like there were as many Halston's as people I talked to, everyone had a different take on him, whether it was the models who recalled fond memories of him starting out, or the corporation that depicted him as this out of control monster, or Liza Manelli who remembered him as a big brother. There were a lot of versions of Halston, and I wanted to get to the bottom of which one was true. And I think all of them are true, that's my conclusion.
He is one of the most complex characters that I have ever gotten to work with. He's reinvented himself at different stages of his career, and also he has gone very, very high in his field and then lost everything. It was a grand story, for me it reminded me of storybooks or old Hollywood movies where the arc is so extreme…the arc of someone's life. So I think all of that called for a form that was nonlinear…I did not want to do something linear where I would reveal where he lived and grew up and take viewers step by step through his life…that sounded very boring for someone who was not boring.
So you matched the way you made the film to the way he lived his life?
Absolutely, I think he was interested in constructing this narrative about himself, and that means as a filmmaker I have to deconstruct this narrative…and show where each part came from. A little bit like a forensic analysis.
Taking a step back, you have done a lot of work in the documentary space, have you always been drawn to it? 
Actually, when I came to Columbia, I wanted to make fiction. I didn't really think about documentary that much. My real love was narrative. I went to film school thinking that was the goal, but by the end I started working in documentary, and I worked on a film called, Valentino: The Last Emperor, that opened the gate for me to think about film in a different way…. I was at a time where writing was a little difficult in film school—I was hitting a wall—and documentary created an outlet where I could express myself without having to create a whole world, but just taking a world that exists and look at it. I'm kind of a contemplative person…so I realized that was a great fit for me. And it was just a lot of fun following people around, especially valentine, on his yachts and fashion shows, being a fly on the wall. The film became a success, especially in the fashion world, and after that, I got a lot of offers, that's how my career got started.
How has your time at Columbia helped you?
Columbia was a huge turning point for me because I'm French, and I grew up in France. And I did for undergrad something that was completely unrelated to film, even though I knew I wanted to do film. I didn't really have the tools or the connections to really go in that direction. France is a very different system. There are few chosen ones that get to do film, but I...didn't fit…the profile. Coming to Columbia University was me literally reinventing myself. I went from being a civil engineer—that was what I was studying in France—to studying film in New York City overnight. Columbia didn't really look at my background as much as what I had to offer. We were a class of 65 and there were at least 25 international students. A lot of people who came from a completely different background, like me, and we had a fantastic time. I'm still very close to a lot of people who went to Columbia with me that year.
What's next for you?
I hope to make more fiction. I have a script in front of my eyes right now, and I've been working on it for quite some time. Now that Halston is behind me I can look at it again, and there's another documentary project I am in the middle of shooting. It's not a fashion story, actually is a new art foundation in the south of France that I've been following for three years now, it's opening next year. It's fascinating. It's going to be slightly political I think.