'A Distinct Society' by Directing Alumnus Kareem Fahmy '07 Will Have a Virtual Reading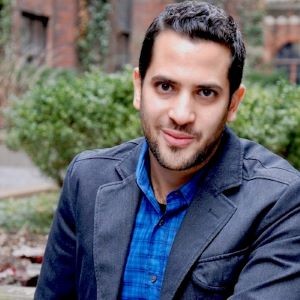 A Distinct Society, written by Theatre Directing alumnus Kareem Fahmy '07, will have a virtual reading as part of the International Voices Project (IVP) Chicago in collaboration with the Consulate General of Canada in Chicago, Silk Road Rising, and the Citadel Theatre of Canada.
Directed by Patrizia Acerra, A Distinct Society unfolds in a quiet library on the border of the US and Canada. The "Muslim ban" has separated an Iranian family, and its members begin to use the library as a covert meeting place. The head librarian, a US border patrol agent, and a local teenager also become entangled in the story when they're forced to choose between helping the family and protecting themselves. 
The IVP promotes the work of global playwrights by presenting opportunities to engage with new and contemporary international plays in Chicago theatres. Via commissions, translations, and production, the IVP is able to showcase the work of emerging playwrights. Collaborations with consulates, cultural partners, and Chicago-area universities help make these US premieres possible, as do partnerships with national and international theatres.
Fahmy's other plays include The Triumphant, Pareidolia, The In-Between, and an adaptation of the acclaimed Egyptian novel The Yacoubian Building. They have been developed or performed at The Atlantic Theater Company, New York Stage & Film, Target Margin Theater, The Lark, Capital Repertory Theatre, Fault Line Theater, and Noor Theater. 
He has also directed a number of world premiere productions, including James Scruggs's 3/Fifths (3LD), Sevan K. Greene's This Time (Sheen Center), Bess Welden's Refuge*Malja (Portland Stage), Adam Kraar's Alternating Currents (Working Theater), Nikkole Salter's Indian Head (Luna Stage), and Victor Lesniewski's Couriers and Contrabands (TBG Theatre). 
Fahmy has been a fellow or resident artist at the Sundance Theatre Lab, Oregon Shakespeare Festival, Eugene O'Neill Theatre Center, TCG, Second Stage, Soho Rep, Lincoln Center, The New Museum, and New York Theater Workshop. 
A Distinct Society will air on October 21, 2020 from 7 to 9 pm. Watch the live stream and tune in for a Q&A after the show here.