Anna-Ting Möller '23 Explores Life Cycles Through Kombucha in New Solo Exhibition
Visual Arts alumna Anna-Ting Möller '23 is presenting Fantasy of the Fabrication, an exhibition that delves into our preconceived ideas about the cycle of life, particularly focusing on microbiology, fungi, and mold. The exhibition will run through September 29, 2023, at Urban Glass in Brooklyn.
The world of fungi, Fantasy of the Fabrication tells us, is an unexplored realm. The exhibition challenges the narrow way humanity has decided to understand and categorize all living and dead things, which makes it impossible to understand any species without attaching human attributes to them. 
Möller was born in China and adopted by a Swedish family at the age of two. "Growing up in Sweden, I was always pointed out as a representative of otherness, and interrogations regarding my 'place of origin' were constantly a subject to strangers," she said. "In 2015, I traveled to China in search of my birth mother. Ultimately I did not find her. Instead, a woman
who I stayed with gave me a kombucha-mother, and a different kind of mother found me. Since then, I have been cultivating that same kombucha-culture with tea and sugar—both materials rooted in fraught relationships to Northern European economies."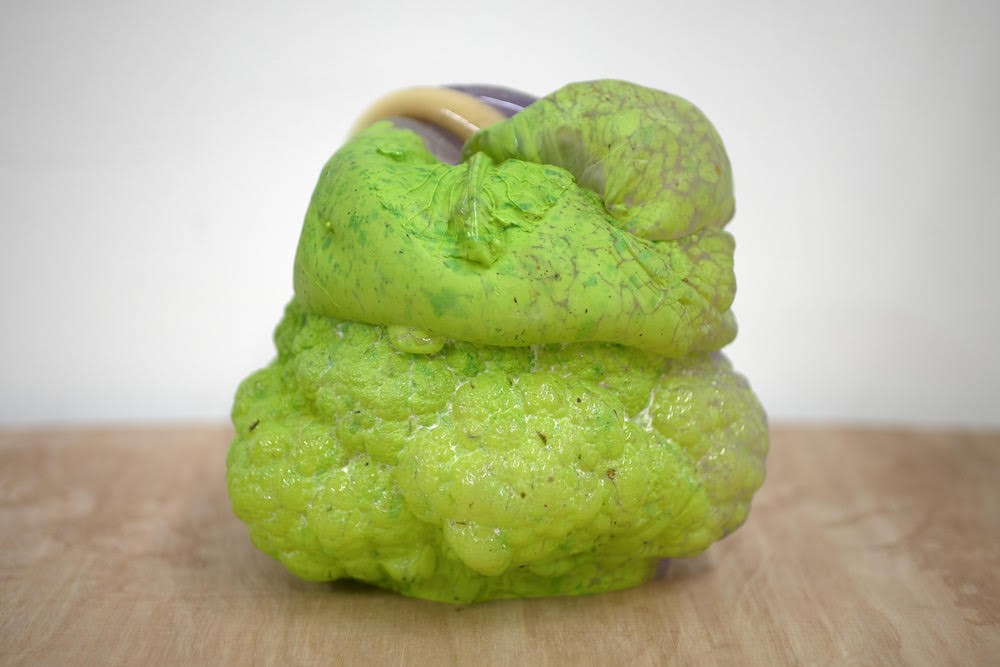 Her sculptures are actually living organisms, all cultivated and removed from the original kombucha culture Möller received in China—calling to mind a family tree. Although these child-organisms could technically be returned to the original mixture, there's a high risk of spoilage, adding a layer of complexity to the parent-child relationship Möller explores.
"The work contemplates the idea of private and public loss. Adoption is not an isolated event, it is messy and operates simultaneously on a micro and macro level," she says. "It is inherently political and speaks to who has the 'right' to become a parent. Conceptually, it is important for me to keep working with the same kombucha-mother, to continue the lineage of offspring and the examination of the matrilineal 'family tree.'"
Anna-Ting Möller (b. 1991, Yueyang, China) is a Chinese/Swedish artist living and working in New York City and Stockholm. Möller has a BFA from Konstfack University, Stockholm (2018) and received IASPIS Swedish Artists Grant (2020), Royal Swedish Academy of Fine Arts Grant (2019) and the Sweden-American Foundation Fellowship (2022/2023). Möller has exhibited at Liljevachls, Kristianstad Konsthall, Gustavsbergs Konsthall, ArkDes, Carl Eldh Ateljemuseum, Stockholm, ICPNA La Molina, Lima, Peru. The artist participated in the 45th Tendencies Biennale, Norway.