YesYes Books Publishes 'Refusenik' by Professor Lynn Melnick '97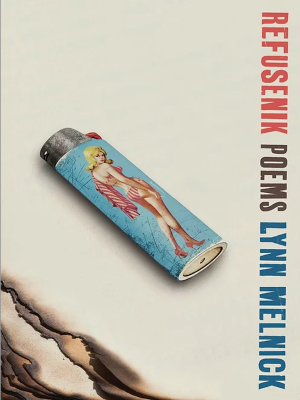 Refusenik by Assistant Professor Lynn Melnick '97 will be published on February 22, 2022, and is now available for pre-order from YesYes Books.
Melnick's latest collection of poetry is a searing dive into concentric waves of personal and generational trauma. Refusenik reveals a complex mind shaped by the misplaced priorities of the 20th century and interrogates misogyny and anti-Semitism across time. From a football field in Los Angeles to a Russian shtetl to a beloved daughter's Brooklyn bedroom, the global landscapes in the poems allow for the intricate intertwining of anger, nostalgia, and love. At the heart of the collection is a profound and pressured understanding of what it means to be a contemporary American.
According to writer Shelly Oria for BOMB Magazine, "Melnick's is the rare kind of poetry that reads like a page-turner; I read it in one sitting and then read it again, and in the end I felt both angry and tender, and more alive." 
In an upcoming event on February 15, 2022, Melnick will speak with award-winning writer and editor David L. Ulin about Refusenik. Produced by the New York Public Library and The Dorothy and Lewis B. Cullman Center for Scholars and Writers, the event will be virtually streamed and is now open for registration.
Melnick is also the author of the poetry collections Landscape with Sex and Violence (YesYes Books, 2017) and If I Should Say I Have Hope (YesYes Books, 2012), and is the co-editor of Please Excuse This Poem: 100 Poets for the Next Generation (Viking, 2015). Her memoir, I've Had to Think Up a Way to Survive: On Trauma, Persistence, and Dolly Parton, is forthcoming from the University of Texas Press's American Music Series in the fall of 2022. Melnick's poetry has appeared in APR, The New Republic, The New Yorker, The Paris Review, Poetry, and A Public Space. Her essays have appeared in air/light, LA Review of Books, ESPN, and the anthology Not That Bad: Dispatches from Rape Culture. She has received grants from the Cafe Royal Cultural Society and the Hadassah-Brandeis Institute and was a former fellow at the New York Public Library's Cullman Center for Scholars and Writers. Born in Indianapolis, she grew up in Los Angeles and currently lives in Brooklyn.