Writing Alumna Laima Vincė '94 Spearheads Project to Amplify Ukrainian Women's Voices During War
When Russia invaded Ukraine on February 24th, Poetry Alumna Laima Vincė '94 started a project to amplify the voices of Ukrainian women who are currently experiencing the war firsthand.   
As new events unfold each day, Vincė speaks with women in Ukraine and in the neighboring countries sheltering refugees to hear and document their stories. She is currently compiling a manuscript of the women's interviews and testimonies, while also updating a newsletter spotlighting their voices and the Facebook page, Ukrainian Women's Voices in War. 
 "Ukrainian women need our support and our help. I feel as though by writing down their war testimonies, in the words of the poet Seamus Heaney, 'I am fighting with my pen.' As a writer, I can tell their stories and build empathy and awareness for their experience," said Vincė. Through this project, Vincė hopes to convey "the urgency of getting the word about the war in Ukraine out there and into people's hearts."
For the safety of the women, Vincė alters their names before publishing the stories. Many of the women are living through the war as refugees or hiding in bomb shelters from the Russian military. 
Following an interview with Nadya, a woman who lives in the border town of Sokol, Ukraine, Vincė detailed how "humanitarian aid in the region is grassroots."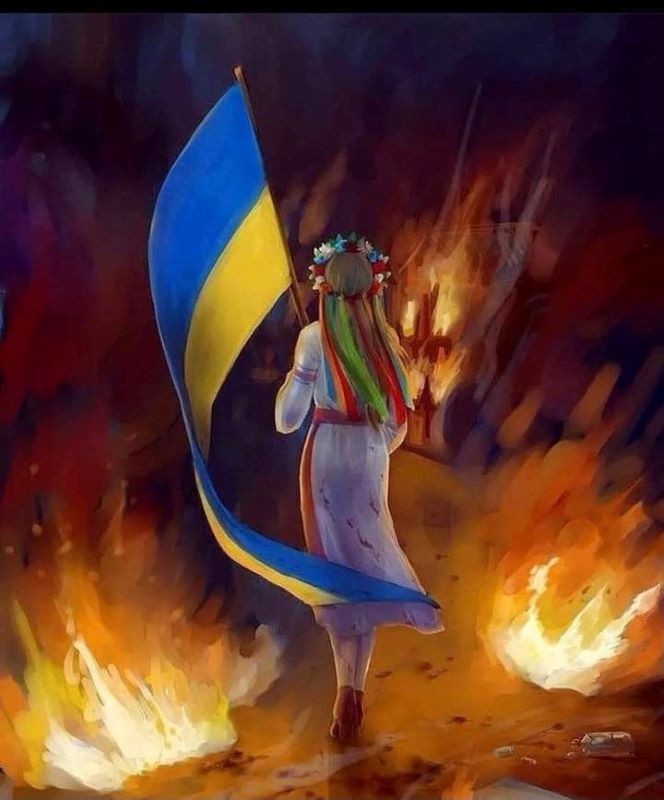 Nadya is an elementary school teacher who gathered sheets, blankets, and medical kits to distribute to refugees arriving by train from Eastern and Western Ukraine. Alongside other teachers, she also organized a bomb shelter in the school's basement. Nadya is unable to leave Sokol, as her parents are older and her son has joined the defense against Russia. "I must stay here for him," Nadya stated. 
Vincė's interview with another woman, Sandra, unveiled how the internet has become a powerful tool in fighting the war. 
Sandra is in her early twenties and a doctoral student in Economics at Taras Shevchenko National University of Kyiv. She is an "Internet Soldier" who fights the virtual disinformation spread by Russia about the war. After Russia blocked Facebook and Instagram within Russia, Sandra and other Internet Soldiers used Twitter, creative images, and articles written in multiple languages to build awareness about Ukraine's situation. 
"So you are fighting a war online while the Ukrainian army is fighting the war on the ground?" Vincė asked Sandra during their conversation. 
"Yes, my generation understands the power and the dynamics of the online landscape…We are taking what is hidden and we are exposing it to the light of public scrutiny," Sandra replied. 
Vincė's interviews with the women depict the devastation of war on the lives of people in Ukraine, as well as the resilience that has arisen out of the destruction. The women of Ukraine sent Laima freedom posters designed by Ukranian artists who remain unnamed to protect themselves from potential retaliation from the Russian government. With the consent of the artists, these artworks are free and available for public use.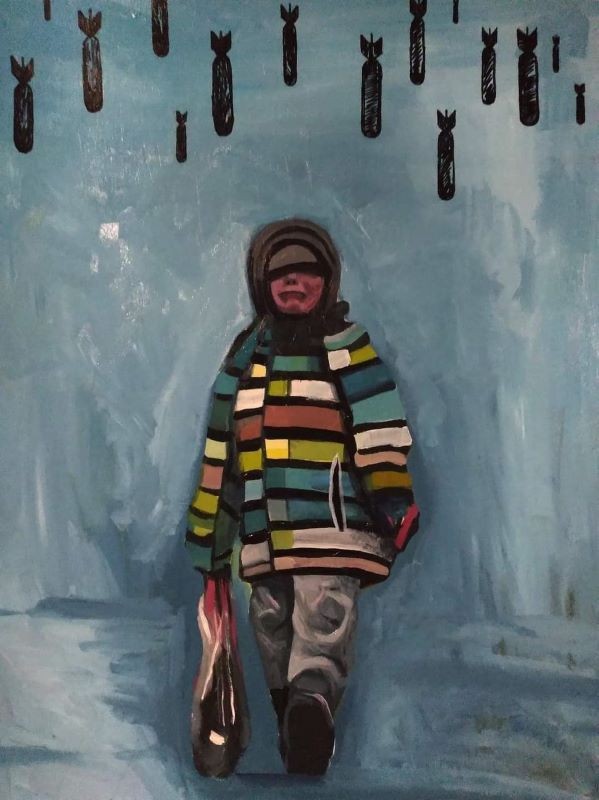 "As of this writing, no one knows what the outcome of this war will be, but these women's stories, their words, their wishes, live on as testimony to the spirit of freedom, democracy, dignity, and love," Vincė stated.
Vincė's interviews are available to read on her blog, a newsletter, and a Facebook page. While Vincė initially started publishing the articles as a digital series, she gradually realized the testimonies have begun taking the shape of a book and is looking for potential agents.  
For those interested in donating to organizations that support Ukraine, Vincė has suggested VšĮ Pagalba Ukrainai, a Lithuanian humanitarian aid organization. The organization started as a grassroots group of volunteers and is now a registered company in the European Union. VšĮ Pagalba Ukrainai operates out of neighboring countries in Ukraine through trusted contacts and focuses their monetary resources not on administrative support, but on sending supplies and aid directly to the people of Ukraine. 
Laima Vincė has been publishing fiction and nonfiction in the United States, United Kingdom, and Lithuania for over thirty years. She writes in both English and Lithuanian. She is a well-known literary translator from Lithuanian into English, known for her translations of Lithuania's most prestigious poets. Vincė has written five works of literary nonfiction and the novel, Tai ne mano dangus (Alma littera, 2018), published as This is Not My Sky in English.  She has also authored Journey into the Backwaters of the Heart (Createspace, 2012), a collection of oral histories about a generation of women who survived the Holocaust in Lithuania, fought in the anti-Soviet resistance, and survived exile. This book was translated into Lithuanian and published by Lithuania's largest commercial publisher, Alma Littera, in 2019 as Mūsų nepalaužė. Vincė is a recipient of a National Endowment for the Arts award in Literature, the recipient of a PEN Translation Award, and she has twice been awarded a Fulbright grant in Creative Writing. She also holds a MFA in Nonfiction from the University of New Hampshire and a PhD in Humanities from Vilnius University. Vincė lives and works in Vilnius, Lithuania, and in New York and Maine.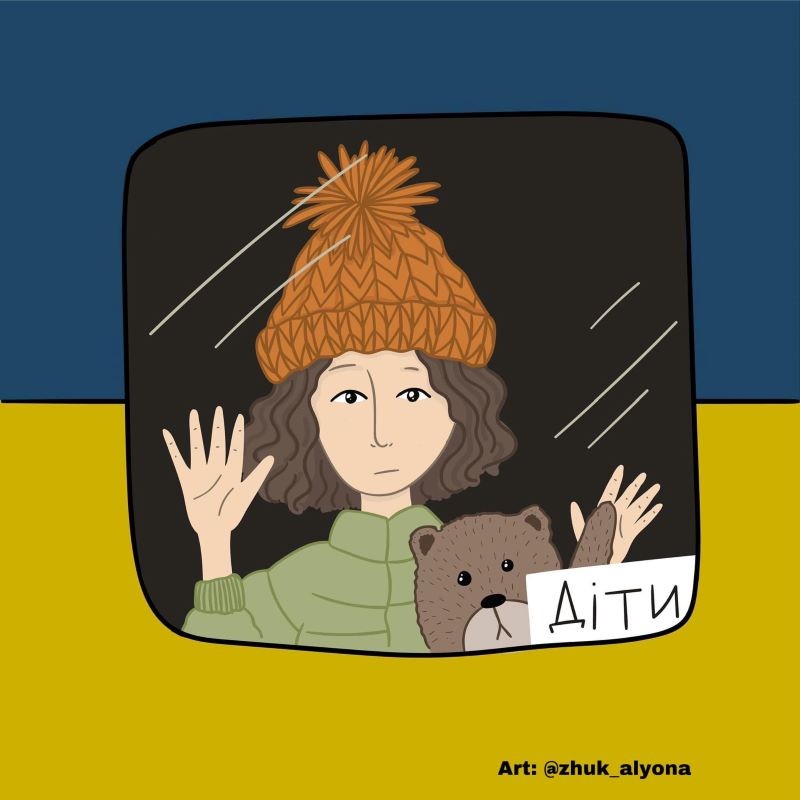 Alyona Zhuk, Girl in the Train Window, 2022.
"At least 257 children were killed in the Russian war. And these are only the official numbers. More than half of Ukrainian children were forced to leave their homes." (Ukrainian artist from Kyiv, name changed for safety)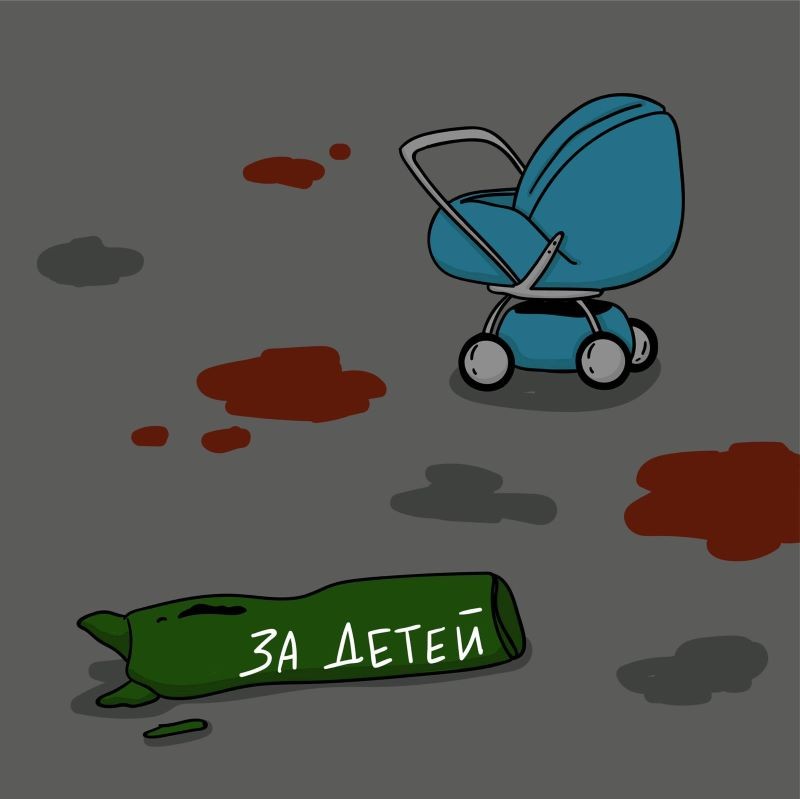 Alyona Zhuk, For our Children, 2022
"'For our children,' says the inscription written in Russian on the rocket that has hit a railway station in Kramatorsk, killing at least 39 people, wounding over 100 more. The Russian forces hit a train station when thousands of civilians were waiting for evacuation. In videos from the scene, one can see a stroller standing among the dead bodies and scattered bags."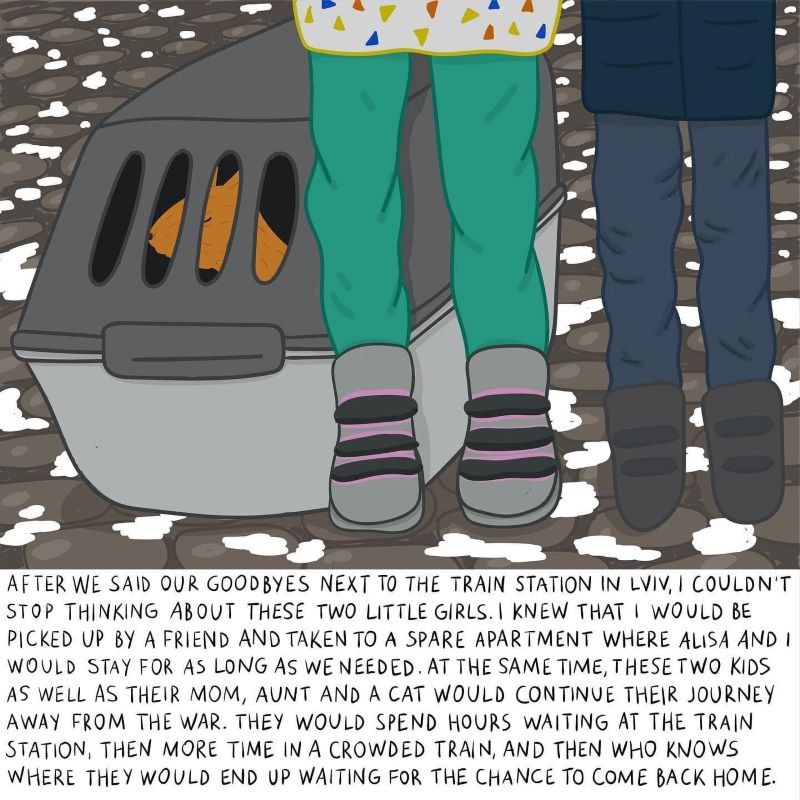 Alyona Zhuk, Girls with Cat Carrier, 2022
"I want the world to know: even those Ukrainians who are safe, don't feel that way. We don't enjoy our lives. We mourn the lives taken in this war. We are in pain and in fear."