Theatre of the Ridiculous: Phoebe Brooks' Directing Thesis Der Ring Gott Farblonjet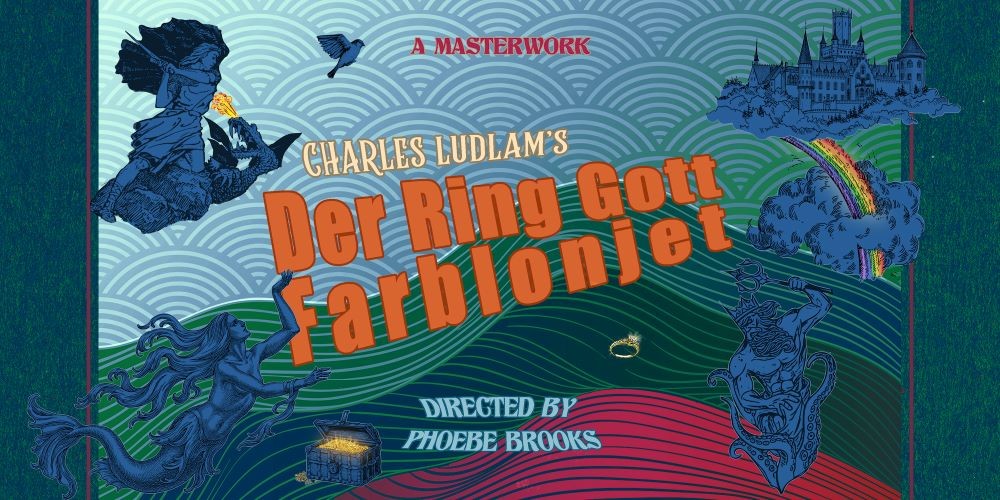 Current student Phoebe Brooks finds joy and spectacle through good-natured comedy in her thesis production, Der Ring Gott Farblonjet.
Phoebe Brooks (she/they) is interested in establishing a Theatre of Joy for artists and audiences alike. She loves messing around with comedy, heightened text and gender. Currently she's obsessed with figuring out how to make audience interaction less scary for audiences. Recent directing credits include Jyoti's Bridge by Kanika Asavari Vaish, The Forgotten Columbia Exposition, Dyadya Vanya: Files From A Dacha With 26 Rooms, Measure for Measure, and Aleda Bliss' Dottie Parker, She Murmured. Phoebe holds a BA in Theatre and in English Literature from Northwestern University and is pursuing an MFA in Theatre Directing from Columbia University's School of the Arts. She is Programming Director for Spicy Witch Productions, a company member at both Emit Theatre and Drawing Room Brooklyn as well as a teaching artist for Hudson Valley Shakespeare Company.
This play involves a spirit of unbridled comedy. Could you tell us what drew you to the zany nature of this project?
Phoebe Brooks [PB]: In undergrad, I was lucky enough to encounter Charles Ludlam's The Mystery of Irma Vep and had what I can only describe as a moment of pure recognition. The play resonated perfectly with a part of me that I had not yet realized was my aesthetic. I grew up loving Marx Brothers movies, Looney Tunes, and anything to do with musical theatre. Ludlam's unique blend of silly comedy, arch campiness, and theatrical virtuosity spoke to all the things I loved as a child. When the pandemic interrupted my first year of school, I comforted myself by diving further into the history, philosophy, and art of the Ridiculous Theatrical Company. I feel that our societal need for joyous entertainment has never been greater and so, for my thesis, I've chosen to stage one of Charles Ludlam's most ambitious and gloriously ludicrous plays, Der Ring Gott Farblonjet. What I've missed most about live theater is the way in which an audience instantly becomes a community when they laugh together; I simply cannot wait to laugh along with everyone when they come to see this show. 
You tend to direct projects with/through a LGBTQ+ lens. Is this present in this work as well?
[PB]: Yes, of course! One of the reasons I wanted to celebrate the underappreciated work of Charles Ludlam is because he and his company were essential to establishing a proud and vibrant queer theatre tradition from which my generation of artists has directly benefited. Charles Ludlam himself was famous for his unique brand of fabulously genderfuck drag, and we've definitely kept his playful drag spirit alive in our production. I always find a lot of absurdity in the ways our society attempts to impose the constructs of gender and heteronormativity–it's sort of naturally funny. My work is often fixated on the artifice of gender performance and the fluidity of identity. This play, like much of Ludlam's work, hilariously excoriates sexism and homophobia in ways that our cast very much enjoys highlighting.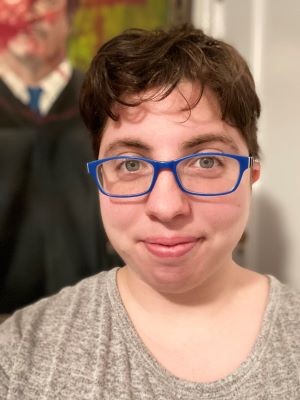 What do you anticipate as the biggest challenge, logistically or personally?
[PB]: I'm attempting to embrace a maximalist aesthetic in this production. I come from a very practical theatre background, the low to no budget world of Off-Off-Broadway, and I often limit myself to work within the bounds of the achievable. For this production, I've assembled an amazing team of artists who are helping me to "go big" even despite the additional restrictions necessitated by the spread of COVID-19. We're calling it the best night at the opera you've ever had, on a Party City budget. We're speaking many languages, singing bits of Wagner, featuring some very special skills, flying through quick changes, and honing vaudevillian comedy bits. I feel a bit like a ringmaster at a circus but I can't wait to see how the of the many puzzle pieces we're creating all fit together in the final experience.
What kind of work most interests you at this stage of your career?
[PB]: Audience Centric theater is my current obsession. I love making work for the people I love. When new audiences come to my shows, I want to make them feel loved in the same way. I'm very excited about building accessible and interactive theatrical experiences that allow the show to start before the proverbial curtain goes up, inviting audiences to actively engage with the call to adventure. I'm also fascinated by structure in theater, the clockwork mechanics of farce, and the seamless interweaving of art forms in musicals.
Could you tell us about a turning point in your training here at Columbia? Something you'll carry with you?
[PB]: In my time at graduate school, I've finally embraced my natural penchant for comedy. I'd internalized a societal narrative that seemed to elevate the importance of tragedy, seriousness, and pathos over humor and other popular entertainment in theater. Certain art forms are often denigrated because of their popularity, and I love them all–cartoons, computer games, comedy, you name it! Early in the program I hit a creative wall and was struggling to direct a scene from Antigone. When I pushed through to the other side, I found a well of inspiration. I reframed the story around the untimely death of a pet guinea pig in The Tragedy of Guinpigone, and things started to click for me. Since then, I've been letting my wacky side lead the way, pulling from all of my varied interests to make art that feels fun. 
Do you have a personal philosophy about your work or theatre more broadly?
[PB]: I believe in establishing a Theatre of Joy. Art that celebrates happiness can often be thought of as frivolity, but I think that delight is a vital ingredient in every theatrical pie. Why should someone stay to watch my show if they're not enjoying it? How can an audience listen to you if you don't listen to their needs first? Maybe joy is just another name for the feeling that is sparked when communities come together. As Charles Ludlam put it, "Instead of making utopia a faraway place, I make it in this place, now." 
Where do you see yourself in five years?
[PB]: Probably in a mirror.