Student Spotlight: Roni Aviv '20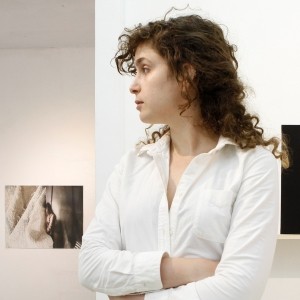 The Student Spotlight series aims to highlight the work of current MFA students, asking them to share thoughts on their practice by answering curated and peer-submitted questions.
Roni Aviv '20 is a first-year Visual Arts student. 
What themes or subjects are you currently addressing in your work?
I am currently thinking a lot about the relations between the body and domestic space, motivated by the concept of architectural maintenance as a failed method of erasing traces of subjectivity. Through my current work, I am investigating surfaces that act as sites of negotiation between the body and the space. Varnished wood, overly painted walls, skin and hair, compressed from the three dimensionality of everyday living; into the two dimensionality of flat paper.
I am interested in the performativity and functionality of the body and domestic objects as I experience them.
Are there any themes or materials you're interested in exploring in the future?
One of the reasons I wanted to come to Columbia is to experiment and expand the way I make work. I am interested in a process that intertwines photography, sculpture and installation. I am constantly trying to play and learn how materials work and how I work with them. In the past few months I have been using plastic, resins, caulk and other silicones, and continuously experimenting with paper and photography as objects.
What challenges do you face in your practice?
My work had been influenced by my environment for the longest time. A sense of familiarity, that is then explored in an intuitive way.
Arriving to New York with nothing much shook the way I grew accustomed to this comforting familiarity. This shift has changed my entire process of work, in a way I couldn't foresee. I am inspired by my everyday interactions with my environment: the lack of natural light in my apartment, or someone else's hair that is locked under resin in my floor are some of the things I examine in my current work.
Who are some artists or works of art that inspire you? Which contemporary artists interest you?
I really enjoyed the recent Rochelle Feinstein Exhibition in the Bronx Museum. Other artists I've looked at more closely in the past few months are Robert Rauschenberg, Em Rooney and Ree Morton, amongst others.
What has been your favorite class at Columbia so far?
Metaphysics class with Professor Achille Varzi brought so much excitement to my life! Varzi's charming personality, enthusiasm, knowledge and generosity are inspirational. Through the unique mode of metaphysical thinking, I learned to sometimes move away from common sense to other types of mindsets, whilst framing the biggest or smallest questions of being. Questions such as "what is the world made of?" "how do we persist through change?" or "Do holes exist?" were discussed deeply, in a thought provoking way. Metaphysical concerns have infiltrated and informed my practice, which I am grateful for.