Sophie Kovel '22 and Professor Orlee Malka '18 Participate in Group Show at Jenkins Johnson Gallery
Visual Arts alumni Sophie Kovel '22 and Adjunct Assistant Professor, Orlee Malka '18, presented several works as part of Figural Realism, a group exhibition on view at Jenkins Johnson Projects in Brooklyn, NY. For the opening reception, held on November 5, the multi-level gallery space was transformed into a body of light and sound and movement.
On that evening, and on every day until December 17, when the exhibition concludes, one is brought into dialogue with Kovel's work immediately upon entering the space. The first piece of artwork one encounters consists of half of Kovel's Untitled (Welcome) (2018-21), a series of carpeted rubber-backed and waterhog doormats inscribed with phrases at once haunting ("some very fine people on both sides;" "very sad to see it") and instructive ("You gotta take care of the floors. You know, the floors of the forest").
Meleko Mokgosi, the exhibition's curator, aptly termed Kovel's Untitled (Welcome) (2018-21), series "an architectural intervention"—and it is one that punctuates the entire exhibition. Upon stepping through the threshold that Kovel's mats create, one may take up the subtle instruction to witness how language, or a phrase plucked from a larger body of language, can indeed get into the head and the inner ear, similarly to how social and political language enters and exits one's inner-reality without much effort.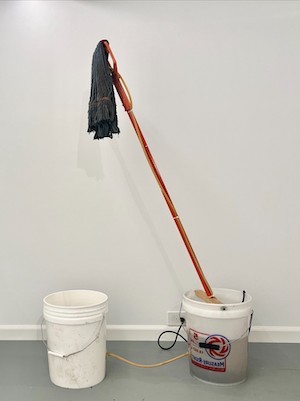 On the back patio, one encounters Malka's kinetic sculpture, Fountain (2010), a piece that is deceptively simple: two buckets, a mop, and a steady trickle of water that circulates from mop to bucket and back again. In equal measure bewitching and subdued, this work invokes an invitation for the willing participant to bear witness to the steady passage of time on an axis often ignored by virtue of being, like time itself, ever present: gravity. 
Downstairs, one is met once more by Kovel's interventions, this time via the second portion of Untitled (Welcome) (2018-21), as well as Declassified (May 2042) (2022), an extract from Kovel's larger work, United States of America v. Reality Leigh Winner, a 2022 piece in which Kovel annotates and recirculates a document leaked to the Intercept.
In a show unabashedly concerned with the psycho-somatic and the historicity of the body, Kovel and Malka's works push the edges of what becomes (and remains) felt language. For instance, in Portrait after Bierstadt (2020), a series of stereographic diptychs, Kovel repurposes oval reproductions of the 19th century American landscape painter's Albert Bierstadt's works to create a smoldering sensation through image alone. The effect is striking in several regards. During the opening night, viewers uttered phrases such as "wonderfully hot" and "aching," to describe the sensation of standing in the small alcove where these diptychs hang. For those with ties to California, however, the effect of the orange copper hues that stain the close up sections of redwoods and sequoias is haunting, choking even, for the copper haze is exactly what permeates the air during wildfires.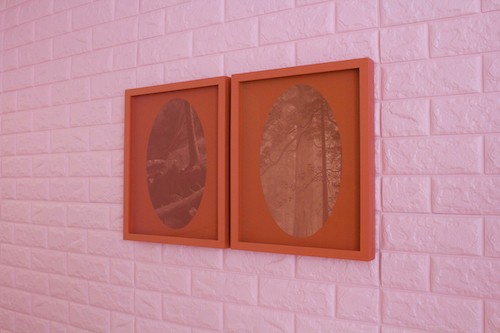 Kovel and Malka deftly navigate the semiotic landscape of contemporary language to pluck out and abstract the often missed but no less pertinent: our lived experience with language as such.
Sophie Kovel is an artist and writer. Recent and forthcoming exhibitions include Kunsthal Charlottenborg, Demark; VERY Project Space, Berlin; the Jewish Museum, New York; Jenkins Johnson Gallery, New York; University of California, Los Angeles, and Petrine, Paris. Kovel has spoken on panels and symposiums at universities and institutions including Columbia University and the Brooklyn Public Library. Her interviews and criticism have been published in Artforum, BOMB, Frieze, Spike, and elsewhere. Kovel is a recent graduate from Columbia University's MFA in New Genres, where she was awarded the Agnes Martin and Andrew Fisher Fellowships. Kovel is a recent graduate from Columbia University's MFA in New Genres, where she was awarded the Agnes Martin and Andrew Fisher Fellowships. She is a 2022–2023 studio fellow in the Whitney Independent Study Program. 
Orlee Malka is an interdisciplinary artist based in New York. Her conceptual and collaborative work considers the possibilities of art making within forms of collapse. In fieldwork to the unconsoled (2018) Malka examines issues of excavation practices and museum restitution. This ongoing project consists of objects, replicas, readings and experiments that are informed by practices of remembering and witnessing. Akudim (2022) is a collaboration with artist M'barek Bouhchichi that traces the literary work of writer Albert Suissa, titled Akud (Bound) 1990. Malka has presented her work at: Project for Empty Space, Newark, NJ; The Clemente, New York; Protocinema, New York; ArteEast, New York; The Alliance for Historical Dialogue and Accountability program at Columbia University; Artists House, Jerusalem; Leslie-Lohman Museum, New York; Mom's Gallery, New York and Jenkins Johnson Gallery, New York among others. Malka received her MFA from Columbia University in 2018, and was among the inaugural fellows of the 2018-2019 Interdisciplinary Art and Theory Program in New York. Malka is a professor in the MFA in Visual Arts Program, Columbia University.