'Combat Obscura,' a Controversial War Documentary By Current Student Miles Lagoze Released Worldwide March 15
Combat Obscura, a documentary directed by current student, Miles Lagoze, premieres on March 15th despite external efforts to suppress the film. The documentary is also edited by alumnus Eric Schuman '17 and associate produced by current Theatre student Ciara Ni Chuirc.
Combat Obscura is an unsuppressed, raw look at the current war in Afghanistan, shot by an enlisted Marine on behalf of the US Marine Corps (USMC). The footage in the film, however, is something that the USMC does not want seen. But it's an important and necessary view into the reality of the war from a first-hand perspective.
Synopsis: "Just out of high school, at the age of 18, Miles Lagoze enlisted in the Marine Corps. He was deployed to Afghanistan where he served as Combat Camera — his unit's official videographer, tasked with shooting and editing footage for the Corps' recruiting purposes and historical initiatives. But upon discharging, Lagoze took all the footage he and his fellow cameramen shot, and he assembled quite simply the very documentary the Corps does not want you to see. 'Combat Obscura' is a groundbreaking look at the daily life of Marines in a war zone as told by the soldiers themselves. More than a mere compilation of violence, the edit ingeniously repurposes the original footage to reveal the intensity and paradoxes of an ambiguous war from an unvarnished perspective."
The USMC tried to suppress the film, previously threatening legal action, and generally making their dislike for the film known. Lagoze, working with the Knight First Amendment Institute at Columbia University has successfully navigated these issues. More of the backstory can be read on the Task & Force article, which says the documentary "looks nothing like the recruiting pitch being sold to American teenagers, which is probably why the Marine Corps itself wanted nothing to do with it."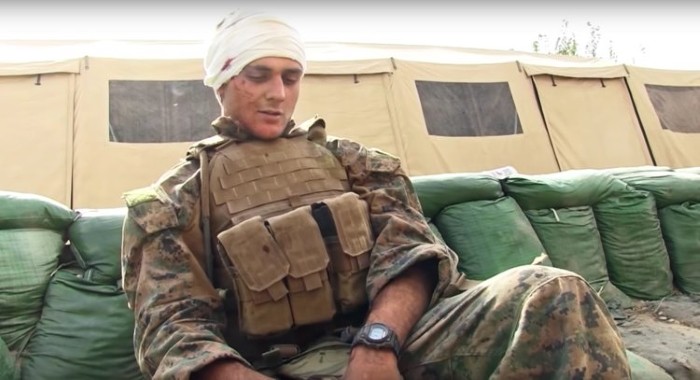 The film distributed by Oscilloscope Laboratories, will premiere in theaters as well as online this month. In New York, the film opens at the Village East Cinema, and Lagoze will participate in Q&As on the opening weekend, moderated by former Marine and New York Times journalist Thomas Gibbons-Neff.
Miles Lagoze is a New York based filmmaker interested in upending traditional war narratives and representations in American cinema. Obsessed with the film Full Metal Jacket while growing up, he enlisted as a Combat Camera in the Marines when he was 18 and deployed to Afghanistan in 2011. After getting out of the military he began working on Combat Obscura while attending film school at Columbia University.