This is Who We Are: Mynette Louie
This Is Who We Are is a series featuring Columbia School of the Arts' professors, covering careers, pedagogy, and art-making during a pandemic. Here, we talk with Assistant Professor of Professional Practice Mynette Louie about crashing NYU student film sets, green-lighting projects as a film financier, and the future of the festival circuit.
The attacks on the World Trade Center in September of 2001 led Emmy-nominated producer Mynette Louie to rethink the trajectory of her life. At the time she was working in business development for SportsIllustrated.com, but had begun to feel unfulfilled creatively. Only a few years earlier, as an undergraduate at Harvard, she'd been fascinated by the Chinese film and literature track of her East Asian Studies major. What had deterred her from pursuing a career in this space, however, were her parents. Both pursued the arts after having immigrated from China and Hong Kong. Her mother majored in studio art, and her father worked as a fine art painter. They knew better than anyone how difficult it was to earn a living in a creative field, and so had encouraged Louie to pursue a more practical career path. But after 9/11 all of that changed. 
"I didn't know anyone in film at all," she told me over Zoom. "So I ended up PA'ing for three days in a Jersey City motel." Louie had found a listing in the New York City film office for an unpaid role on an NYU thesis film. "It was just so fascinating to me, how this large group of people could come together and focus for a short period of time and get the thing done. The camaraderie, the unified purpose, was just really cool." At that time, NYU's film program had tracks in directing and writing––but there was nothing in producing. As a consequence, Louie found herself in demand. Other NYU students began to approach her to produce their films, too. "I basically crashed NYU film sets," she joked. "I produced three thesis films and learned physical production that way."
Louie's first feature was Andrew Bujalski's Mutual Appreciation (SXSW) in 2005, on which she worked as a co-producer. The movie helped ignite the mumblecore movement in American independent cinema and opened doors for the budding young producer. "That film got a lot of notice and mentions on lists so it was an auspicious start," Louie said. But the film that really "kicked the doors wide open," as Louie put it to me, was Tze Chun's Children of Invention, which premiered at Sundance in 2009. "I basically went to Sundance for all ten days and just went to every party and talked to everyone I could talk to and really built my network there. It was amazing." When we spoke—a few days before Christmas—the omicron variant was forcing people back indoors and public events were, once again, canceled. "That's why it's so sad now," Louie said as a moment of regret entered our conversation. "Those parties and festivals aren't happening and that's where filmmakers build their network. Your network is everything as a producer."
One of the lead financiers of Children of Invention was so impressed by Louie that they tapped her to run Gamechanger Films, a film production fund. This saw Louie move from producing films to financing them for the first time in her career. "It was great to be able to see the other side," she said. "We raised a fund from 36 different investors, individuals, family offices, and pooled together the funds to finance a slate of films." Gamechanger was a big success. With an emphasis on bankrolling work by female filmmakers, the fund produced ten feature films in four years––double the initial goal. "I'll tell you, it was incredible to be able to influence these women's lives and help their careers," Louie said. "Of the ten directors we financed, six of them didn't have representation. They all got agents and managers. Most of them have gone on to direct their next feature or TV. It was amazing to be able to facilitate that, to really change someone's life."
I wondered how Louie approached her film selection. Was it intuition that guided her or trends in the marketplace? She told me, "As a producer you really have to think about who is going to buy your movie, which distributor might pick it up––Is it A24? Is it Sony Classics? Is it Netflix? Otherwise, it's really hard to figure out how to get it made. I like to produce all different types of films. I grew up a cinephile, watching horror films and dramas, war films and comedies. But as a producer, I've noticed that the two genres I gravitate toward most are elevated horror and dramas based on a true story, the latter perhaps because dramas that are pure fiction are pretty difficult to get into the marketplace these days. The ones that are based on a true story are a little bit easier––it's one of the marketing angles. But it's always a guess, right? A24, Sony Classics, they're guessing too. And so everyone's trying to guess what everyone wants, and sometimes they're right and sometimes they're wrong––you just hope you're not wrong too many times."
While at Gamechanger, Louie began to miss being on the frontline of producing a film soup-to-nuts. She was still giving script and rough cut notes, but missed "being in the trenches with the director." Once the fund was completed, she went back to producing under a new company she co-founded called The Population. "Originally, we wanted to launch a hybrid production and financing company, but this was late 2019, so the  pandemic basically halted the 'financing' part of that. So we decided to pivot and find a first-look deal." The Population—whose initial films include Heidi Ewing's Sundance-winning and Spirit Award-nominated I Carry You With Me (Sony Pictures Classics), Josef Kubota Wladyka's Tribeca-winning and Spirit Award-nominated Catch the Fair One (IFC Films), and Carlo Mirabella-Davis' Tribeca-winning and Gotham-nominated Swallow (IFC Films)—signed a first-look deal with Topic Studios, the house behind films such as Spencer, starring Kristen Stewart, The Mauritanian, starring Jodie Foster, and The Report, starring Adam Driver.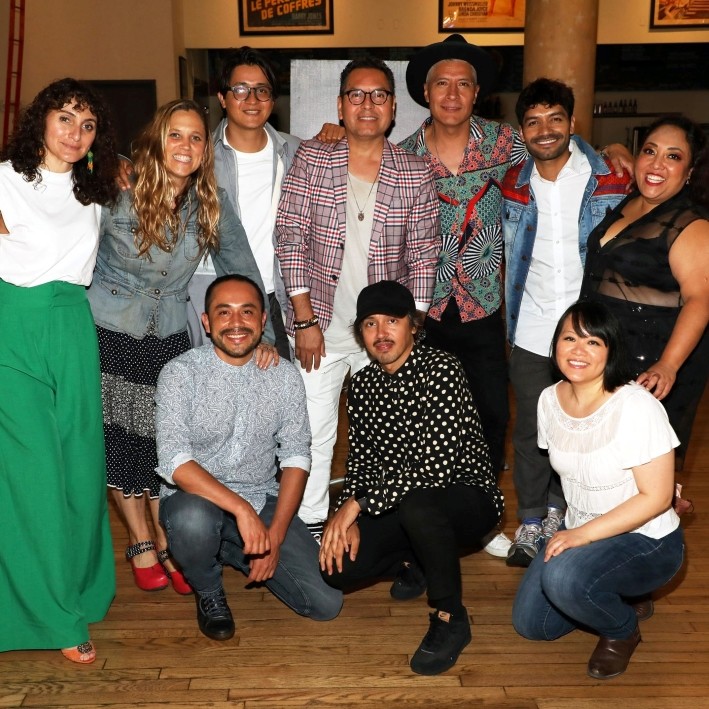 Like Topic, Louie is based in New York, and she reminded me that Hollywood isn't the center of the universe. "There's filmmaking going on everywhere around us," she said. "Not that I don't want to make studio films or streaming films, it's just that there are so few commercial studio films that are genuinely bold. They're made not to be bold. They're conservative, they're risk averse so they become bland because they have to appeal to everybody."
If the highs of Louie's career have been attending the world premieres of her new films—those rare moments where all her collaborators come together to celebrate their shared achievement—the lows are recognizing how difficult it is to actually get a film off the ground. "Producing films is a hard job," she said as our conversation drew to a close. "You have to have a stomach for rejection and failure. Especially in this marketplace right now which is so difficult for the kinds of films I want to make. You can have films packaged with big name stars but if the subject matter is dark, people don't want to touch it––they're scared, there's so much fear in the industry. I'm anxious about the way it's going, what all this streaming dominance means for the type of films I love. But the industry is like quicksand right now, constantly changing. And with change often comes opportunity, right? Being an independent producer has never been easy. But luckily, most of us producer-types love a challenge."
Mynette Louie is a Spirit Award-winning, Emmy and Critics Choice-nominated producer whose credits include Heidi Ewing's Sundance 2020-winning, Spirit Award-nominated I Carry You With Me (Sony Pictures Classics); Carlo Mirabella-Davis' Tribeca 2019-winning, Gotham-nominated Swallow (IFC Films); Emmanuel Osei-Kuffour's Black Box (Amazon Studios/Blumhouse); Jennifer Fox's Emmy, Golden Globe, Critics Choice, and Spirit Award-nominated The Tale (Sundance 2018, HBO); Karyn Kusama's The Invitation (SXSW 2015, Drafthouse/Netflix), and Martha Stephens & Aaron Katz's Spirit Award-winning Land Ho! (Sundance 2014, Sony Pictures Classics).