Four Columbia Artists Participate in Group Show at Thierry Goldberg Gallery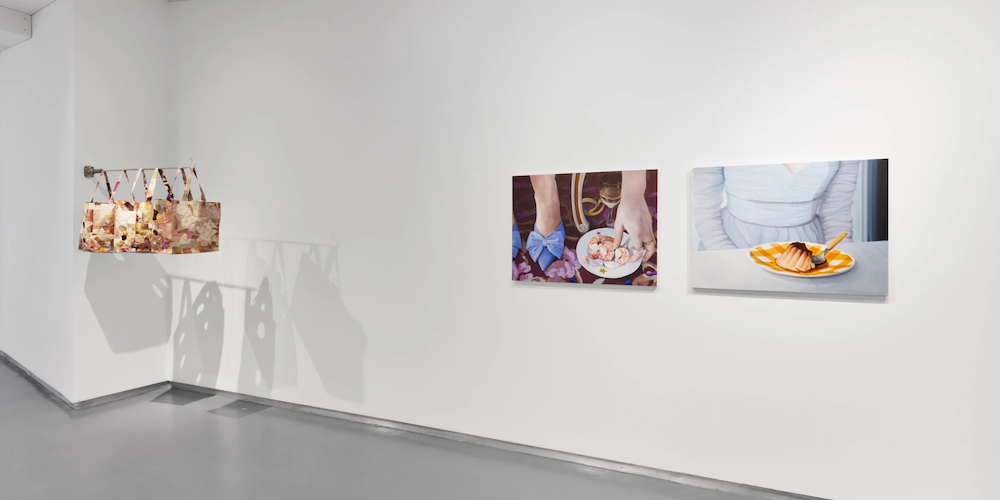 Visual Arts student Kat Lowish and alumni Asif Mian '21, Emma Schwartz '19, and Elzie Williams III '22 are featured in Thierry Goldberg Gallery's group show, True Alchemy.
"We are now at a junction, a point of change, where one must build upon the old to embark upon the new," the gallery's press release notes—and in this show, Lowish, Mian, Schwartz, and Williams III have done just that. 
Upon entering the gallery, one encounters Schwartz's extraordinary piece, get off, (60"x 48", oil, charcoal, and pastel on canvas, 2022). The painting is simple, really: two figures, one facing the viewer, one walking away, are crossing a section of a boulevard. The figures are in motion and Scwartz's choice of materials create and sustain that sense of motion. Yet, in this painting, Schwartz has also demonstrated all that an expertly controlled line can hold: gesture, movement, tension, direction, intimacy, the list goes on. The result is a viewing experience that utilizes all that is not on the canvas, but certainly a part of the decision-making process (such as proportion and scale) to create an immediacy that is undeniable.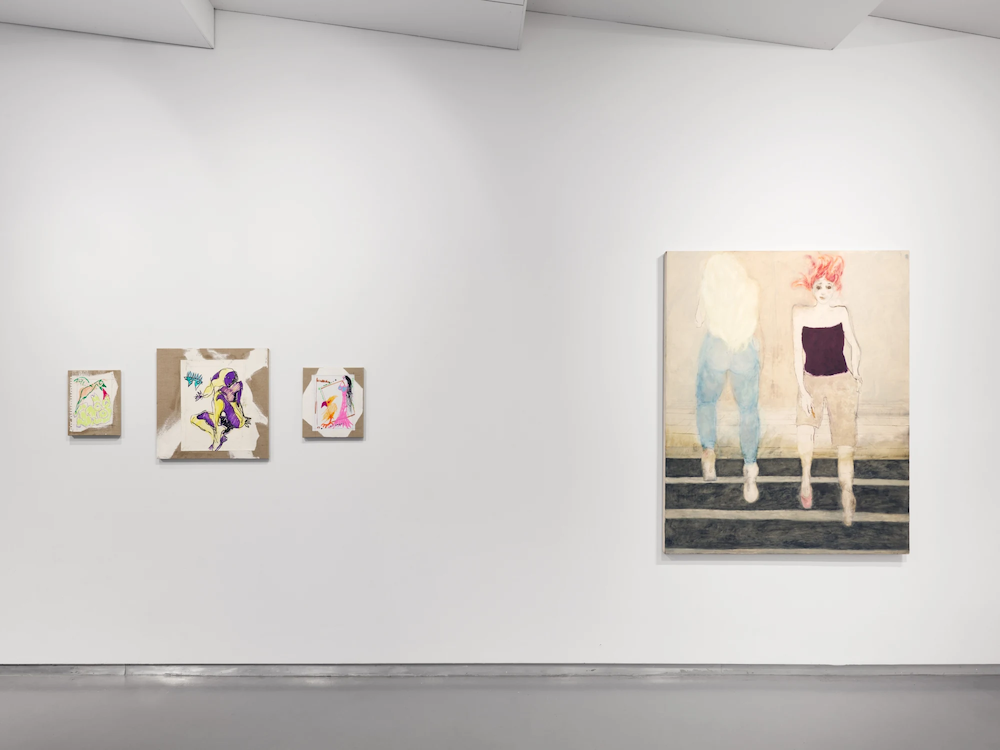 Further down the gallery's walls, one encounters a pair of Lowish's works that play within starkly set limits of scale and frame to enact a quiet narrative force upon the viewer. For instance, in Great Expectations, (25" x 34", oil on canvas, 2022) one is brought into the intimate space of a woman's elegantly dressed chest set before a melting piece of Crème caramel. The brush strokes are impeccable, the choice of setting and dessert quickly signals 'glamor,' and the frame cuts off above the woman's bust and just below her elbows. However, as much as the painting is about the dessert and about the lushness of the setting, it is also about the affective nature of a singular moment and the possibilities inherent in framing a moment by setting a harsh frame around it, and cutting off the rest. 
Besides paintings, the exhibition also features sculptural works presented by Williams III and Mian, which span collage, modes of deconstruction, and reconstruction. 
Williams III's Hurt people, Hurt people (European Designer Bag Clearance Rack) (25" x 14" 44", 2022), consists of a long list of materials—magazines, clear tape, bandages, gauze, thread, reaching hanger, flagpole bracket—refashioned into a set of bags that could hold hardly anything beyond a handful of feathers, for the bags, fragile as they are, are also punctured with holes through through which one may glimpse faces most often found in fashion magazines: rouged, manicured, and interchangeable. 
Two works by Mian are on the lower level of the gallery. The first, Institutional Mysticism, (71" x 59", Afghan tribal rug spliced with nylon carpet, 2023) is emblematic of Mian's ability to broaden the scope around an art object—in this case the traditional rug spliced with the modern and conventional rug made of nylon—to include socio-political context without veering off into discourse and losing sight of the art itself.  The second, Squatter Psyche, (76" x 38" x 28", ripstop nylon, chromed steel, vinyl paint, thread, 2023) which consists of stuffed nylon wrapped through a Davenport armchair's metal bones, effectively enchants and repels the viewer. As with many of Mian's works, the two pieces in this show exemplify the stunning results of sustained attention to detail, materials, and theory.