Columbia Artists Participate in Group Exhibition at M+B Gallery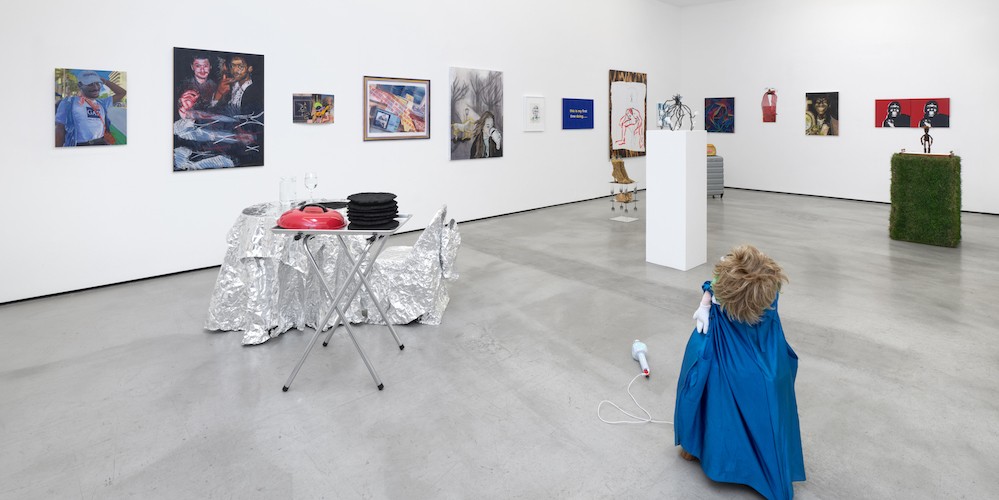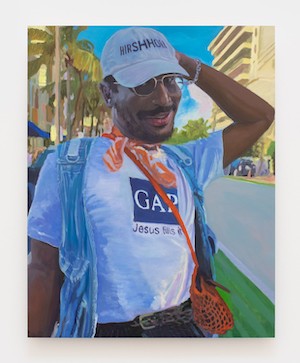 Visual Arts students Kevin Cobb and Nick Farhi, and alumnus Elzie Williams III '22, are participating in MZ.25 (My Condolences), a reimagined group exhibition at the renowned M+B Gallery in Los Angeles, California. 
"A group exhibition masquerading as a solo presentation, My Condolences uses its singular subject, the artist Monsieur Zohore, to offer a constellation of responses to the impulses and executions of representing blackness," the gallery's press release explains.  
As part of the exhibition, seventy artists were invited to contribute works that probe, complicate, and extend the discourse around image-making while utilizing the artist (Monsieur Zohore), and by necessity, the gallery's rooms, as a site of representational space. Amidst the multitude of approaches, materials, and perspectives, the central pulse of the exhibition's query remains, namely: how "the want of the Black figure becomes performance manifest through Zohore's collective expressions."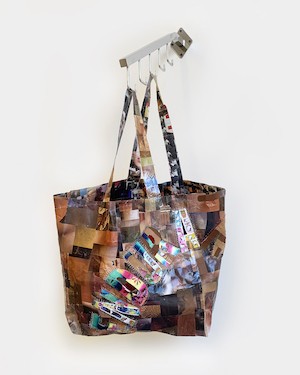 Kevin Cobb and Nick Farhi provided a joint response by way of a co-created portrait of Monsieur Zohore, entitled Pessoa Afternoon (24" x 19", oil, pastel, enamel on aluminum, 2022) in which Zohore (as figure) is captured in a stance that suggests the simultaneous striking of a pose and a candid moment: the left arm is tucked behind a white cap, the belly angled forward, the eyes brightly and joyfully aware of the implied addressee. Besides drawing on their expertise in gesture and color composition (the orange and white scarf tied around the figure's neck, for instance, almost pops off the canvas), Cobb and Farhi also create a genuine sense of immediacy and intimacy. The effect is striking and renders much more than a figure on a canvas—it renders a presence. 
In turn, Williams III's response, Endured (24" x 6" x 24", collage of brown tone swatches with multicultural faces on reverse, clear tape, bandages, thread, display rack, 2022) a collaged magazine paper bag of brown tone swatches bearing "Endura" on its side, stitched, delicately and meticulously, from multi-colored band aids, beckons a closer look, one that resists neat narrativization while inviting the viewer to contemplate the endurance inherent in any lived experience. 
MZ.25 (My Condolences) will run through February 18, 2023.