Arie Esiri '19 Wins Best Feature Narrative at BlackStar Film Festival for 'Eyimofe (This Is My Desire)'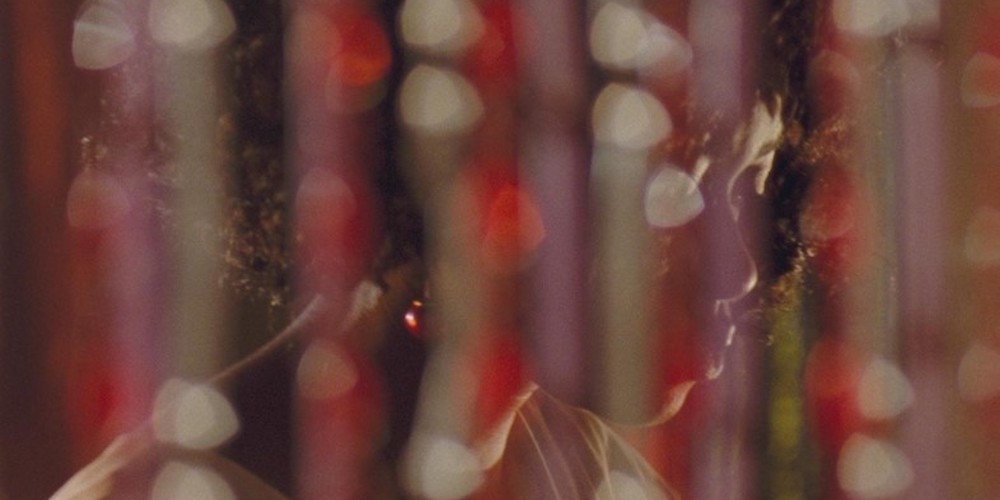 Film alumnus Arie Esiri '19 was awarded the honor of Best Feature Narrative at the 2021 BlackStar Film Festival for his first feature film, Eyimofe (This Is My Desire).
Now in its 10th year, BlackStar Film Festival is an annual celebration of the visual and storytelling traditions of the African diaspora and of global communities of color, showcasing films by Black, Brown, and Indigenous artists from around the world. This year's lineup included approximately 80 films, including 19 world premieres, representing 27 countries.
Eyimofe (This Is My Desire), which screened in-person at BlackStar Film Festival on August 5, 2021, is set in Lagos, Nigeria and told in two chapters. It follows the stories of Mofe, a factory technician, and Rosa, a hairdresser, on their quest for what they believe will be a better life on foreign shores. The characters' misfortunes are part of their everyday life and they are sketching out the need to leave Nigeria at the same time. At the bottom of the socio-economic ladder, status, money, gender, skin color, and family structures are inextricably connected. The longing for another life is but one thread in this complex mesh, a promise that floats above things at once near and far.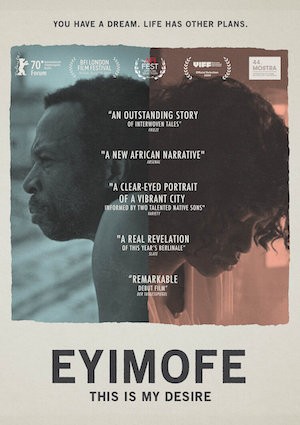 The jurors for the Best Feature Narrative Award, which included Dagmawi Woubshet, Rajendra Roy, and Tayarisha Poe, called Eyimofe "a beautifully shot, vibrant film whose cinematography believes fully in its environment, and carries an acting style that captures a complete snapshot of life in a place." 
"The most important thing for me is that people were able to visit the city [through the film] and get to know its people," Esiri said in his acceptance speech. "I started making movies because I was watching films from other parts of the world and connecting with people and places, and I felt like I could do that back home."
The film has been lauded as "a clear-eyed portrait of a vibrant city informed by two talented native sons" by Variety as well as a "stunning feature debut" by the British Film Institute, Sight & Sound. Esiri co-directed and co-wrote the feature alongside his brother, Chuko Esiri, with fellow alumnus Andrew Stephen Lee '18 serving as the editor of the film.
Before its successful run at BlackStar Film Festival, Eyimofe premiered as part of the 2020 Berlinale Forum. The Berlinale Forum, as well as the Forum Expanded, stands for reflections on the medium of film, socio-artistic discourse and a particular sense for the aesthetic. The programmes of the Forum and Forum Expanded aim to expand the understanding of what film is, to test the boundaries of convention and open up fresh perspectives to help grasp cinema and how it relates to the world in new ways. The film also recently screened as part of the Museum of Modern Art and Film at Lincoln Center's New Directors/New Films series in May 2021.
The stunning debut feature was fully financed within Nigeria and shot on 16mm film across Lagos State. In an interview with Senses of Cinema, Esiri talked about how his experience at Columbia University's Film MFA Program prepared him for making his first feature:
"Film school did prepare me for this feature and I feel very fortunate to have been able to spend five years of my life doing what I love," Esiri said. "I made Eyimofe in my fourth year of film school. But having that time to think about how I wanted to approach my practice and having this incredible network of filmmakers and collaborators on hand was invaluable."
Watch the trailer for Eyimofe (This Is My Desire) below.
Finding photography in Paris, Arie Esiri honed his craft before returning to England where he worked in the camera departments of a number of projects ranging from Audi to Vivienne Westwood and the BBC. In the work of Vittorio De Sica, Esiri found a form of storytelling that could give voice to the long neglected tales of the average Nigerian. He has a Master's of Fine Arts from Columbia University in New York. While there, he continued to collaborate with his brother Chuko, co-directing their short Goose, which played at the 2017 LA Film Festival and produced Besida, an official selection at the 2018 Berlin Film Festival. He also produced Chika Anadu's Amma and AFI Fest award winning feature B for Boy. His work as a director has been featured on Vogue and Essence.com. He is an IFP Narrative Lab Fellow who currently divides his time between Lagos and New York. Eyimofe is his first feature film.