American Art Abounding: Columbia Artists Stand Out at the 80th Whitney Biennial
"It's like the circus," I overheard someone say, above the floating chimes and disembodied melodies. Screens flashed, sculptures gleamed, crowds milled between strange feats of beauty. There was even an enormous dark ferris wheel, turning silently. The long-awaited 2022 Whitney Biennial is reminiscent of a carnival, one that brings together the contemplative and astonishing in American art, humming with social and political currents.
The ferris wheel-like sculpture is the work of School of the Arts Assistant Professor of Visual Arts Sable Elyse Smith, titled A Clockwork (Aluminum, steel, motor, 2019). It dominates the east facing window of the Whitney's fifth floor exhibition space. Revolving with aching slowness, the smooth octagonal faces move like the tread of a suspended wheel, industrial and eerie. It seems whimsical, but the longer you stare at its relentless efficiency, the more you can't help but think about what it was designed to do, especially when you learn a chilling detail: the sculpture is constructed out of tables and chairs designed for use in prison visiting rooms.
A Clockwork is accompanied by Smith's video installation Laugh Track, Or Look Who's Peeking In My Window (high-definition video, color, sound, 7:58 mins, 2021). The soundless video uses footage from the television show Live PD, a broadcast of real-time police patrols. Flashing blue and red lights, night arrests, blurred faces, a house on fire; the video is a haunting assemblage, its silence begging the question: why do we broadcast images of the carceral state as entertainment? 
Buck Ellison CC '10 uses a meticulously detailed photo series to imagine the private life of Erik Prince, best known as the founder of the notorious security firm Blackwater. The series is set in 2003, the year Blackwater received its first US contracts in Iraq and Afghanistan. 
One photograph features 'Prince,' played by a model straight out of an Abercrombie catalog, in a chambray button-up reclining on a rug, his fingers coyly touching his lips. He holds a copy of Clausewitz's On War open in his other hand, on which a wedding band shines; an L.L.Bean-esque slipper lies abandoned in the foreground. Ellison has created an intimate portrait of the war criminal as a young man, full of sly details that reward the careful viewer.
The Biennial's curators Adrienne Edwards and David Breslin have created distinct habitats for each part of the exhibition. The fifth floor is open, bright, diaphane, all white walls and blonde wood.
Along one wall, the tri-panel pastel-hued Mountains Walking (Oil on linen and hand-crafted wood easel, 2022) from Leidy Churchman '10 envelops the viewer in a suspiring fairytale land. It moves with tree branches, mountains, and waves, in airy pinks, blues, and greens like a curling smoke. A faint yellow grid undergirds the scene like a quilt. Churchman was inspired by the thirteenth century Zen text Mountains and Waters Sutra by Ei Dogen, and the panels are clutched by carved claws, reminiscent of a Buddhist protector deity.
At the West end of the gallery, Adjunct Assistant Professor Aria Dean's piece Little Island/Gut Punch (Sculpture, 2022) stands like a kelly-green punching bag, glossy and malleable on its matching pedestal. I learned that it's actually chromakey green, the color of film greenscreens. Dean created the piece by putting a digital model of a monolith through a collision simulation, and then making a sculpture of the simulation. 
From one side, it seems more or less stable, perhaps slightly melted, like plastic sheeting waving over scaffolding. But as you walk around, you discover its bend, the force of an unseen impact, an obelisk buckling around a heavy hit, like a visual representation of tradition bowed by modernity.
The sixth floor space is dramatically dark, like being in the wings of a stage; curtained off but brimming with energy. It's a rich environment in which to stage numerous video installations.
Sonically busy but visually discrete, the space felt like a cinema where the point was to roam around and pop my head into every theater door to catch a glimpse of each film, each installation. In keeping with this mood, there was even a small line to get into the limited-to-three-people installation, An Introduction to Nameless Love (tin, nickel, charcoal, 2019) from Jonathan Berger.
The darkness of the sixth floor also accentuates bright paintings, like Untitled (Snag) (90 x 81 in, acrylic and vinyl on canvas, 2022) from alumnus Cy Gavin '16. Untitled (Snag) is a lambent, eclectic spot that rivets the viewer's attention with its leaping oranges and yellows. It features a slate blue figure like a tree-trunk, knots and warps sketched in energetic white, investing this almost common sight with an appreciable sense of wonder.
Back down on the fifth floor, where bright palettes explode in every direction, prolific interdisciplinary artist, recent MacArthur Fellow, and Mentor in Columbia's Visual Arts Program Ralph Lemon features paintings from an as-yet untitled series, which were quietly some of my favorites in the show. 
They are oil and acrylic on paper, which curls slightly at the edges, mounted to the wall with humble push pins. Once you see them, these unassumingly-staged pieces have a gravitational pull. They are honeycombed with irregular multicolored squares, badged with shapes like butterflies or ovals or eyes, rhombuses and rings. Such frank, cheerful symbols and colors, crowded together, punctuated by moments of shadow, develop a cosmic density.
They seemed to me like a microcosm of the Biennial itself; dizzying and abounding, bright and dark, textures and hues jostling together and creating something like a city, like a country. 
As a celebration of contemporary American art, the Whitney Biennial is the longest-running exhibition of its kind. This 80th edition accounts for the multifarious politics, precarity, and beauty of the present moment. The exhibition is open to the public, and will run until September 2022.
Image Carousel with 3 slides
A carousel is a rotating set of images. Use the previous and next buttons to change the displayed slide
Slide 1: Cy Gavin '16, 'Untitled' (Snag) (acrylic and vinyl on canvas, 90" x 81," 2022. Courtest the artist and David Zwirner, New York, London, Paris, and Hong Kong

Slide 2: Sable Elyse Smith, 'Laugh Track, Or Who's That Peeking In My Window' (HD video, color, sound, 7:56 min, 2021. Courtesy the artist, JTT, New York; Carlos/Ishikawa, London; and Regen)

Slide 3: Buck Ellison CC '10, Fog, In His Light We Shall See The Light, Raintree 23 Ltd Ptnr, Excess Distribution Carryover, If Any (archival pigment pring, 48" x 60," 2003, 2021. Courtesy the artist)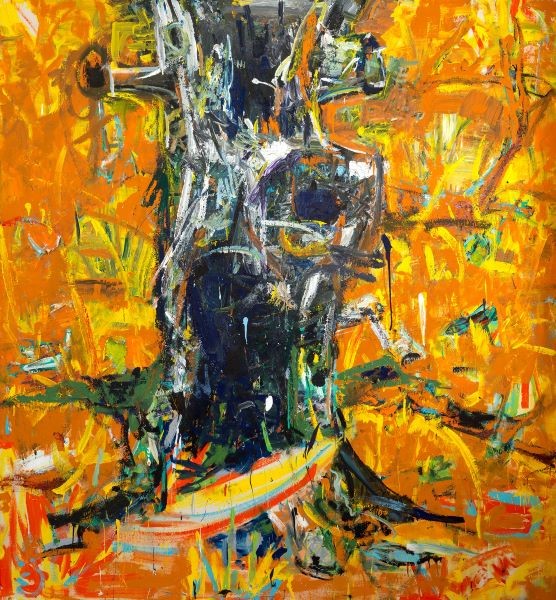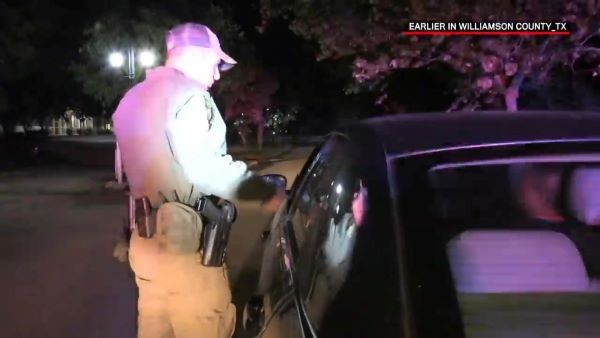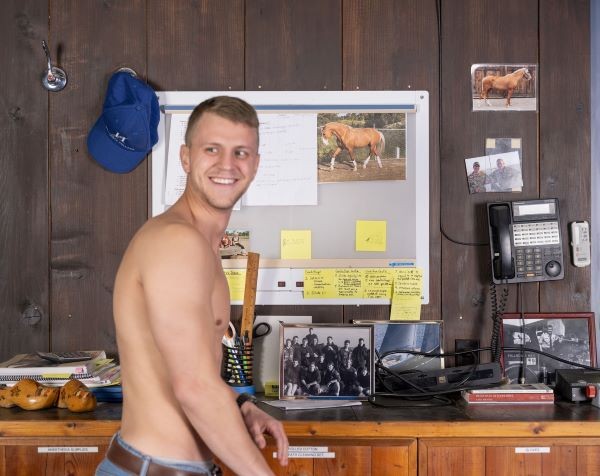 Previous
Next