The Acting Concentration
Seeking the bold, the curious, the fearless…the actor of indomitable spirit.
Attending the Columbia MFA Acting Program is making a declaration – to yourself, to us, to the world – that you will be a professional actor. In turn, we provide you with a comprehensive range of resources, a variety of techniques to explore, and a remarkable faculty from whom to learn. The vision of the Acting program is to create a consistent and clear path of training, experience, and development – from Orientation until the last performance. 
We cater the program to give each person the specific guidance they need to grow and mature as an artist while hand-crafting each class to build a core company of actors. With your ensemble, you will live and breathe your art together during an intense and invigorating three-year program. Constant attention to individual progress and teaching the skills of collaboration are fundamental to the training.
The program demands of its students curiosity, imagination, a keen analytical mind, and a willingness to discover many approaches to acting. Our curriculum focuses on rigorous discipline and improvisation, and always originates from a deep exploration of the text. Students investigate classic, modern, and contemporary playwrights through scene study and acting technique under the auspices of James Calleri, Peter Jay Fernandez, and Ron Van Lieu. It is about freeing your voice, body, and mind.
The training offered at Columbia provides graduates with the tools necessary to succeed in all forms of theatre, as well as television and film.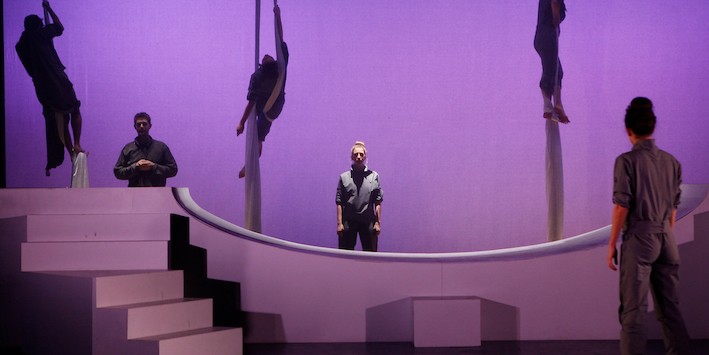 We begin with building the foundation of self-exploration through intense scene study, physical, and vocal work. 
In acting classes, Professors James Calleri, Peter Jay Fernandez, and Ron Van Lieu provide you with necessary techniques to strengthen your skills, instincts, and creativity as an artist, while learning about the method and process of rehearsal as a pathway to character and self-analysis. 
The movement curriculum, curated by Lecturer Sita Mani, leads you through a heightened examination of the body and thorough study of physical movement, with a focus on Feldenkrais principles and improvisation, along with the Alexander Technique. 
First-year voice work led by Liz Hayes focuses on vocal production and the awareness and release of habitual tensions. Corresponding speech work clarifies your unique idiolect and specifies, by way of phonetics, the numerous choices available to adjust, deepen, and transform your ownership of text. 
This year is crafted to build and expand your instrument, mesh training and practice, and provide more opportunities to collaborate with each other and other concentrations within the Theatre Program. The Second Year actor engages in Fall and Spring Actor Workshop productions as well as engaging in student director and student playwrights projects.
Instructors such as Scott Whitehurst and Tina Benko provide tools to tap into new imaginative places and build greater empathy with character. You deeply explore forms such as clown, dance, Suzuki, games and acting through song with Eugene Ma, Shanga Parker, and Manoel Felciano. Additionally, this year you wrestle with bringing empathy and self-discovery to classic texts with Professor Peter Jay Fernandez. You also learn on-camera audition technique at One on One Studios with Calleri
Second-year movement classes deepen your understanding of "body as instrument" and teach practical application, through Stage Combat and Advanced Alexander Technique with Jacqueline Holloway and Jean McClelland, respectively..
Voice training in this year furthers the union of image, open and available emotional impulse, and stylistic structure in relationship to heightened language. You also begin the exploration of dialects and accents through classes taught by Professor Liz Hayes. It is in this year where you are encouraged to create a personal process for interpretation of a wide range of linguistic challenges and opportunities. 
The third year is the culmination of your time at Columbia and celebrates the intense program of study of the first two years. You focus on what it means to be a professional actor, both onstage and off, through the following components: 
The Acting Thesis. A fully realized production with material selected to best showcase the strengths and talents of the graduating class. The third year also provides the time and opportunity to perform in other Columbia Theatre thesis productions or student films. 

 
Professional Practice. In fall and spring, this weekly class prepares you for the rigors of the industry and professional world. You also participate in development workshops led by Los Angeles and New York based agents, managers, and casting directors. Representatives from major New York theatres like Playwrights Horizons and Lincoln Center Theatre regularly visit to offer feedback and advice to the class.
 
Industry Showcases. In the spring, showcases in New York and Los Angeles are held for agents, managers, and casting directors. You  work with distinguished faculty and guests throughout the spring on material selection and scene preparation. 

 
Shakespeare on Stage: The third year actor fully realizes performing a Shakespeare work on stage.


Proof of Concept. A year long course taught by Rafi Silver empowers you to become your own content creator. In this class, you design, develop, and present your own original work by creating a filmed and produced "sizzle reel." 

By joining our community of generous collaborators as a member of the Columbia MFA Acting Program, you will build the skills to best understand yourself and your craft. With this new knowledge, you will enter the profession with a new-found fearlessness and freedom. ​
Notable Alumni
Michael Karadsheh '22, Everything's Trash (Freeform)
Anita Abdinezhad '22, Potus (Broadway)
Isaiah Dodo Williams '22,  FBI International
Julian Abelskamp '22, The Inheritance (Geffen Playhouse)
Kristin Dodson '22, Flatbush Misdemeanors (Showtime) 
Anya Banarjee '20, The Blacklist (NBC)
Joey Odom '19, Dickinson (Apple+)
Tamara Tomakili '19, Winning Time! (HBO)
Manuela Sosa '19, The Imperfects (Netflix)
Fang Du '18, Golden Shield (Manhattan Theater Club) 
Phumzile Sitole '16, Star Trek: Discovery
Marcel Spears '15, Fat Ham (The Public Theater), The Neighborhood (CBS)
Lauren Nicole Cipoletti '13, Emily Murphy '17, Folami Williams '16, Dave Register '15, Harry Potter and the Cursed Child
Charles Browning '06, The Piano Lesson (Broadway) 
Rebecca Henderson '06, Russian Doll, Inventing Anna (Netflix)
David Wilson Barnes '99, The Bourne Legacy