Visual Arts Alumnus Vikram Divecha '19 in Solo Show
Alumnus Vikram Divecha '19 is featured in a solo show at Gallery Isabelle van den Eynde in Dubai. This show, El Dorado, will remain on view until May 1, 2022 and will be his third solo show at the gallery. 
In 2017, the artist found a projectionist's diary in the refuse of the decommissioned El Dorado Cinema in Dubai. This film center initially screened English-language movies before shifting to largely Tollywood and Mollywood films for South Asian audiences. Divecha was fascinated by the banality of the diary which recorded the quotidian habits of the projectionist with notes such as 'bulb changed today' or 'as usual.'  El Dorado becomes a portrait of this projectionist, simply named 'K,' in which "even the obviously abstract paintings conspire to sketch out a character who was, by profession, on the margins. K's years of isolation in a dark booth echo not only the alienation that riddled our lives during lockdown but also one that is hinged to current political events, and that eventually numbs our own political self-determination."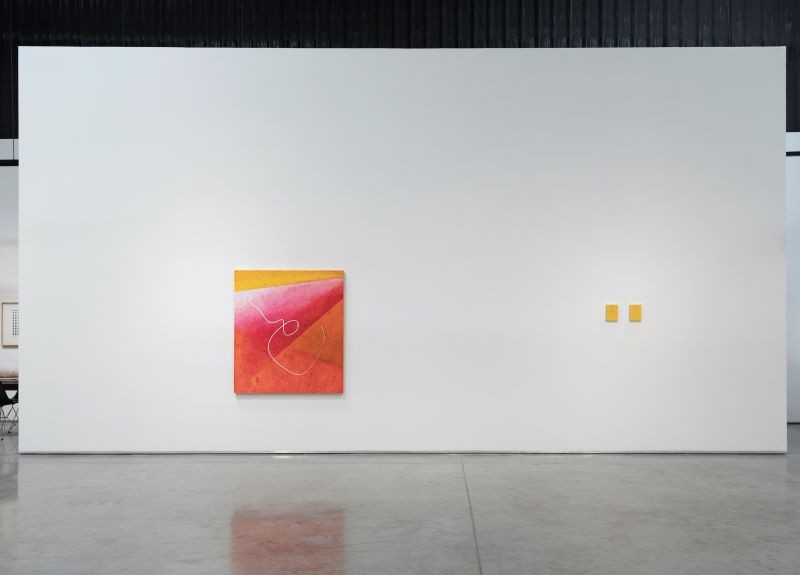 Along the wall of the exhibit are scanned pages from the journal itself printed on yellowed paper. Through the use of paper color and the original calendar's dual Islamic/Western date system, Divecha calls time into question in the show. There are also a series of excerpts from a fictionalized screenplay that bring into focus the lines between performance and reality. Finally, there are a series of paintings entitled the "Aimless Calligraphy Paintings", "directionless scribbles [that] are juxtaposed with very purposeful means of cinematographic light penetrating the space [which] suggest a movie-goer's state of mind, one of suspension, fantasy, escape."
Through these different mediums and themes, Divecha attempts to archive the life of this projectionist. In so doing, he calls into question power structures—who deserves to be remembered? Who counts as a subject of artwork?
Divecha is an artist based in Dubai. He holds an MFA in Visual Art from Columbia University and participated in the Whitney Museum's Independent Study Program. He teaches as an Adjunct Professor at American University of Sharjah in the College of Architecture, Art and Design. His work has been exhibited at the Elizabeth Foundation for the Arts in New York City, Jameel Arts Center in Dubai and in the 57th Venice Biennial, among other locations.