Meet the Filmmakers Behind 2022 CUFF: 'Berry Pickers'
The Columbia University Film Festival (CUFF) is a celebration of the Film Program's students and alumni, screening shorts from exciting emerging talents, and bringing filmmakers together. For this series, we reached out to the directors of just a few of CUFF's most unique films to talk about craft, process, and story. In this edition, Agnes Skonare Karlsson '21 talks about balancing beauty and global politics in her film Berry Pickers.
You can hear the dryness of the forest in Berry Pickers, the striking short film from writer/director Agnes Skonare Karlsson '21. Its auditory landscape is dense and immersive, full of gorgeous rustling sounds, fingers through dry earth, the crackle of brush underfoot. Sometimes you can hear the tantalizing drip of imagined rain: a symbol of everything the film's characters long for, and desperately need.
Berry Pickers is that rare film which captures a character story at the heart of a systemic problem, even global crisis. It is rich, warm, and intimate, overflowing with beautiful images as well as humor. Nat (Nattapong Tongkongnam) and Tem (Sutthipong Tonkongnam) are two brothers who have traveled from Thailand to try to make a living picking berries in Sweden. From their first lines of dialogue—Nat complains that his feet are tired, Tem insists they go 10 more miles—their dynamic is immediately recognizable.
For a film about how the climate crisis exacerbates an exploitative labor crisis, it's a deceptively enjoyable watch. But make no mistake, it has been a while since I have been so moved by a short. There is one particular shot of a character running in the middle of a mountain road—you'll know it when you see it—that brought me to tears.
I spoke to Skonare Karlsson about her film in late March, just after she had decided to bring the film to The Columbia University Film Festival (CUFF). She filled me in on the singular phenomenon behind the film:
"Every year around 7000 Thai berry pickers come to Sweden hoping to make money by berry picking. And it's a very fascinating industry in many ways because it's so dependent on the climate. If it's a bad berry year—which you never know in advance—the price falls on the berry pickers."
2018, she recalled, was an extremely hot year. "Everyone was talking about climate change and feeling the effects of climate change in Sweden and Europe overall."
Skonare Karlsson came across a small article about thousands of Thai berry pickers stranded in Swedish forests because the heat had resulted in an unexpectedly bad harvest.
"They couldn't go home, because in order to come to Sweden they usually have to take very large loans. Everyone was in debt. They usually come to Sweden knowing that around half the time of the contract they have to work in order to pay back their debts, and it's not until the second half of the contract that they can start making money."
The desperation of this situation struck Skonare Karlsson. "There was something ironic about the fact that thousands of people have crossed the globe to pick berries, only to find that there are no berries, but they can't go home."
The rigorously researched film was intended by Skonare Karlsson to feel like a hybrid between drama and documentary. Alongside her commitment to authenticity, Skonare Karlsson creates space for her characters to feel and experience.
There's a moment in the film in which the younger brother, Nat, is waking up at the berry pickers' camp. There are a series of close-ups of his face, and drops of water from hanging laundry suspended above, which fall onto his cheeks. Soft rain sounds swell in the background, like Nat has been dreaming of rain.
Skonare Karlsson talked about the importance of maximizing subjectivity through close-up moments like these, and the role of sound design.
"Partly it felt important to create the constant presence of nature, and how it's in everything; dry branches and dry leaves. And then also creating this channel between the younger brother and the audience, inviting the audience into his subjective soundscape."
"We had a lot of fun with it, and played around. Even though I wanted it to feel partly very authentic and documentary-ish, we also have this more poetic, subjective side. Water is a constant presence, with the rain and the sprinklers and swimming in the lake. It felt important to allow space for those shots and moments."
Skonare Karlsson's research process was substantive, and involved contributions from Thai activists and organizers who work with laborers abroad, like Junya Yimprasert. She was focused on getting the details right:
"What felt important was to create as authentic circumstances as possible, because I wanted the film to feel like a hybrid between drama and documentary. And in reality, almost all of the pickers come from Isan, which is the Northeast district of Thailand. In Isan, they speak Isan. So we had to find not only Thai actors but actors who came from this part of the country and spoke that language.
"But I was lucky—I connected with a woman named Amm Otakanon, who has started this Thai network in Sweden. She has a very big Facebook group and does Youtube Lives. I reached out to her, and she was very kind and generous. She brought me onto one of her Youtube Lives, where I spoke about the project and she translated." 
After that Youtube session, Skonare Karlsson's phone started ringing off the hook. "It also made me even more excited about telling the story because I didn't realize how many people actually recognized themselves in the story."
Through this network, she found real-life brothers Nattapong Tongkongnam and Sutthipong Tonkongnam, who play Nat and Tem respectively.
Working with non-actors can be challenging, especially given a language barrier and the strict time constraints of a shoot; but Skonare Karlsson worked with a translator to go over scenes with the brothers before shooting began, improvising a little, collaborating, and creating conditions under which their performances could feel as spontaneous as possible. The resulting work from the Tongkongnams is fresh, unstudied, and powerful. 
There's a scene in which they stop at a lake while Swedish tourists splash and play nearby. Nat swims right in, immersing himself, looking on longingly at the vacationers' ice cream, at a man with a giant inflatable alligator (who, I learned, was played by Skonare Karlsson's grandfather!) 
"Here, feel it" he eagerly tells his brother, who is busily washing a shirt. Tem impatiently dips his toes in the clear water. "I feel nothing," he says. 
The production design was also highly researched. It was based on Youtube videos of berry pickers' camps filmed by Thai human rights advocates, and on-set consultation from some of the actors who had worked as berry pickers: "We would walk through and we would ask them, what here looks wrong to you?"
I remarked on how colorful the design is, between the orange and red berry buckets and trays, and the clothes and packs of the characters.
"I wanted to allow the film to be very colorful, because the theme is so dark, but without romanticizing their reality," Skonare Karlsson said. "It has these very warm tones, because we wanted to really highlight the heat…we always tried to choose what felt true to the story."
I asked Skonare Karlsson what she thinks her films have in common, and she said, "I'm starting to realize there's almost always a sense of claustrophobia…What I'm drawn to is interesting conflicts, where there's no easy way out."
Berry Pickers' haunting beauty lies in the tension between the claustrophobia of the brothers' situation, and the marvelous subjectivity of their experiences. Don't miss this haunting character study, a global crisis seen on a human scale, which premiered on May 6 at 9pm and will screen again on May 13 at 9pm at the Columbia University Film Festival.
Image Carousel with 3 slides
A carousel is a rotating set of images. Use the previous and next buttons to change the displayed slide
Slide 1: The cast: (from the left, top to bottom) Rewadee Jakobsson, Wutikorn Premjai, Rachanon Chaisang, Nutchanat Jonsson, Nattapong Tongkongnam, Sutthipong Tongkongnam, Nutthakorn Singlong

Slide 2: Still from 'Berry Pickers'

Slide 3: Still from 'Berry Pickers'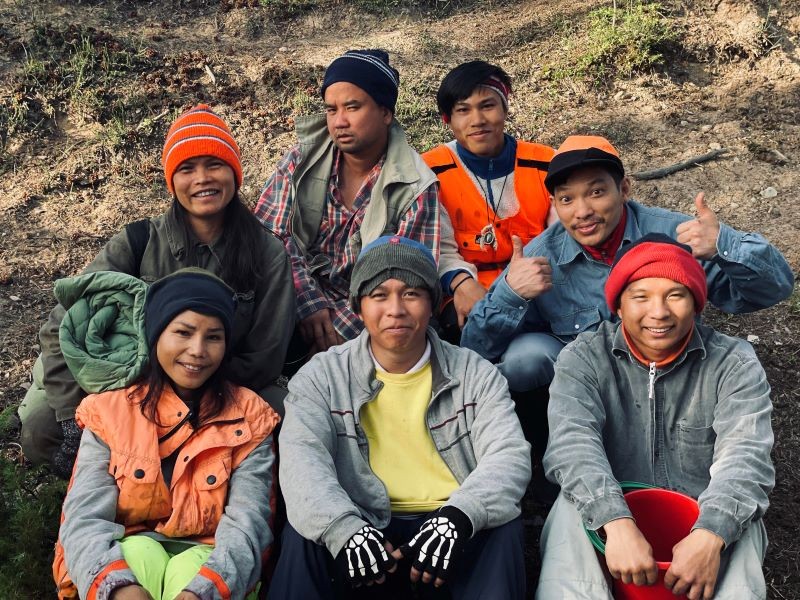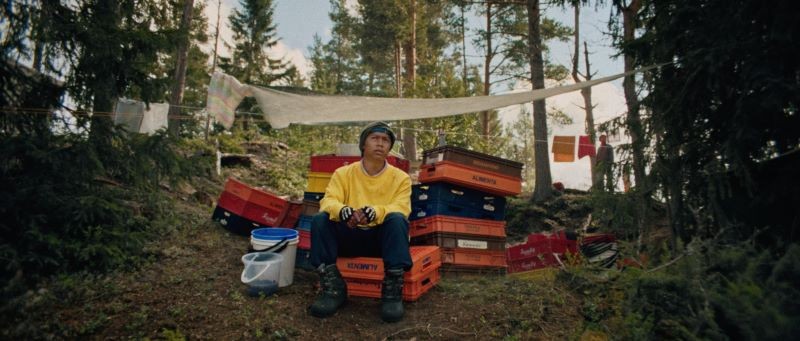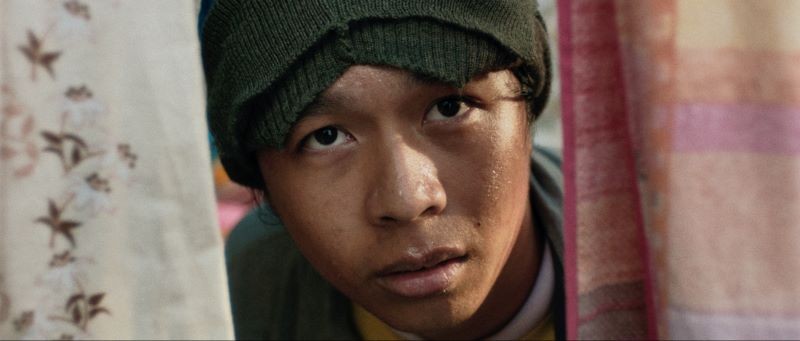 Previous
Next