On A Global Scale: Shooting in Nigeria
On A Global Scale is a bi-weekly series about international co-productions by Columbia filmmakers.
Welcome to another edition of On A Global Scale. This bi-weekly series celebrates the international spirit of the Columbia University film program and the incredible global collaborations coming out of it.
In the last article, we covered the first Columbia short film to have ever been shot in Cuba. However, this wasn't the only "first" during this year's 8-12 season to shoot in a completely new international location. Current student Olive Nwosu pulled off another impressive accomplishment by taking her own project to her home country, Nigeria.
Nwosu is a second-year Directing/Screenwriting candidate. She's always wanted to tell stories about her native country and felt like the time had come when she entered the Columbia MFA program. "I wanted to make a film that was specifically set in the countryside of Nigeria in the village near where my dad grew up. Nigeria is becoming urbanized very quickly and it's harder to find this countryside and local life. For me it was always something I loved and cared about, so I tried everything to make it happen."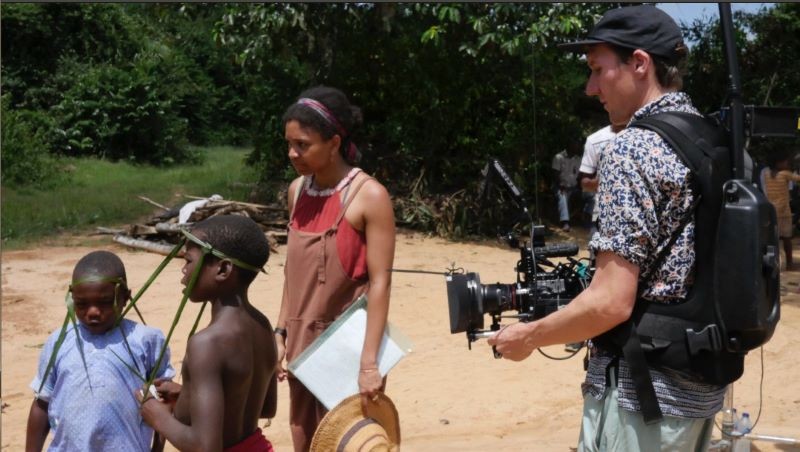 Nwosu's film, Troublemaker, tells the story of a ten-year-old boy who accidentally hurts his grandfather and experiences a loss of innocence, a discovery of violence and how it prevails across generations. To the filmmaker, "the story is very specific because the subtext revolves around the Civil War when Eastern Nigeria, where the film plays, tried to split from the rest of the country. I wanted to shoot in this area and write something surrounding this issue that is still very present today, but nobody talks about."
Nwosu previously shot a short documentary in Nigeria, but this project was her first big narrative story to shoot there. That meant she had to make the decision early on to get the challenging preparation process on track. "I was going back home in December and didn't go back until May, so I had to start a lot of the work very early. I had to stake out the feasibility of it and find a local producer in Bondy Onyekwere." According to Nwosu, having at least one person based in the country of shooting is essential for the success of all projects of this kind, especially in Nigeria. "You need someone who is mobile and willing to go places. In Nigeria, agreements are usually handled in person, so I needed someone to go to the village every week or so to get everything arranged." 
The struggle between organizing a shoot in a foreign country while still being in New York herself was a big challenge. The school supported her throughout the process, helping her get insurance coverage and the safety regulations on track. To Nwosu, it seemed like school officials were eager to help her reach her goal. "The point of this program is to empower diverse voices. I'd like to think that was the underlying motivation in the support I received."
But the real work started once the crew arrived in Nigeria. With the crew being a mix of local Nigerians as well as Americans and even some from Dubai, the adjustment period before the shoot was key to making the project come to life. "We were suddenly stuck together and many people I know from all over the world coming to my home country, living in my family house, shooting in this village where my dad grew up – it was interesting. Since we came from different places, we couldn't do much planning as a group beforehand, but in these eight days before the shoot we really started working as a group and became a little family. And that was essential because I was working with non-actors in the middle of nowhere." With all the foreigners coming to Nigeria for the first time, it turned out to be a great time to explore the culture and routines of the country from a very intimate perspective. Hence, Nwosu calls these pre-production days as her favorite part of the experience. 
Once the preparation phase was over, the shoot finally began which felt very different from a routine shoot in New York. Nwosu admits "it wasn't the most comfortable shoot and Nigeria can be unpredictable." The crew was forced to think on their feet and adapt to different circumstances like instructing the extras. Some of them couldn't read, so the script was thrown out and replaced with improvisation.  The equipment situation also proved challenging. The production ran through four generators in four days and finding working lights and high quality camera equipment was difficult. The question of what would happen in case of an emergency was another issue, Nwosu remembers. "There wasn't a hospital within any feasible distance, so we got in touch with a doctor who was on standby."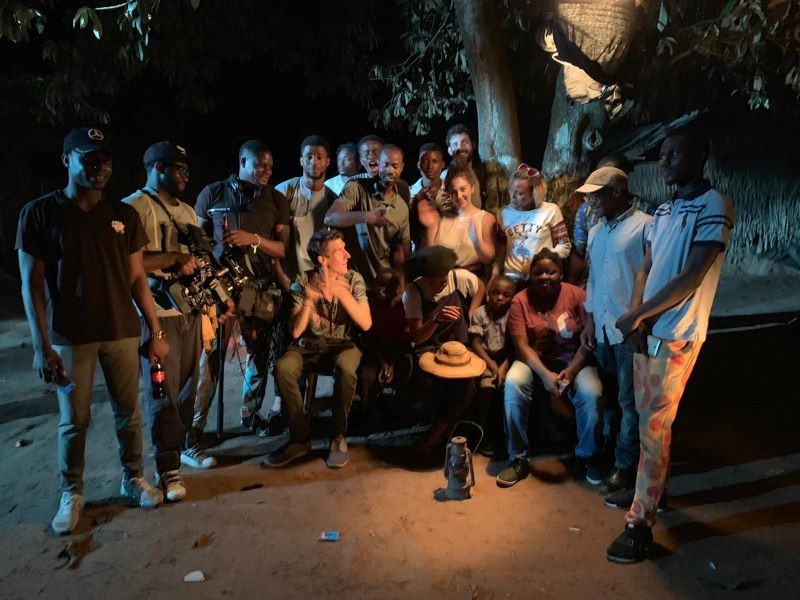 In addition to all of this, the scale of the shoot was bigger than anything Nwosu had ever tackled. "I think I was forced to make it more professional. I had asked people to come from far away, I had some local crew, I asked an entire village to be in my film, so I felt an obligation to make it worthwhile for everybody. One of the scenes has 50 extras, it felt like a real film. And it was good for me to be able to feel like 'You can still figure out what to do when something is this big.'"
The four day shoot was hard work, but Nwosu looks back at the experience fondly, saying she would definitely repeat her efforts. "The cultural exchange really came through. People are very loving in Nigeria, because not many people visit and when they do, people are excited by it. By the end, people knew us and we knew them and we spent time together after the shoot. So there was the filming and then there was the experience. It's people who are generally ignored in the country and they were surprised to find that people thought their stories were worth telling." 
Nwosu returned to New York with an impressive film, a great learning experience and the confidence to see that her ambitions can become reality. "You learn these concepts in class in New York and then you go to a foreign place and try to apply them. And in a way, it makes me trust this system more because – turns out – it works." For her, it was fascinating to bridge the gap between two places and come out with a result enriched by the many different aspects of her experience which "in a way is the point of filmmaking I suppose."