Ghost Light, Meet the Dramaturg: Tayler Everts
Ghost Light, Meet the Dramaturgs is a Theatre series featuring Columbia Dramaturg students, faculty, and alumni, learning about their work, aspirations, and pandemic passion projects.
In Michael Mark Chemer's book Ghost Light, he uses the metaphor of a ghost light to represent the work of a Dramaturg. Dramaturgs work behind the scenes, always thinking and searching for creative possibilities, guiding the way, even once the stage goes dark. In this series, we shine a light on Columbia Dramaturgs.
This week we are featuring dramaturgy student Tayler Everts (she/her). Tayler Everts is trained in screenwriting from NYU Tisch School of the Arts. She spends as much time as she can witnessing experimental theater and performance art. Dramaturgical interests include narrative structure, miniature performance modes, aesthetic philosophy, somatic interventions, and 1970s wood-paneled basements.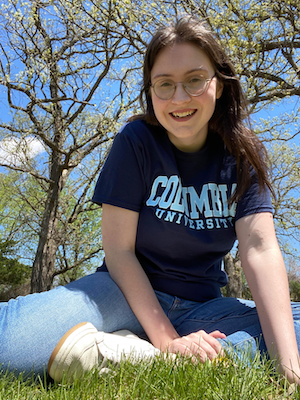 What was your first experience in theatre? 
Tayler Everts (TE): I saw a lot of community theatre as a kid. My mom was one of those people who bought season memberships at two or three community theatres around town. So we were always going to something different every month. They were youth theatres, so there were a lot of kids on stage. I remember knowing that I really liked theatre, but not wanting to be on stage. Part of me wanted to try it, but I knew that wasn't going to be my thing. So, that was my first experience. 
But I was raised Catholic, and I remember these kids in my church started doing a skit during mass. They all had some sort of script with parts, and I was sitting in the audience and someone handed me a script, and I didn't know how to read. I thought they had given me a part, so I stood up and I spent the entire thing flipping through pages, hoping I would catch a word that I recognized and be able to figure out what character I was playing. I just remember them finishing the scene and someone telling me that they handed it to me to follow along. It was so mortifying. But that is probably one of my earliest memories of being on stage and probably one of the reasons I don't ever want to be an actor.
So, how did you get into Theatre? 
TE: When I was in high school, the niche that I found for myself was TV production. It was technically a journalism subsection that was supposed to be announcements. We had this broadcast on Fridays, and we had to include the announcements, but for the other ten minutes, we could do what we wanted. We could make commercials, skits, or funny bits. That opened my eyes to what I wanted to do. Oddly enough, out of that morphed a desire to do animation. I actually applied to a lot of colleges for animation, and now my projects that I work on have a lot to do with miniatures. A lot of my work is very tactile based. I think it's because I played with dolls a lot as a kid. I was always making stories with them. So, I knew I had this deep appreciation for little things and play and crafty things.
I ended up going to NYU on an acceptance for Film and TV. I took an elective called Modern American Drama and the whole conceit of the class was that every week, we read a play and then the professor would come and talk about it. We started at the beginning of the early nineteen hundreds and went through the whole classic cannon. The next semester I took his companion class called Modern British Drama. By that point, I realized, I didn't want to go to college, and not have theatre be a part of it. So I applied to switch my major to Dramatic Writing instead of Film and TV. I started falling into this whole world of theatre.
What was your introduction to Dramaturgy? 
TE: I first heard the word dramaturgy in Smash, the TV show. It's funny because I brought it up to the other dramaturgs and I think that was the first time a lot of us had heard the word dramaturgy. I was taking a class in the Dramatic Literature department called Radically Curating Radical Performance and in it they had a unit on dramaturgy. That replanted the word in my head and started my journey. I realized by the end of undergrad, I wanted to pursue a grad program. I wanted to find that balance between structure and non-structure, and that led me down the path of dramaturgy. I'm really glad I went into Dramaturgy because I left undergrad with hardly any production experience. That has been remedied by the Columbia program for sure. 
What was it about Columbia's program that most intrigued you? 
TE: I knew a couple of people who had come out of the program and so I had talked to them. People had said it was very collaborative. I think the thing that scared me into grad school was the lack of credibility I had. I went to a good school, had done internships, and still felt like I didn't have any credibility. Grad school would give me some more credibility and it would introduce me to more people. I think that Columbia offers that in a really big way, especially for dramaturgy. The production experience was really appealing and the sense of collaboration. I was itching to meet people to collaborate with and a place where the silos of concentration were broken down. I also just talked to a lot of the Dramaturgy graduates from the program and everyone seemed so smart and driven, and they knew how to talk about theatre. Not only does Columbia give me a chance to be someone important in the theatre world, but also the chance to be friends with someone who is going to be huge in the theatre world. It feels incredible. 
How would you describe your style of dramaturgy? 
TE: It's still being figured out. It's still new to me. But I gravitate toward structure and audience experience. I like structure a lot and I like thinking about how to break and use structure. I like a logical and concrete approach opposed to something more intuitive. At first I thought that would be something that would be to my detriment, but I've found that it means I just get to work with more intuitive people, which is always nice. Being able to focus on something as a larger structural point is really fun to me. I kind of think of dramaturgy as a dramatic therapy, because I like processing with people and talking about the issues of the piece. I am less interested in research, but it doesn't mean I refuse to do it. It just isn't the thing I find the most rewarding in the process. Coming from a very weird, experimental theatre background, I really enjoy audience experience. 
Can you tell me a little bit about the play that you wrote in Leslie Ayvazian's class, Barbara (is a family name)? 
TE: Well, this play has been with me for a while. I started it at NYU. I took a class called Play II, which was the first time I ever had to write a full length play. It grew out of an experience I had years ago in 2018 where I was with my extended family on my dad's side who are all active hunters and in the military. I had never been allowed to shoot a gun before. I never really fought it or questioned it, but then my cousin on this family vacation invited me to the shooting range. I just kind of went along out of curiosity. I don't know why I was drawn to do this, because I have no interest in shooting guns. But, the first two shots that I hit were bullseyes. Then came the absolute terror of 'oh God, what have I done?' Of course, my cousin and my dad and my uncle were so surprised and proud, but I felt like the only way that I could respond was out of anger. I wanted to write a play. I remember at the beginning of Leslie's class, thinking that one of the most heightened emotions I had felt was shooting that gun. I was feeling fear, dread, and regret and all these intense negative emotions. So years ago, back in that British Modern Drama class, one of the plays we had to read was Major Barbara by George Bernard Shaw. I loved that play from the beginning and it is still one of my favorite plays. So I had this experience happen and Major Barbara is all about guns and ammunition, so they felt kismet and connected in an interesting way. So, I wrote it for that class. I took a break from it for a long while, and then I went into the class with Leslie. It was a really nice reintroduction into writing and trusting my own voice again. Once I finally got to the end of that draft, I understood what the play is really about. Right now, it is still in a state of flux, so I'm still in the process of developing it. 
 
What is your favorite play or musical? 
TE: I always have to pitch Major Barbara. To me, I have a weird relationship with musicals. I am not all that interested in working on them, because I love them so much. They are a safe space and my comfort content. I think it's why I am afraid of theatre kid culture, because it's mostly just people fighting over who knows the lyrics better to any given show. I just want to sit in it and enjoy it. But probably one of my favorite plays is Sarah Kane's Phaedra's Love. It's such a great adaptation and I think it inherently has so many good questions and interesting turns. But I love trying to get people into experimental stuff and performance art because I love breaking people's minds of what is possible in theatre. 
What were your pandemic passion projects? 
TE:  In the first month and a half of the pandemic, I was living at my mom's house and we got a kitty, so he was our big project. His name is Louie and he was four when I got him. He's this big curmudgeonly orange cat, and he's the best. But I grew up without pets, so it was a journey of learning how to take care of a pet and wanting to do right by him. We were learning each other's boundaries. I love him so much. 
But I also really like crafts. I started a vintage seventies doll house. It's the kind of one that you build. It's carpeted and it has wood paneling. It's a full seventies dreamhouse. I did a lot of embroidering over the summer. Besides the doll house, my mom got a house. It's this old Victorian house that needed to be renovated, so we started slowly doing that as well. It was a lot of keeping my hands busy, which I'm very grateful for.