Columbia Filmmakers Connect: Katharina Otto-Bernstein '92
In this series, we have featured the new Columbia mentorship program that connects recent alumni with industry professionals. Over fifty pairs of mentors and graduating students were matched and more will be paired in the coming months. As this series comes to a close, we are taking it back to the beginning in conversation with Dean's Council Chair and one of our oldest and most prominent and steadfast mentors, Katharina Otto-Bernstein '92 SOA ('86 CC). Otto-Bernstein helped to create the mentorship network that has been met with so much enthusiasm and support today, and she spearheads a thesis mentorship program. She is a pillar in the Film community whose support has changed the lives of many.  
As an alumna of  the School of the Arts Film MFA program, Katharina Otto-Bernstein credits her first entry into the film industry with a phenomenal piece of luck. While she was still a student, Otto-Bernstein was hired to work on a documentary film by a German producer who had to return to Germany for work. Otto-Bernstein ended up directing, writing, and producing the documentary, which became The Need for Speed (1993), a fast-paced film about bicycle messengers in New York City. 
The Need for Speed put Otto-Bernstein on the map and eventually led to an award-winning career with credits like The Price of Everything (2018), Mapplethorpe: Look at the Pictures (2016), Absolute Wilson (2006), When Night Falls Over Moscow (1994), and Beautopia (1998). But Otto-Bernstein is quick to acknowledge that the opportunity to work on Need For Speed, and to bring it to market, was exceedingly rare. She recognized that without help, filmmakers struggle breaking into an ironclad industry.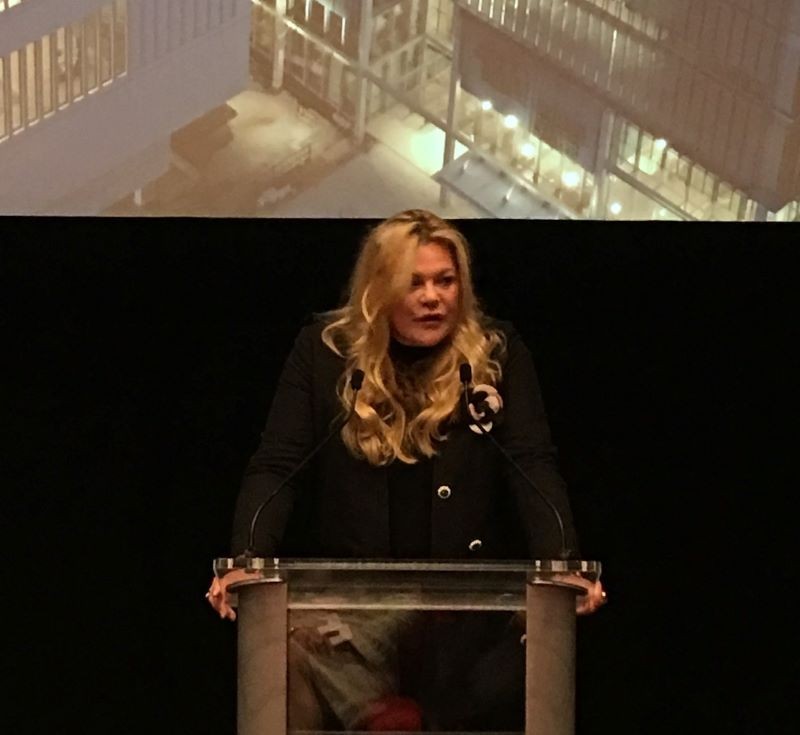 "I saw that all my friends who were graduating had huge problems finding jobs," Otto-Bernstein told us over Zoom, her sunny NYC office in the background. "They had a short (film) or didn't have a short, had a script or didn't have a script, and they didn't know where to turn. There was no follow up. There was nothing—no connecting to agents, connecting to film festivals, connecting to anything." 
Around that time, with films like The Need for Speed and Beautopia selling like hotcakes, Otto-Bernstein was approached by Adjunct Associate Professor Michael Hausman, who asked if she would be willing to show and discuss her films in his class. Otto-Bernstein had a different idea. "I actually said to him, 'You teach all these classes, but who better than you to connect students to the follow up?'"
In response, Hausman and Otto-Bernstein set up a council of filmmakers dedicated to helping students bridge into the filmmaking business. Eventually, with the arrival of Carol Becker as Dean of the School of the Arts in 2014, the council was formalized and became the School of the Arts' Dean's Council.
The creation of the Dean's Council was a major first step in supporting School of the Arts students through grants and other forms of funding, but Otto-Bernstein knew that Film students and recent graduates needed more than just the extra financial support. 
"From experience I can say that a grant doesn't get you very far," she said. "It may help you to get a film made, but you need to know how to use the grant well and how to really use your thesis film as an entrance into the industry. I think giving that sort of awareness to students is very important. So, I decided to create a mentorship program where we take four projects a year from script to screen." She is joined in working with students by her colleagues at her company, Film Manufacturers, Inc., based in New York.
When it comes to picking the scripts she will work with, Otto-Bernstein relies on instinct and emotion. She looks for full story arcs, intelligence, and a story that "stirs something in you, something I haven't heard or seen before."
While the scripts are always presented to Otto-Bernstein unmarked and anonymous, she admits that she tends to drift toward projects set in places that are foreign to her because they allow the reader (and eventually viewer) to escape to another world. One recent example is Joyland, by Saim Sadiq '19 and Apoorva Charan '18. The film is based on Sadiq's thesis short, Darling, which takes place in Pakistan and went through Otto-Bernstein's mentorship program. Film Manufacturer's Inc co-produced the longform version of the film. Joyland was awarded the Jury Prize at the 2022 Cannes Film Festival, which took place last weekend. It was the first official film from Pakistan to screen at Cannes (and revolutionary in its discussion of gender and sexuality). 
"We've had students from the Middle East, from India, Pakistan, Latin America, Germany, Europe, and even parts of America that are foreign to me," said Otto-Bernstein. "We've seen every subject over the years from drug rehab to gender change, to a new, very exciting script about a Black man in the South wanting to join a white church in the seventies. These are all things that are attractive to us because we think, 'Wow, this is courageous. This is interesting.' We want to collaborate with these students to help them find their voice." 
And the collaboration process is no joke with Otto-Bernstein. Despite her busy schedule, she personally goes over each and every draft of every script she and her team take on. For Otto-Bernstein, a film—especially a short film, with its unique strengths and challenges—is made or broken in the writing process; and her former mentees are grateful for her involvement in these early stages of their projects. 
Francisca Alegría '16, who is now adapting Isabel Allende's House of Spirits for television, is one such mentee. "I will forever be grateful to Katharina," she shared. "Thanks to her help I could make my thesis short film, And the Whole Sky Fit in the Dead Cow's Eye, which was selected in prestigious festivals and ended up getting the award for Best International Short Film at Sundance Film Festival (2017). Katharina was involved in the writing process and her creative feedback was fundamental for the film as well as my career." 
Markus Wulf '20, whose stop-motion animation, Louis I: King of the Sheep, premiered at the 72nd Berlinale, also credits Katharina for the success of the project, especially as it was produced during the COVID-19 pandemic. 
"It was Katharina's support and early belief in the project that made it possible for us to think outside the box and do the first fully stop-motion animated thesis film at Columbia University," he said. "An essential part of Katharina's support was her passionate mentorship. She helped us not only with her production experience, but also asked important questions during the screenwriting process, elevating the script to another level."
Like Alegría and Wulf, many of Otto-Bernstein's mentees have gone on to win prestigious awards and launch successful careers in the film industry, but even after her mentees move on to bigger and better things, Otto-Bernstein continues to be committed to them. She aims to create a network of filmmakers who will support each other as they continue to pursue careers and ambitious creative goals. 
"The idea is also to create a sort of think tank," said Otto-Bernstein, "and we are hoping to create an app where everybody who has been through the mentorship program with us can connect and continue working with each other." 
Otto-Bernstein is hoping to partner with fellow Dean's Council member Albert Berger '83 to grow the film mentorship program and help expand its reach even further.
"We work [with students] at an earlier stage than Albert does," she said, "but I would very much like to connect all this to see if we can formalize the process a little more." 
When asked why she feels so passionately about mentorship, Katharina chuckled. "When I graduated from film school," she said, "I cried because I loved it so much. This has been a really happy opportunity to stay connected. And I love working with young people. As filmmakers, we always seek out inspiration. It's all very self-serving, you know. I'm surrounded by creativity and enthusiasm and joy and hope and all these wonderful things. I really enjoy it."