Caborca Performs 'Zoetrope' at the 2nd International Pueblos-Escena Festival
Caborca, an alumni based theatre company, celebrated 10 years with a bilingual performance of Javier Antonio González's Zoetrope at the 2nd International Pueblos-Escena Festival in Camagüey and Ciego de Ávila, Cuba. The performance featured theatre alumni David Skeist '06, Laura Butler Rivera '06, and Tania Molina '07. It was produced by theatre alumna Jenny Tibbels '03 and directed by theatre alumnus Javier Antonio González '06. 
Zoetrope is a sweeping work of epic theatre that follows several generations of a leftist working class family in Lares, PR and New York. With live-feed video and dance theatre elements, Zoetrope tells the story of an underdog military postal officer with a dream. Until he dies. Then it tells the story of his ex-wife, her sister, his lover, her friend, his son, the playwright René Marqués, and the uprising known as el Grito de Lare.
Helen Shaw called Zoetrope, "Huge, byzantine, adventurous, stylishly staged and forcefully political." While Professor Irma Mayorga, in Northwestern U. Press, said "Javier Antonio González and Caborca's creative capaciousness reconceives the Latinx family drama, and in this way, they expand the aesthetic horizons of Latinx theater in extraordinary new directions."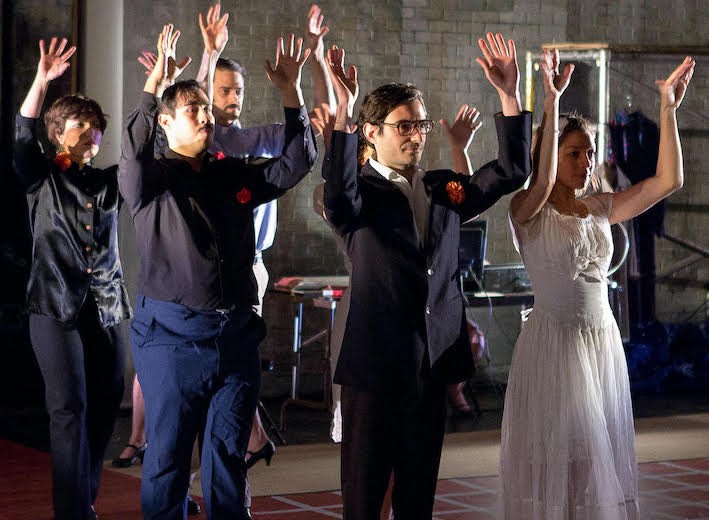 Caborca traces its roots to 2002, when González snuck into the construction site of the shuttered University of Puerto Rico (UPR) theatre with a group of actresses and staged a clandestine, site-specific production of Arístides Vargas's play La edad de la ciruela. However, the company was ultimately founded 7 years later when Caborca formed to perform Barceloneta, de noche, a play González wrote and directed about an aging nazi hiding in small town Puerto Rico.
Caborca is currently working on setting up a tour for Zoetrope, and doing post-production on a short film. Their next project in development is Rubalee, a musical about the critically endangered North Atlantic Right Whales, which González has been contemplating for some ten years. Music will be composed by David Skeist together with heavy metal musician Michael Rekevics.