Alumnus Nolan Lem '15 Featured in Solo Show
Sound Art alumnus Nolan Lem '15 is featured in a solo show, Surface Song, at Eks-Rummet Gallery in Copenhagen, Denmark.The show runs April 1 to April 10, 2022.
According to Lem, much of this work was made during the State Workshops for Art (Statens Værksteder for Kunst) in Copenhagen, a program which focuses on large scale sculpture and fabrication. The show that grew from this residency focuses on the expression of rhythm intrinsic to various surfaces, landscapes, and sedimentary objects. These rhythms often remain latent, dormant, and unvoiced but still possess evocative power, an idea that touches on many aspects of animism in the classical Chinese folk religions associated with 'Qi.'
Made up of both kinetic and static components, this work reveals the "repetitive, sometimes hypnotic, oscillatory forces embedded into spherical objects placed atop topographical surfaces where dense swarms of sound emerge from their interaction and confrontation with natural materials." 
The center of the installation features a large surface of 64 electromagnetic pendulums. This exhibit's behavior is at times erratic, coordinative, or synchronous with other oscillatory elements. Throughout the rest of the gallery there are "computer-designed wooden topographical surfaces—recalling the wells and valleys of relief maps—filled with glass marbles and reciprocated to explore the synchronous motion implicit in their surface deformations."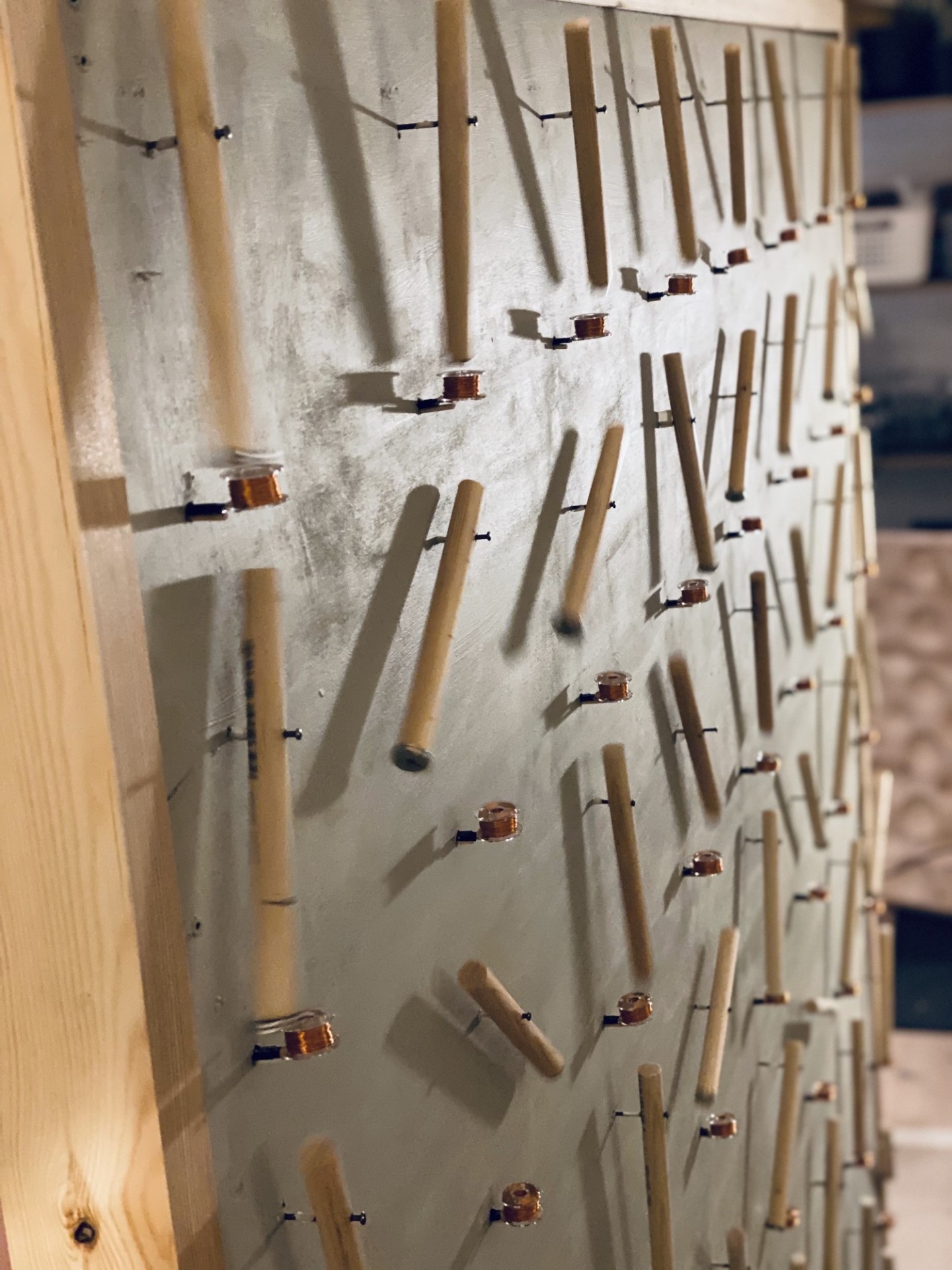 There is also a found component of the work based in geography. Lem locally sourced round river rocks from Stevns Klint on the Danish coastline, and set them in motion to explore their surface songs and rhythms. With surfaces smoothed and rounded by millions of years of interaction with water, the rocks are "placed on mechanically reciprocating platforms—their playful dance in many ways a reflection of the ways in which time has shaped their exterior form," said the artist. 
Nolan Lem is an artist and researcher whose work reflects a broad range of influences and mediums, particularly those related to sound and kinetic motion. His work focuses on the dynamics of emergent systems, machine intelligence, and the synchronization of auditory phenomena. He has premiered his work and research at a number of diverse spaces including the Museum of Modern Art Buenos Aires (MAMBA), Pioneer Works (Brooklyn), L'HOSTE Art Contemporain (Arles, FR), and the Danish National Museum of Music (Copenhagen, DK). He has held residencies at IRCAM, MassMoCA, Cité Internationale des Arts, and the Vermont Studio Center. He holds degrees in saxophone performance, electrical engineering, and received his MFA at Columbia University where he studied at the Computer Music Center.