Alumnus Julian Day '21 Part of Major Exhibition in Sydney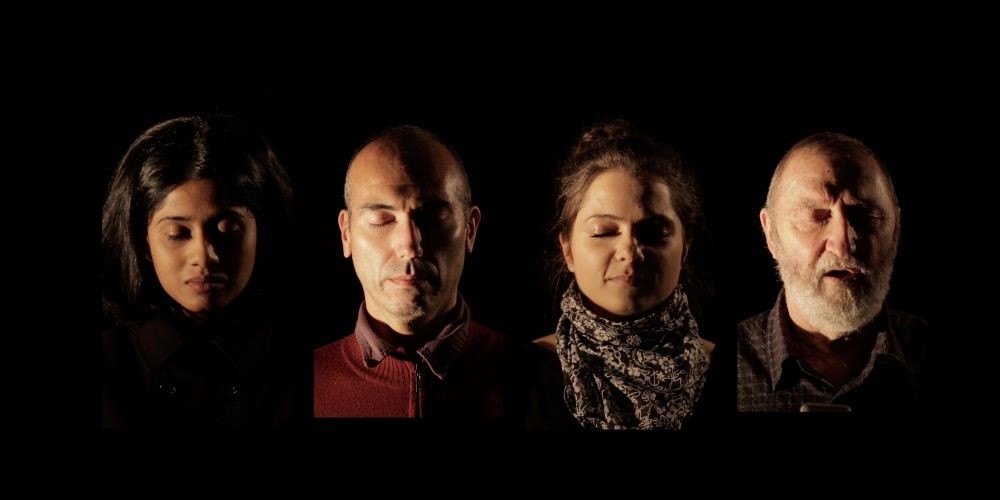 Two works by alumnus Julian Day '21 feature in Jamming with Strangers, a major exhibition developed by Casula Powerhouse for the Sydney Festival in Australia. They are Stage (2021, four channel video, 10'00) and Green Room (2021, single channel video 15'00). 
Born out of their "radical orchestra project," Super Critical Mass, co-founded by Day and Janet McKay in 2007, Stage and Green Room depict performances in which temporary communities of strangers co-devise ambient compositions without the aid of written scores, music stands, and conductors. Of the works, Day writes, "Stage is a formal, theatrical representation of the choir recorded independently of each other and conjoined through endlessly iterating vocal gestures. They sing with their eyes closed which invites you to confront them up close as if eavesdropping on a private moment. By contrast, Green Room is the backend, backstage version of the story that outlines the entire lifecycle of the community, from our initial exploratory sessions through to the final performance. It reveals the conversations, prompts, false starts, and experiments that shaped the process along the way."
In 2019, Julian was the subject of a Student Spotlight, a School of the Arts online series highlighting the work of current MFA students, asking them to share thoughts on practice through curated and peer-submitted questions. In their interview, Julian explains how they use sound to reveal and transform power dynamics and to instigate perceptual shifts in social and civic situations. They say, "I'm interested in how we address shared resources: streets, subways, waterways, airspaces. How do we build ethical frameworks by which to co-use them? Should such ethics be legislated from above, as laws or social rules, or be individually negotiated? I guess it's the difference between positive and negative liberty. As someone trained in music, I tend to use sound (with its radical physical promiscuity) as a way to register how such resources are historically or currently used and to suggest new approaches. This informs my bigger project, to better understand the mechanics of sociality." 
Julian Day is an Australian-born artist, composer and writer. Day has presented work at Tate Modern, Whitechapel Gallery, Royal Academy of Music, Cafe Oto, MASS MoCA, Australian Centre for Contemporary Art, Queensland Art Gallery of Modern Art, Institute of Modern Art, Artspace and Sydney Opera House. Their work has been acquired by the Museum of Contemporary Art Australia and Orange County Museum of Art, USA, and has featured in the California Pacific Triennial, Asia Pacific Triennial and Prague Quadrennial. Day has presented radio programs for BBC Radio 3 and ABC Classics, including the long-running New Music Up Late. They recently completed an MFA in Sound Art at Columbia University through the Samstag Scholarship. 
Jamming with Strangers brings together people and communities across Australia through talks, public programs and music performances. Subtitled 'making friends and community through music,' the event series asks the question: What does it feel like to be connected with people through music? To find an answer, the Sydney Festival is hosting a series of works by both established and emerging Australian artists with special events throughout the winter season that will culminate with the highly anticipated West Ball III performance at the end of January. 
Jamming with Strangers runs at Casula Powerhouse Arts Centre until February 27, 2022.