Alumnus Ayad Akhtar '02 Named PEN America's Next President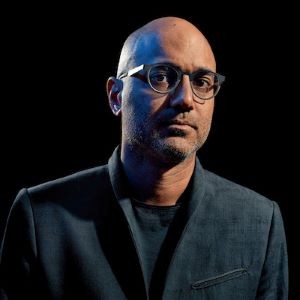 Film alumnus Ayad Akhtar '02 will succeed novelist Jennifer Egan as PEN America's next president on December 2, 2020. Best known for his 2013 Pulitzer prize-winning play Disgraced, Ahkhtar has been on PEN's board of trustees for five years, and on September 15, Little, Brown and Company will publish his eagerly awaited second novel, Homeland Elegies. 
In an interview with Oprah Magazine, Junot Díaz calls Homeland Elegies "the book of the year," lauding Akhtar's unflinching, page-turning depiction of a Muslim Pakistani family's immigrant experience in the US: "...the author's doppelgänger, with his Ivy League education, prestigious award, and millions in stocks, has become the quintessential American winner every immigrant parent hopes for—yet he is unable to save those for whom his success might mean the most. The novel builds a devastating case for the limits of our country even as it describes its nigh-irresistible allure."
Since the 2016 election, Akhtar has helped further PEN's increasingly domestic-focused initiatives, including PEN Across America, which calls on its members and allies nationwide "to lead efforts to promote informed debate, defend press freedom, engage in literary advocacy, and facilitate dialogue across barriers of all kinds." 
Akhtar discusses how continued national outreach will align with PEN's other priorities in an interview with The New York Times. In addition to "engaging in the increasingly vociferous free expression issues" brought forth by social media and the current political climate, Akhtar will also turn his attention to the organization's literary impact. Akhtar aims to expand access to and encourage achievement within the literary world. 
Akhtar also hopes to show that literature has the potential to be advantageously and inextricably woven into US social and cultural fabric: "...it's not just a pastime or something some people do because they have a taste for it. It can be part of our national discourse and can contribute to it in interesting ways."