Alumni Spotlight: Mengtai Zhang '19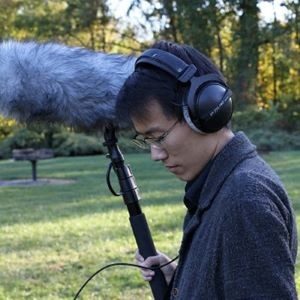 Mengtai Zhang '19 is a multidisciplinary artist based in New York. Employing sculpture, sound, and simulation technology, his works create ambivalent allegories of power, where personal and sociopolitical factors encounter each other. He is a PhD candidate in Electronic Arts at Rensselaer Polytechnic Institute. He holds an MFA in Sound Art at Columbia University, an MFA in Fine Arts at School of Visual Arts, and a BA in Fine Art at Goldsmiths, University of London. Mengtai's works have been presented internationally, including IDFA (Netherlands); Sundance Film Festival, New York Fashion Week, NYCEMF, ChaShaMa, Humble Arts Foundation, and Fridman Gallery (US); Times Art Museum, Bi-City Biennale of Urbanism/Architecture, MOCA SJZ, and SNAP (China). Conferences that have programmed Mengtai's works include New Interfaces for Musical Expression, International Computer Music Conference, and Sound and Music Computing. He has received fellowships from Wave Farm, IDFA DocLab, and Sylff Association.
Was there a specific faculty member or peer who especially inspired you while at the School of the Arts? If so, who and how?

Mengtai Zhang [MZ]: Sound Art is a small but diverse program with people from visual art, music, programming, and many other backgrounds. I'm making mostly VR works now and it all began in Brad Garton's class which introduced me to Unity (a game engine for making VR). I also learned a lot from Miya Masaoka and Seth Cluett who were very enthusiastic and supportive. They advised me on possible ways to think about sound and its essential role in my works. I also did independent studies with Matthew Buckingham when I had just begun thinking about Diagnosia and was experimenting with CGI. Since the work is related to memory, he helped me think about how to restage it in the present through the language of moving images.
How did attending the School of the Arts impact your work and career as an artist?

[MZ]: Attending the Sound Art program brought an interdisciplinary approach to my work technically and conceptually. More importantly, attending SOA offered me with opportunities for connections and collaborations. I went from being an artist who's always working alone to someone who's always working with other people. That allowed me to pursue more ambitious projects that I couldn't do by myself.
What was your favorite or most memorable class while at the School of the Arts?

[MZ]: "Music, Math and Mind" by Dave Sulzer and "Origins of Modern Visual Culture" by Jonathan Crary.