'All the Frequent Troubles of our Days' by Alumna Rebecca Donner '01 Coming in Early August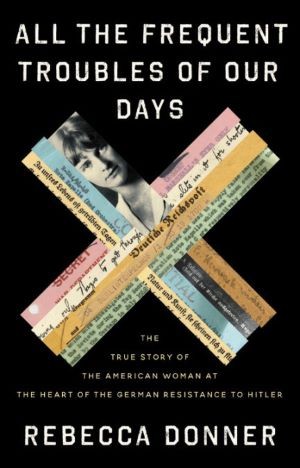 All the Frequent Troubles of our Days, a thrilling true story of the American leader of a resistance group in Nazi Germany by Writing alumna Rebecca Donner '01, will be released by Little Brown and Co on August 3, 2021. 
Meticulously researched and crafted, All the Frequent Troubles brings to light the life and work of Donner's own great-great aunt, Mildred Harnack. Harnack was born and raised in Milwaukee, but happened to enroll in a PhD program in Germany right as the Nazi party began to take root and flourish. Still in her 20s in 1932, she held secret resistance meetings in her apartment, wrote and distributed anti-Hitler leaflets, and helped Jews escape. By the time World War II broke out, she was risking her life as a spy for the Allies. 
Harnack's heroic story ends in her tragic execution, and few people know about her fight for resistance despite the fact that "historians identify Mildred Harnack as the only American in the leadership of the German resistance." Donner brings her great-great aunt's story into the spotlight, using her "extensive archival research in Germany, Russia, England, and the US as well as newly uncovered documents in her family archive." 
According to Donner, "I was profoundly inspired by Anne Carson, whose book Nox can be considered a tremendously inventive biography about her brother, who committed suicide. Why he did what he did remained a mystery; there were so many gaps. Carson conceived of her book as an epigraph and incorporated images of letters and bits of poetry to piece together his story. In my book, I draw on letters in my family archives as well as the letters, datebooks, diaries, memoirs, and testimonials that Mildred Harnack's friends and co-conspirators left behind. I also conducted extensive archival research and tracked down British, U.S., and Soviet-era intelligence files about her. I like to think of my book as a fusion of biography, espionage thriller, and scholarly detective story."
Publishers Weekly calls the book "a stunning biography...Donner's research is impeccable, and her fluid prose and vivid character sketches keep the pages turning...This standout history isn't to be missed." 
According to author James Wood, "Rebecca Donner has written a beautifully rich portrait of a very brave woman. While never less than scrupulously researched, this biography explodes the genre of 'biography': experimental but achieved, Donner's story reads with the speed of a thriller, the depth of a novel, and the urgency of an essay, like some deeply compelling blend of Alan Furst and W.G. Sebald."
Donner will speak about All the Frequent Troubles of our Days, in discussion with award-winning author Ruth Franklin, at The Leon Levy Center for Biography on September 9, 2021. Franklin has already spoken highly of the book, saying "At once boldly imagined and lovingly researched, All the Frequent Troubles of Our Days sets the remarkable story of resistance fighter Mildred Harnack against the backdrop of daily life in Germany as Hitler tightened his grip on the nation. Epic in sweep, written with a novelist's attention to detail and a historian's perspective on social and political forces, this book opens up new possibilities for biography." 
Rebecca Donner's essays, reportage and reviews have appeared in numerous publications, including The New York Times, Bookforum, Guernica, and The Believer. All the Frequent Troubles of Our Days is her third book; she is also the author of a novel, Sunset Terrace, and Burnout, a graphic novel about ecoterrorism. She was a 2018-2019 fellow at the Leon Levy Center for Biography, and has been awarded residencies at Yaddo, Ucross Foundation, Virginia Center for the Creative Arts, and Vermont Studio Center. Born in Vancouver, Donner is a graduate of the University of California at Berkeley and Columbia University, and has taught writing at Wesleyan University, Columbia University, and Barnard College.