The World, Post-Climate Change, in the Upcoming Directing Thesis, 'The Historical Range of Ursus Americanus'
The Historical Range of Ursus Americanus is the next Directing Thesis premiering at Lenfest Center for the Arts tomorrow. This original production is about a man and a dancing bear who roam a desolate Alaska. Three women spread across the country claim what's theirs. A young boy fights his unquenchable thirst. The play is directed by Daniel Adams '19 and written by Dramaturgy student and long time collaborator Emma McFarland '19, and features music by Penelope Wendtlandt. 
We talked with Adams about the upcoming production. 
Tell us about The Historical Range of Ursus Americanus
The Historical Range of Ursus Americanus explores how communities of various socioeconomic classes navigate the world after the climate has changed. Faced with these conditions, do people choose to work together to build a collective community which may result in the sacrifice of individuality or do they forge their own path outside the protection of the community? Are they willing to share what little they have or do they choose to care only for themselves? Also, there's puppets!
Why did you decide an original play written by a fellow student rather than a play that was previously produced or published?
Emma McFarland and I have been working side by side for the last few years. We've worked together to develop works like Meltdown, a live game about Climate Change, and a documentary theatre piece at the National Theatre of Croatia about New York City's potter's field, Stacked. She's the most intelligent theatre-thinker I have ever met. Our relationship is not director and dramaturg, instead, we are tag-team problem solvers. We both have an insatiable desire to improve what we are making and also to hone our skills as theatre-makers. And we both value fun as a vital part of the creative process, which keeps things sustainable. She is not the question-asking dramaturg, instead, she has this uncanny ability to articulate exactly what is not working so that we can work towards discovering a solution. We have developed a shorthand and this production feels like the beginning of a career-long collaboration that brings me so much joy.
If you'd like to read, you should follow her on instagram @fivestarbookreview.
That's great. What is it that you both hope to explore with this play?
Narrative structure is an intoxicating way to tell stories. It is commonplace in movies, television, books, and theatre, too. Creating theatre with a linear narrative is a tough habit to break. But with this piece Emma and I are exploring what lies between narrative and landscape. We're taking some risks with this production to discover what's there.
What is it about its subject matter that you find so exciting?
It is urgent. Climate disruption is here and every choice we make matters. Kate Marvel, a climate scientist at NASA reminds us that "climate change isn't a cliff we fall off — it's a slope we slide down, We don't have 12 years to prevent climate change — we have no time.  It's already here."  
What have you found most enjoyable about this piece?
What has brought me the most joy is getting to smash multiple theatrical elements into one production and because of that I have the opportunity to collaborate with so many different artists. Penelope Wendtlandt has created and performs the most beautiful and haunting original music and there are puppets designed and crafted by Anatar Marmol-Gagné and Karly Bergmann. Working inside these two mediums has been an exciting challenge and I am so lucky to get to work with puppeteers Ana Beliakova, Michaela Farrell, and Ali Goss.
Puppets? Wow. What has been most challenging?
Keeping our impact on the planet as small as possible has been a huge challenge. Creating theatre is not the greenest endeavour due to how quickly things are made and then destroyed. We have tried to limit the amount of lumber used and have tried to lessen the amount of printing as much as possible, but on a new play that is in constant development this is an obstacle. As a way to offset some our our impact, the cast and I have worked together to commit to incorporating new green habits into our lives which we hope to maintain once this production has ended. I hope to continue to discover solutions to minimizing theatre's negative impact on the planet. 
What kind of experiences do you hope for your audience?
We want the audience to feel both disturbed and hopeful. The play is structured like a mosaic and our hope that there is something to be taken from each of the sharp edges of the individual shards of glass, but as the shards come together they can organize into a beautiful image of hope.
Tell us about your philosophy/ethos when it comes to directing
Thank you. I am committed to curiosity and the imagination. I do not see the benefit in accepting things for what they are. There is always something else lurking beneath what's obviously there. Imagination is the most important tool we have as theatre artists and as humans. I believe unlocking the playful, childlike imagination in our audience can allow them to see more and hopefully, see opportunity for change. 
The Historical Range of Ursus Americanus will run from April 24 - 26 in the Flexible Performance Space at Lenfest Center for the Arts. The Directing Thesis production also features performances by: Mehdi Abbas, Briana Archer, Ana Beliakova, Sunny Choi, Jeff Cima, Michaela Farrell, Adam Foldes, Andrea Garcia, Ali Goss, Heather Holmes, CJ Nolan, and Ayesha Saleh.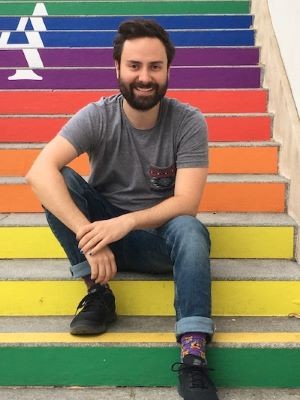 Daniel Adams' passion is awakening an audience's childlike imagination to unlock their curiosity about the world around them. His productions are filled with theatrical magic rather than illusion. Daniel directs classical plays, musicals, solo shows, devised pieces, and immersive theatrical events. His most recent work includes: The Cherry Orchard, Ragtime, Not Clown, Skin Flick City, Meltdown-a live action game about climate change, Pericles, Three Sisters, and Krāv an immersive supper club. He has studied puppetry and object manipulation with Alice Gottschalk and Mervyn Millar at the Eugene O'Neill Theatre Center, Viewpoints with SITI Company, and Moment Work with Leigh Fondakowski of Tectonic Theatre Project.