Professor Annette Insdorf Awarded Moment Magazine's Creativity Award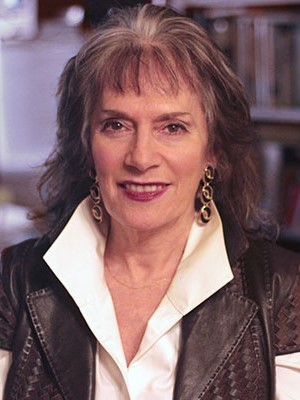 Professor Annette Insdorf was honored at Moment Magazine's Night of Musical Moments Gala in celebration of her being awarded the magazine's 2021 Creativity Award.
Moment is an award-winning independent print and digital publication that provides a Jewish lens on the issues that excite, trouble, and inspire Americans today. The magazine celebrated 46 years of independent journalism at the virtual gala event, which took place on November 14, 2021. Insdorf was recognized alongside fellow honorees Larry Brilliant, Paul Krugman, Jamie Raskin, Leonard Schuchman, and Adam Serwer. 
Carol Brown Goldberg, multimedia artist and 2018 recipient of Moment's Creativity Award, offered the audience some introductory remarks before presenting Insdorf with the award: "It is my greatest pleasure and honor to introduce the prolific, creative, brilliant, and charming Annette Insdorf. I feel as if adjectives were invented for speaking about Annette… No one has written more broadly or more internationally about contemporary cinema than Annette. She has devoted her career to sharing her insights about how we view films and how they can be powerful tools in exposing injustice and contributing to social change… Annette's generous spirit and empathic nature are embodied in her philosophy."
In her acceptance speech, Insdorf spoke of Elie Wiesel, renowned author, professor, political activist, Holocaust suvivor, as well as Moment's co-founder: "I was fortunate enough to know him, and I continue to be inspired by his quiet wisdom, his unquenchable thirst for social justice, his stubborn faith in Judaism, and his fierce devotion to educating the world about the Holocaust." Wiesel wrote the forward to the second edition of Insdorf's seminal book Indelible Shadows: Film and the Holocaust, and while, as Insdorf shared, they didn't agree about every film, they both "understood how important motion pictures are in creating awareness of the Shoah." 
Wiesel is also central to one of the major touchstones of Insdorf's life: the gift of memory. "I try to teach my students at Columbia about the importance of remembering, whether to understand our personal trajectories or our collective identity," Insdorf said.
Watch the 2021 virtual gala event, including Insdorf's complete acceptance speech, here.
Insdorf is the author of Francois Truffaut, Indelible Shadows: Film and Holocaust, Double Lives, Second Chances: The Cinema of Krzysztof Kieslowski, Philip Kaufman, Intimations: The Cinema of Wojciech Has, and Cinematic Overtures: How to Read Opening Scenes. She is considered an authority on the French New Wave and has provided voice-over commentary for the DVDs of Shoot the Piano Player, Jules and Jim, and The Last Metro. She was interviewed in the French documentary Francois Truffaut: Stolen Portraits, and her other DVD commentaries include Andrzej Wajda's Ashes and Diamonds and Milcho Manchevksi's Before the Rain.  Since 1983, Insdorf has hosted Reel Pieces, the popular and prestigious film series at the 92nd Street Y. Her guests have included Martin Scorsese, Meryl Streep, Daniel Day-Lewis, Pedro Almodovar, Angelina Jolie, and Al Pacino. She is the executive producer of the Academy Award-winning live action short Shoeshine. Insdorf was named Chevalier dans l'ordre des arts et des lettres by the French Ministry of Culture in 1986. In 1993, she was "knighted" for her educational efforts, and in 1999, she was promoted to "Officer" in the arts. Insdorf served as Columbia University's Director of Undergraduate Film Studies for 27 years. She is the recipient of the 2008 Award for Excellence in Teaching from Columbia's School of General Studies. From 1990 to 1995, she was Chair of the Graduate Film Division.