Playwriting Alumna Daaimah Mubashshir '15 Receives Helen Merrill Award and PlayCo Residency for Black Women Theatre Makers
The New York Community Trust recently announced that Playwriting alumna Daaimah Mubashshir '15 is a 2021 recipient of the prestigious Helen Merrill Award for playwriting. 
This annual award, established by theatrical agent Helen Merrill in 1999, aims to "help playwrights pursue their talents with less financial pressure." Mubashshir, along with fellow recipients, will be awarded $25,000 to support her work as a playwright. 
Salem Tsegaye, program officer for arts and culture at the NY Community Trust, said "This is an incredibly meaningful award for playwrights. Receiving unexpected money is always helpful, but it's the affirmation from colleagues in the field—to be seen, heard, and valued—that is most welcome, and that encourages awardees to continue to write for the stage, particularly in light of the challenges of the past year." 
The affirmation from colleagues keeps rolling in this year for Mubashshir, who has also been named an inaugural recipient of PlayCo's 2021 Residency for Black Women Theatre Makers. 
This four-month residency has been designed to provide process-oriented creative support as well as financial support and community-building with fellow resident artists. Mubashshir and three fellow theatre-makers will receive $8,000 stipends and $4,500 project budgets. 
According to PlayCo, "Support in the form of community will be built through biweekly virtual meetings between artists, as well as frequent communication and collaboration with and guidance from the PlayCo artistic team and a meet-and-greet with the PlayCo staff. PlayCo will also facilitate individual coffee dates, group meetings, teach-ins/Q$As, feedback sessions, and more with artists and theatre makers the resident artists are interested in meeting with." 
At the end of the residency, the artists will present their works-in-progress to the public. This may include readings, virtual presentations, panel conversations, and more.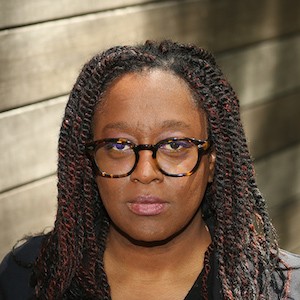 Daaimah Mubashshir is a playwright and theatre-maker. Her work has been commissioned by the Guthrie Theater and 3 Hole Press. Awards include a 2020-2022 WP Theater Lab Fellowship, 2019-2022 Core Writer Fellowship (Playwrights Center, MN), an 2018 Audrey Residency (New Georges), a MacDowell Fellowship, a Catwalk Institute Residency, a Foundation of Contemporary Arts Emergency Grant. She is also a proud alumna of Fire This Time Festival. Her published works include "Molasses and A Blue Coat" – Kenyon Review Online, "The Zero Loop" (No Tokens Journal), Come with Me – Solve for X in The Occasional 2, edited by Will Arbery (53rd State Press), and The Immeasurable Want of Light (MacDowell, 3 Hole Press). Selected stage plays include Night of Power, Room Enough (MacDowell, Fire This Time Festival, Clubbed Thumb, Pride Plays, Playwrights Center), and The Chronicles of Cardigan and Khente and Emily Black is A Total Gift (New Georges). Mubashshir is currently on faculty at Bard College and has also been a guest speaker at Yale School of Drama, Williams College, Skidmore College, and Kennesaw State University. She is the Artistic Director of {EDAP} which produces moving image work, text and performance to give audiences a kinetic experience of Black bodies freeing themselves from the bondage of our past. For more information please visit – daaimahmubashshir.com or everydayafroplay.com