Playsonos Festival Artists Deliver Compact and Compelling Audio Drama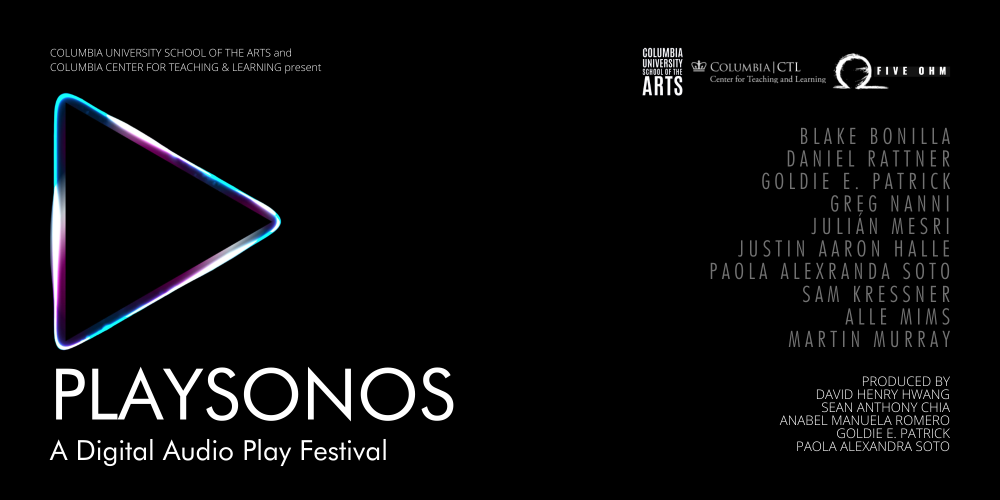 This month, Professor David Henry Hwang, Playwriting alumna Paola Alexandra Soto '20, and Playwriting student Goldie E. Patrick introduced a newly formatted festival that brings theatre to a digital audio environment.
Playsonos, the first ever audio play festival, released one new short audio play over the course of ten days, works created by playwrights in the Oscar Hammerstein Center for Theatre Studies at Columbia University's School of the Arts.
Inventive, moving, surprising, and packed with ideas, the plays span a range of subjects and styles: a vampire, a historic daredevil, family drama, soccer, and the apocalypse.
In the era of the podcast boom, this audio-only format feels very familiar, from the slick production and intimacy of voice performances, to the structure of releasing a new drama every day of the festival, which mimics an episode-release format.
The compactness of each production—most are about ten minutes long—means listeners can engage with a play while walking, or doing the dishes. In Hwang's words, "This festival was conceived to empower our students to create theatre that 'goes beyond the proscenium,'" and the artists rose to the challenge. If the pandemic has made theatre performance seem more distant from the rhythms of our lives, Playsonos feels like it fits our new normal. 
The productions are kept to one or two voices. Along with the limited time and the use of only audio, these constraints free the artists to do exciting, focused work. A world of storytelling capability is unleashed.
Bo + Li, written by Soto and directed by Playwriting alumnus Brysen Boyd '20, is about life after the apocalypse. Taking the form of an audio diary, the play gives us a brief window into the reality of Li (Acting student Katherine George) and Bo (Acting student Adebowalé Adebiyi) making their way across a ruined earth, through rising waters and fire tornados. 
They're lugging along the remnants of the old world in battered Gucci, Louis Vuitton and Hermes bags—a visual detail somehow haunting and hilarious at the same time—one that unexpectedly illustrates how we can cling to old codes: "That's where you've been keeping the trash?" Bo asks, "In the limited edition 1920s Hermés Leather Wardrobe Steamer Trunk?"
Li has been building a boat out of plastic, intent on finding civilization or surviving whatever comes next; Bo isn't so sure he wants to go running back to the systems that collapsed. It's refreshing to experience concepts so vast anchored in a few minutes of conversation between two people (though for thrill seekers, there is also a tidal wave of plastic.)
Sarasota, FLA written by Playwriting alumnus Martin Murray '20 and directed by Laura Dupper, dryly informs us that vampires are, in fact, real, and that they even exist in Florida. Following one such Floridian vampire into the night yields a surprising ethical conundrum.
It's darkly whimsical, like a lost episode of cult favourite podcast Welcome to Nightvale, down to the peculiar narrator (Jesse Montagna) who takes the listener on digressions about Marilyn Monroe, and obligingly performs the appropriate voices when recounting a scene. 
Taking it back to 1901, Queen of the Mist, written and directed by Playwriting alumnus Daniel Irving Ratter '20, invites us into the cacophonous brain of Annie Edson Taylor (Savannah Hankinson) who is about to become the first person to go over Niagara Falls and survive. 
Stream of consciousness is an ideal style for an audio play: Hankinson's voice—Annie arguing with herself, her whirling doubts, fears, and her desperation to make it big—gets layered in production, and the listener experiences the competing thoughts as if in their own head.
If listeners are curious about how such stylistic choices and concepts appear on the page, the scripts for each of the plays is made available alongside the audio.
There's something enchanting about having just a slice of such savory talent—that for about ten minutes, you can be transported by some of the most exciting up-and-coming voices in theatre. Here's hoping it returns next year.
Playsonos is produced by Hwang, Theatre Management and Producing students Sean Anthony Chia and Anabel Manuela Romero.