Flexible Press Publishes 'Ready, Set, Oh' by Diane Josefowicz '08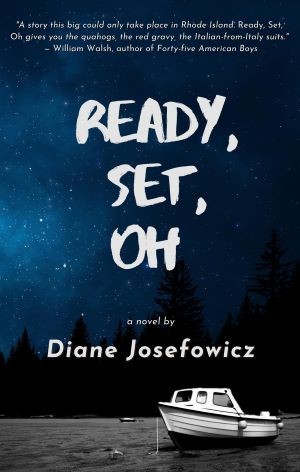 Flexible Press will publish the debut novel Ready, Set, Oh by Alumnus Diane Josefowicz '08 on May 3, 2022. The book is available for pre-order on the publisher's site.
Ready, Set, Oh follows several college students during the social upheaval of the Sixties as they confront the path imposed on them by family, culture, and history. Tino returns home from medical school in disgrace to attend his grandfather's funeral. His sweetheart Primrose is an art student living with an abusive family, dreaming about her life in New York. She is pregnant with Tino's child but Tino doesn't want marriage. Primrose hooks up with Lupo Light, a budding astronomer with a draft deferment while Tino and his friend fix a boat to escape to Canada and out of the Vietnam War.
Josefowicz wrote Ready, Set, Oh while studying with Professor Nicholas Christopher at Columbia. "I'm grateful to my School of the Arts teachers for encouraging me to believe in the novel as I heard it in my mind's ear," stated Josefowicz. "I'm glad, too, for their encouragement to read widely, even promiscuously, as I wrote, so I always had something fresh in my ear or a view of some novel horizon."
Advance reviews for the novel have started to come in, and the response has been stellar.
Author David Burr Gerrard stated, "Ready, Set, Oh is an enthralling novel about some of the most interesting things there are: the Sixties, love, UFOs, and strange manuscripts. 'Our need for space does not die with us,' says one of those manuscripts. Ready, Set, Oh explores what it means to long for infinite space while bounded in a nutshell."
Author Aimee Parkison writes, "Breathing life into an iconic era, Diane Josefowicz's captivating novel fully captures the turbulence of the Sixties. Josefowicz details her characters' loves and losses with delicate yet breathtaking precision, exposing nuances of political upheaval and secrets of the heart."
Diane Josefowicz is a writer, editor, and historian. Her fiction and essays have appeared in Conjunctions, Fence, Dame, LA Review of Books, and elsewhere. She is the author, with Jed Z. Buchwald, of two histories of Egyptology, The Riddle of the Rosetta (2020) and The Zodiac of Paris (2010), both from Princeton University Press; and a novella, L'Air du Temps (1985), forthcoming from Regal House. She grew up outside Providence, where she now lives with her family.