Dream of a City: Rebecca Miller Kratzer's MFA Directing Thesis, 'The Trojan Women'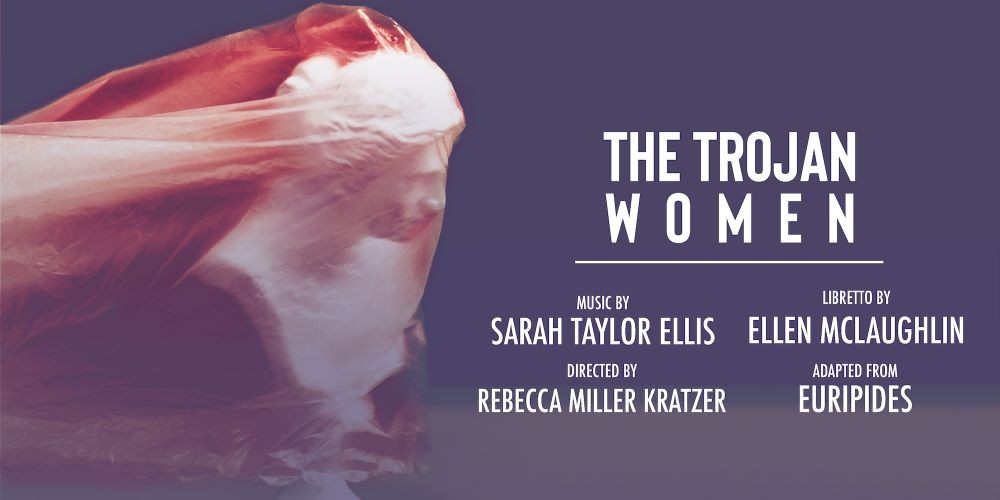 "I dreamed there was a city. My home. And the sky arched blue above it as if to hold it in its gaze. As if it would last forever. Great in its history. Famous in its exploits."
2400 years ago, Euripedes imagined Queen Hecuba of Troy standing on a beach looking backward to her ruined home. In her mid-90's adaptation of the classic text, Ellen McLaughlin imagined Hecuba as a refugee of the Bosnian Wars, and wrote for her the haunting speech above. But who could have imagined Hecuba in the pantsuit and scarf of Nancy Pelosi?
Director Rebecca Miller Kratzer '21 told me that one of her goals with this production of The Trojan Women was to "trace a line between today and the ancient."
In staging Euripides' monumental tragedy in an imagined aftermath of the Capitol insurrection, one in which the forces of fascism and white supremacy have won, Kratzer and her team press the trauma of an ancient war against the most potent symbols of contemporary American democracy, allowing fundamental human experience to bleed through new fabric.
Instead of a beach, the stage in the Lenfest Centre performing space is strewn with papers, overturned desk lamps, and toppled chairs. The women of Troy now wear the pencil skirts and running shoes of Capitol aides. On the white tarp upstage, an iPhone screen is projected, bearing the date January 6, 2021. The chorus sings of the noble city that was their home, the smoke from its hearth fires, while resting their heads on labeled file boxes.
Yes, that's the other thing: these Trojan women sing. 
Composed by Sarah Taylor Ellis, using Ellen McLaughlin's powerful adaptation as the libretto, the music of the show sits in the nexus of musical theatre and opera.
Kratzer and Ellis were united in wanting to, in Kratzer's words, "let the different textures live side-by-side" rather than fusing and homogenizing them. 
Ellis' music feels like a marriage of Sondheim and Purcell; the density and musical complexity of opera, threaded with some pop-adjacent musical theatre melodies. The cast included an even split between opera singers and musical theatre singers, and having both vocal traditions represented served these dualities thrillingly.
The women they play were the wives of fallen warriors and kings, and now await being carted off as the concubines and slaves of their enemies; Hecuba (Kathleen Shelton) to Odysseus, Cassandra (Trysten Reynolds) to Agamemnon, Andromache (Ilene Pabon) to Achilles' son.
Kratzer says the image of Nancy Pelosi as Hecuba was a cornerstone of her new concept for the show: "I wanted to talk about class, and power, and women in power, and how to allegorically talk about being a queen." 
We are accustomed to seeing figures like the Capitol building and Pelosi as inviolable, and to see them brought low, stripped of their glory, is a profoundly jarring experience. 
"What shall become of me?" Hecuba sings, "Old bee without a sting. I, who was the mother of a pride of warriors. Who walked my palace floors on golden sandals amidst the bobbing of plumed fans."
"I am in awe of Nancy Pelosi, and also often disappointed by her," Kratzer explains, "Hecuba, I feel the same way about her; I am in awe of her, I respect her, but I'm often disappointed by her choices and behavior." 
Just as conflicting is the figure of Helen (Julia Caldwell). She appears in a prim wool coat, a delicate ivory handbag nestled in the crook of her arm, soft-spoken and not a hair out of place. Helen is being reclaimed by her husband; she who was never truly a Trojan woman now visits the fallen noblewomen with contempt, and with fear.
"You went where the pillows were softest," Hecuba accuses her departing erstwhile daughter-in-law, and it is a familiar insult; we have levelled it at countless women throughout history. "I was the cause," Helen protests, "My place was there. It was my duty to bear it in public."
In her, we can see every maligned woman in American popular culture. She is simultaneously Ivanka, Betsy, Melania—and, in her loneliness and defiance, I saw Monica Lewinsky, Anna Nicole Smith, Lorena Bobbit, Yoko Ono, Tonya Harding.
For her part, Helen knows that she is not just herself; "I am a piece of property. Something to be stolen, hidden, rescued or restored. A statue. A symbol. Nothing more."
What happens when the unthinkable breaches the austere halls of the privileged world? The nightmare of collapse, of failed order, the fear of conquest by violent insurrectionist forces, and the memory of traumatic deeds by administrations past and present, snatch at us as we contemplate the fates of these women.
Andromache learns that her baby son will be hurled from the walls, so that he will not grow up to avenge his father, Hector. In her agonized song, we see the anguish of every parent of a child in detention at the southern border. 
Kratzer didn't want to be didactic, reductive, or create caricatures. Instead, she and Ellis invite the past, present, and the might-have-been to live simultaneously on the stage and in music, and we are invited to make meaning for ourselves.
Asked what she might like audiences to carry with them, Kratzer says, "To take musical theatre seriously as a form. Sometimes I think it's seen as light and fluffy and not as serious as theatre, and I think that's not true. The voice and music are incredibly powerful tools in storytelling, and for me they are essential as an artist."
Though its onstage run has concluded, The Trojan Women will be available to stream online October 21–November 15, 2021. More details to come.