Devil in Ohio: Daria Polatin '07 Adapts Rural Cult Horror Novel for Netflix
This year, alumna Daria Polatin '07 logs an accomplishment many writers only dream of: adapting her own novel for the screen as the creator and showrunner of Netflix's newest thriller series, Devil In Ohio. 
Starring Emily Deschanel (Bones, Animal Kingdom) and Madeleine Arthur (To All the Boys I've Loved Before, Snowpiercer), and premiering September 2, 2022, Devil In Ohio unravels the mystery of a traumatized young girl taken in by her psychiatrist after escaping a cult, and the sinister events that follow in her wake.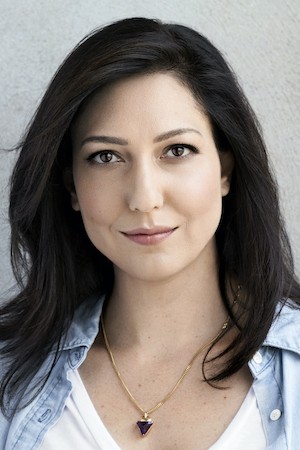 Long white dresses, corn fields, mirror-scares, and glimpses of sinister rituals—the trailer for Devil in Ohio promises every rural-gothic flourish that fans of the true crime genre could hope for.
Polatin is a playwright, novelist, and most recently a TV writer-producer, whose credits include shows like Hunters, Jack Ryan, Condor, and Heels, as well as Hulu's horror series Castle Rock. As a writer on Castle Rock, Polatin's episode "The Laughing Place" was named one of Entertainment Weekly's Best TV Episodes of 2019. 
Now Polatin brings her own creation to Netflix, transforming her 2017 novel, Devil In Ohio, into a limited series. The novel is young adult fiction, grounded in the perspective of a teenage girl whose psychiatrist mother decides to bring one of her patients to stay with the family. 
Not long after their guest, Mae, arrives, strange occurrences begin to plague the Mathis household. 15-year-old Jules is perturbed by the girl who starts wearing her clothes, sleeping in her room, and infiltrating her social circles. The Mathis family eventually learns that Mae's mysterious past is tied to a devil-worshiping cult—one that wants Mae back. 
The series enhances the role of Suzanne Mathis, the psychiatrist who takes Mae in, played by Emily Deschanel.
"In the series, we get to lean into Suzanne and her backstory," Polatin told Tudum, "Why does Suzanne take Mae home? Why is she so drawn to her?"
Polatin credits her time in the School of the Arts Playwriting Program with developing a character-centric method of writing. "Having studied [in the] Playwriting Program, I approach storytelling through characters' psychology and dialogue, then plot blooms out of their behavior. I loved writing the novel [version] of Devil in Ohio where I was able to get very interior with the characters, get inside their heads."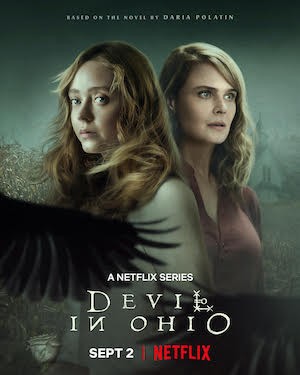 Polatin was keen on research to round out both her novel and the ensuing series. "I became fascinated with exploring cults and what happens to people when they've spent time in isolated communities," she wrote in a 2017 piece for Criminal Element, "I was particularly interested in how people manage to get out of these organizations and the ways that their experiences within cults affect their lives moving forward."
She noted such influences as Lawrence Wright's true crime classic Remembering Satan, indie film Martha, Marcy, May, Marlene, and Holy Hell, the disturbing 2016 documentary about the Buddhafield cult.
The book was also inspired by the true story of a young woman who escaped a satanic cult, whom Polatin interviewed. Polatin has said she will never reveal the details of her source, but the horrifying testimony had a profound effect on her. 
When it came to additional research for the series, Polatin told Tudum: "Me and my writers' room studied all of the cults. We tried to learn as much as we could about as many organizations, then we made up our own cult using elements of many different groups. We came up with our whole ideology — and we even wrote some of the Book of Covenants, the cult Bible [in the show]."
Polatin's compassion for her characters, combined with a horror fan's delight in darkness, is what makes the Devil in Ohio such a gripping narrative. 
"How far will Suzanne go to help Mae?" Polatin said, "And is Mae a force for good or evil? I promise that's a question we ask until the very last moments of the show."
A story of coercive control, the effects of trauma, and a close-knit family torn apart, Devil in Ohio premieres on Netflix on September 2, 2022.