Columbia Partners with Via to Provide On-Demand Evening Shuttle Service
Dear Columbia students, faculty, and staff,

Columbia Transportation and Public Safety have partnered with Via to transition Evening Shuttle service to an on-demand app-based system. The new service is available beginning Monday, June 15, and will replace the Public Safety Evening Shuttle buses. Riders will now be able to request a ride using their smartphone, within defined operating hours and location boundaries, as a safe, convenient and free transportation option at night.  

During the summer period and while physical distancing efforts continue, initial service will be restricted to one rider per vehicle. We hope this service is of benefit to members of the Columbia community living and working on or near the Morningside and Manhattanville campuses as they continue their essential functions this summer. We look forward to expanding service in the coming Academic Year. 
How It Works
Request a Ride: Get a promo code and download the Via app for the easiest way to get a ride. (If you cannot use the Via app, you can also call to request a vehicle). Whether you use the Via app or call, you will need to get a promo code before you request your first ride. You can learn more about the process and get a promo code on the Transportation website.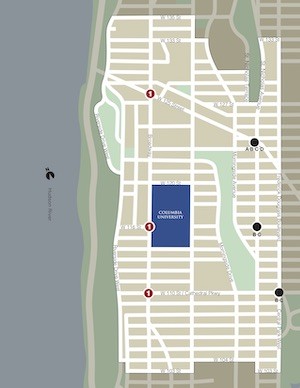 Hours and Locations: During the summer, the Evening Shuttle will operate seven days a week from 6:00 p.m. until 4:00 a.m. the following morning. (During the Academic Year, service will begin at 4:00 p.m.). View the Coverage Area Map to find out where you can ride for free using the Via Evening Shuttle service. Free rides will not be provided outside of these boundaries. 
Policies and Regulations: All riders must present their Columbia University ID card to the driver before entering the vehicle. If you do not have your Columbia ID, a state ID is acceptable. There are also Terms of Use and etiquette that pertain to riding the On-Demand Evening Shuttle. Riders agree to these policies when they request a ride, and the University and its partner Via can deny a ride to anyone who does not honor them.
Accessibility: Be sure to specify if you'd like a wheelchair accessible vehicle when requesting a ride. 
Questions? 
For more information, please read through the Frequently Asked Questions (FAQ) before using the in-app Via chat. If you have other questions or need help, contact Columbia Transportation during business hours at (212) 854-3382 or Public Safety after hours at (212) 854-SAFE (7233).  

We hope this new and improved service will provide an enhanced transportation experience after hours.

Discount for Paid Via Rides 

Via is also offering Columbia affiliates 20% off all Private rides purchased through the app using the code CU2020. Learn more about the offer on the Transportation website.
Sincerly,
Columbia Transportation
Columbia University Public Safety