Brooklyn Public Library Names Alumnus Cyrée Jarelle Johnson '19 As First Ever Poet-In-Residence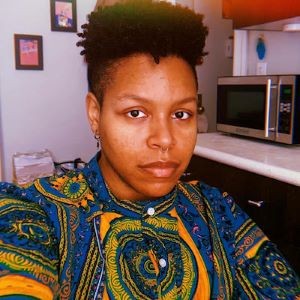 The Brooklyn Public Library recently announced that alumnus Cyrée Jarelle Johnson '19 will be the library's first ever Poet-in-Residence. Nearly 80 Brooklyn-based, emerging poets applied for the role, and applications were evaluated based on "originality, skill, vision, and commitment to literary civic engagement." 
The new Poet-in-Residence program will provide Johnson and future poets with a stipend, time, space, and mentorship from Brooklyn's Poet Laureate, along with other invaluable resources. As part of their role in the Brooklyn Public Library, the resident will also review and enhance the Library's poetry collections and programs "while supporting BPL's goal to amplify the voices of all Brooklyn writers in the service of positive change and social justice. 
Johnson's collection of poetry, Slingshot (Nightboat Books, 2019) was awarded the Lambda Literary Award in Gay Poetry this summer. This success was closely followed by Johnson's receiving the prestigious Ruth Lilly and Dorothy Sargent Rosenberg Poetry Fellowship. Most recently, Johnson was nominated for a Pushcart Prize by Split this Rock for their poem, "chewbacca was the blackest part of The Force Awakens." 
According to current Brooklyn Poet Laureate Tina Chang, who collaborated with the BPL to choose its first Poet-in-Residence, Johnson's "powerful intelligence, commitment to underrepresented communities, loyalty to teaching and research, and undeniable talent in the field of poetry demonstrates all that is possible now. As we embark on a complex year ahead, collaborating with [Johnson] will bring compassion, innovation, and great humanity to the many diverse populations the Brooklyn Public Library serves." 
When asked about their new role, Johnson said, "A lot of my poetry education focused on individual poems of first books. I can't wait to explore what comes after that with Tina's guidance. I hope to make the most of mentorship by completing my second and third manuscripts tentatively entitled Psychedelica and Travesties respectively. I also look forward to planning events that bring disabled poetics to a wider audience, particularly in a city as inaccessible as New York."  
Johnson's work has appeared in The New York Times, Boston Review, WUSSY, The Wanderer, Vice, Rewire News, The Root, and Nat. Brut among other publications. Johnson's term as Poet-in-Residence for the Brooklyn Public Library will run through May 2021.