Cyrée Jarelle Johnson '19 Wins Lambda for 'Slingshot'
Alumnus Cyrée Jarelle Johnson '19 won the Lambda Literary Award in Gay Poetry with their book Slingshot. Finalists for the award were announced in early March, and the final winners of the 32nd Annual Lambda Literary Awards were selected by a panel of over 60 literary professionals from more than 1,000 book submissions from over 300 publishers.

Slingshot was published last year by Nightboat Books to great acclaim from both press and poets. The New York Times called Slingshot a book of "homemade weapons" that is "fierce, sometimes chaotic," while professor Dorothea Lasky said Slingshot was "timeless lyric" with "language so deeply exquisite that it pierces through you."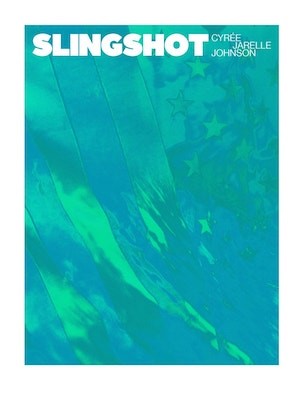 This book's contents, summarizes Lambda, are journeyeque. "Slingshot begins with the author ensconced in the menacing isolation of the pastoral, but once the work migrates to the City, monstrum grows form and fangs."
In Lambda's review of Slingshot, Cat Fitzpatrick cites Johnson's poetic technique as a reason to read the book. "There are a lot of reasons to read Cyrée Jarelle Johnson's new book of poetry. Many readers will pick it up because of its contributions to crucial contemporary conversations ranging from blackness, transness, sex work, police violence, protest and neurodiversity to the new Star Wars movies. Slingshot is also worth getting, however, for its strange, precise, sumptuous and formal poetic technique."
Poet Chen Chen adds, "Johnson's language here is restlessly inventive while acknowledging how tiring it is to always, always invent, reinvent—and some things don't deserve to be reinvented. 'Oh please," one poem says about America, 'Oh please / let it burn down this time.'"

Previous recipients of the Lambda Literary Award in Gay Poetry include CAConrad, Justin Phillip Reed, Danez Smith, and Nicholas Wong.

Johnson accepted this award in a video, saying, "By my estimation, that would make me the first trans fag to win in this category, so I want to take a second to thank the literary trans people, trans men who came before me like Red Jordan Arobateau, Leslie Feinberg, and of course Lou Sullivan, and any other black literary trans fag that I don't know."

Slingshot is available for purchase here.